The Celle state court in northern Germany ruled on Wednesday that Oskar Gröning was in good enough health to serve out his four years in prison, though did not say when he might be jailed.
German prosecutors said a court doctor had determined that Gröning was able to serve his sentence, on the condition he received appropriate nursing and medical care while in detention.
"Based on expert opinion, the superior regional court finds that the convicted individual is fit to serve out the term despite his advanced age," the court said in its ruling.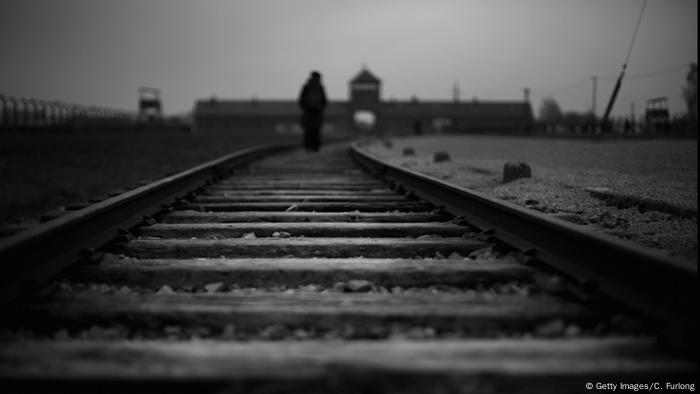 The railway track to the infamous 'Death Gate' at the Auschwitz II Birkenau extermination camp
Imprisoning Gröning would not violate his fundamental rights, the court ruled. Gröning had been living at home despite the July 2015 conviction.
Over 1 million people – mostly Jews – were murdered at the Auschwitz-Birkenau death camp in German-occupied Polish territory. Of the camp's 6,500 SS personnel who survived the war, fewer than 50 were ever convicted.
Delaying tactics
Gröning's lawyer Hans Holtermann told the German press agency DPA there were measures that could be taken to stop his client from having to serve a sentence. This might include filing a complaint with the Constitutional Court, he said.
Gröning had cited old age in his appeal against his sentence, which was handed down by the district court of Lüneberg in the German state of Lower Saxony. His conviction was then upheld by a federal court in 2016.
Gröning's conviction
The ex-SS sergeant was convicted in 2015 for his role overseeing the collection of prisoners' belongings and sending valuables and cash to Berlin.
He also on several occasions performed "ramp duty," processing deportees as they arrived by rail in cattle cars.
At the age of 21, Gröning volunteered to join the elite Waffen-SS before transferring in 1942 to work at Auschwitz.
A bank clerk in pre-war Germany, Gröning said at his trial he felt a "moral guilt" for serving at Auschwitz but had not been personally involved in mass murder.
Better late than never?
Gröning had previously been cleared by German authorities after lengthy criminal investigations going back to the 1970s. But a case was reopened against him as the legal basis for prosecuting former Nazis changed in 2011 with Germany's landmark conviction of former death camp guard John Demjanjuk. Demjanjuk was the first person to be convicted in Germany even though authorities could not directly tie him to any specific Nazi killings, on the basis that his administrative work meant that he must have been aware of deceased prisoners' fates.
jbh/msh (AP, dpa, AFP)