A German court was due to make a decision on Thursday in the appeal of an 89-year-old woman convicted of incitement to racial hatred on multiple occasions. Her appeal, however, has once more been postponed. Ursula Haverbeck challenged two verdicts handed down by a court in the western town of Detmold, after she denied that the genocide of Jews between 1941 and 1945 had taken place.
Under German law, denial of the Holocaust — in which 6 million Jews were murdered by the Nazis — constitutes incitement of racial hatred. Convictions can result in a prison sentence of up to five years.
Read more: Hungary hands over Holocaust denier Horst Mahler to Germany
The Detmold court initially sentenced Haverbeck to eight months imprisonment in September 2016, after she sent a letter to Detmold's mayor, Rainer Heller, claiming that Auschwitz was not a concentration camp.
After the trial, Haverbeck, from the western town of Vlotho, defiantly handed out a pamphlet to journalists as well as the judge and the prosecutor. In the document, entitled "Only the truth will set you free," she again denied the Nazi atrocities. For this, Haverbeck was sentenced to an additional 10 months.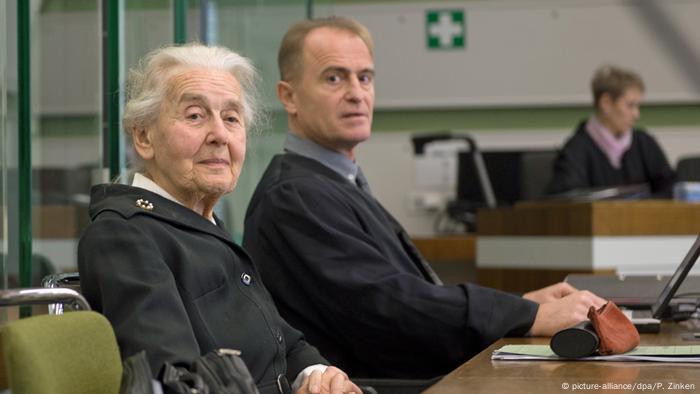 Still to serve time
Haverbeck, who has been dubbed by the German press as "Nazi-Oma," meaning "Nazi Grandma," has been sentenced to jail five times in total. The most recent occasion was in October, when a Berlin district court sentenced her to six months in jail for incitement to racial hatred.
So far, she has not served any prison time, having appealed the sentences on each occasion and with proceedings ongoing and repeatedly postponed in each case. Haverbeck claims she has been merely repeating an opinion.
Haverbeck fell foul of the law in the German capital by speaking at a public event in January 2016, when she claimed that gas chambers and the Auschwitz concentration camp "were not real."
Read more: Lizard conspiracist David Icke not wanted in Berlin
Haverbeck and her late husband Werner Georg Haverbeck, who was an active NSDAP member in the run-up to and during World War II, founded a right-wing education center called Collegium Humanum, which has been banned since 2008. She wrote for the right-wing magazine Stimme des Reiches (Voice of the Empire), in which she also denied that the Holocaust existed.
In August, Haverbeck was sentenced to two years in prison as a consequence. At that trial, she spoke of an "Auschwitz lie."
rc/rt (dpa, AFP, Reuters)