Last month, Deutsche Welle reported that several German credit institutes, including Deutsche Bank and Commerzbank, have been terminating the bank accounts of close to 100 Yemeni students, businesspeople and diplomats in Germany without giving any reason.
But now, based on a letter from Commerzbank, obtained by DW, it is now clear that this wave of cancellations isn't just targeting individuals from the Middle Eastern country, but the state of Yemen itself.
The letter, dated February 17 and addressed to Yemen's ambassador Yahia Mohammed Abdullah Al-Shaibi, reads: "Due to changes in business policy we will no longer support or transact business with Yemen." When approached by DW for a response, Commerzbank replied it was not going to further comment on the issue.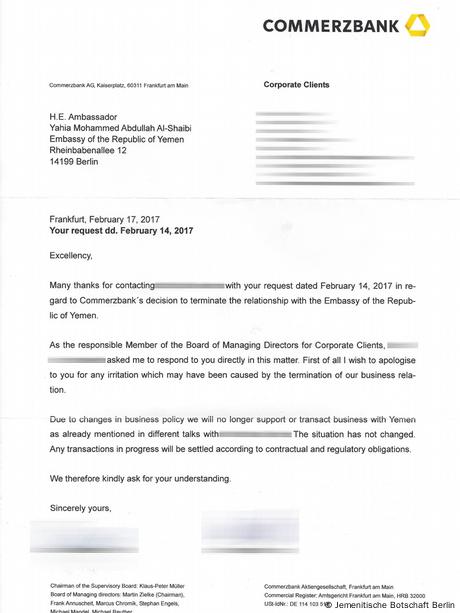 The latest revelation is a major setback for the estimated 2,000 Yemeni nationals living in Germany, as they attempt to find new banking facilities in their host country.
Al-Shaibi said it was a mystery to him why Commerzbank was only targeting Yemen. "How is the situation in Yemen different from countries like Syria or Iraq? If Commerzbank really thinks there's a problem, we need to know exactly what it is so I can discuss this with my government and try to solve it."
To Al-Shaibi, the ban is even more surprising because there have been no transactions between the Republic of Yemen and its embassy in Berlin. "All funds for the embassy from Yemen's Foreign Ministry and the Ministry of Finance come through a Saudi Bank in Riyadh," Al-Shaibi said.
According to the ambassador, business relations with Commerzbank had been in place for two decades without interruption before the termination letters arrived in October last year.
The prevailing contractual freedom in Germany allows service providers such as banks - as well as customers - to terminate accounts without stating any reason. Private banks aren't obliged to grant new applications for more than the most basic type of accounts either.
German govt 'aware of issue'
When approached by DW, German Foreign Ministry spokesman Martin Schäfer said the ministry knew about corresponding complaints by Yemeni citizens in Germany. "Naturally, not having a bank account doesn't make the lives of Yemeni students in Germany any easier," Schäfer said, adding that he's not "aware of a policy for which the ministry has a shared responsibility for the problem."
Al-Shaibi told DW the ministry is in contact with him and offered its support. He hopes a meeting, scheduled for this week, will provide clarity and a possible solution.
The terminations, Al-Shaibi said, were causing many practical problems for the embassy, from paying salaries, rent and electricity to distributing more than a million dollars in scholarship money to Yemeni students in Germany every three months.
"It's hard for us, but it's especially hard for our students because they have trouble finding another bank" said ambassador Al-Shaibi. One of the few banks currently granting bank accounts to Yemeni nationals, according to Al-Shaibi, is the Turkish-Kuwaiti KT Bank. But it only has three branches in Germany. Most banks have not been willing to open new accounts for students or diplomats.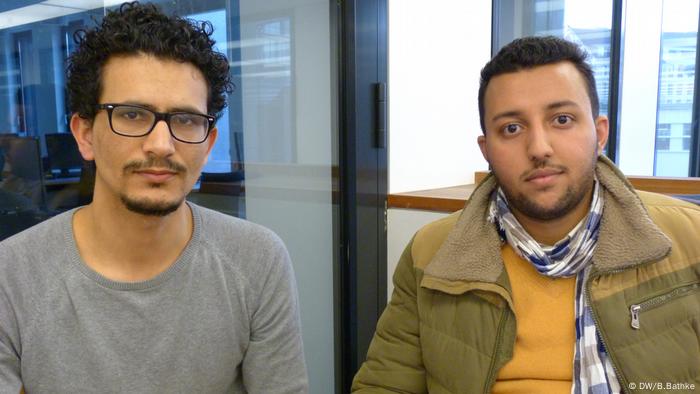 Noah Alsarea (left) is just one of more than 80 Yemeni students in Germany who have had their bank accounts closed
Noah Alsarea, a 24-year-old Yemeni medical student, received his termination letter from Deutsche Bank in the middle of January. "It was a shock because I feel discriminated against and placed under general suspicion," Alsarea told DW. "I want to marry my girlfriend here in Germany and maybe work here after I complete my studies. But if these things continue, I'm afraid my plans are in jeopardy."
Abdulhameed Al-Mahfadi, chairman of the Association of Yemeni Students in Germany, said 84 students had so far received one of the dreaded letters from Deutsche Bank, Commerzbank or Postbank. "If [a] few of our students have done something wrong," Al-Mahfadi said, "that must be declared and explained by the banks."
Why only Yemen?
Data protection officer Michael Kaiser, who works in Germany's banking capital Frankfurt for the state's data protection commissioner, said he has never seen banks terminating accounts of people from one nationality in his 15-year experience as a data protection professional.
According to Kaiser, several forces might have played a role in the banks' decision to terminate the contracts. First, German law forces domestic banks to inquire about the nationality of their customers. Second, extensive background checks of "politically exposed persons" (PeP) like diplomats is not only required but time-consuming and expensive. Third, the banks have likely exchanged information about Yemen, which the Financial Action Task Force (FATF) classifies as a "high-risk and non-cooperative jurisdiction," particularly in regards to money laundering and financing of terrorism. Kaiser said this is a standard - and legal - practice among banks.
But while it might be common to share views on countries, exchanging information about single customers is prohibited, according to Kaiser. He called the case a "possible" violation of anti-trust laws and a discrimination of a single nationality.
When approached by DW for a response to this possibility, Germany's Federal Anti-Trust Office said it had "received no complaints in this case."
Although student Noah Alsarea has had a second account at Postbank before the cancellation, he's worried about losing that as well because Postbank is a subsidiary of Deutsche Bank. But he's even more afraid of having to go back to his war-torn home country, where three of his cousins have died since he left for Germany five years ago.
"I'm especially concerned because I've been speaking out against the war on Facebook," Alsarea said. "If I go back, I might get arrested by the militia or radical groups, and I'm afraid something bad might happen to my family."