Filmmaker George Lucas broke ground on the site of his new Lucas Museum of Narrative Art in Los Angeles, California on Wednesday.
The 73-year-old director and producer, known for Hollywood franchise hits like "Star Wars" and "Indiana Jones," said he wanted to create a museum to honor visual storytelling and that it will embrace a diverse range of art forms.
"I believe in all kinds of art. And I believe all kinds of art have a right to exist. I think it's important to have a museum that I used to jokingly say, supports all the orphan arts that nobody else wants to see, but everybody loves. So that's my dream for this," Lucas said at Wednesday's ceremony.
He was joined by his wife Mellody Hobson, LA Mayor Eric Garcetti and directors Steven Spielberg and Francis Ford Coppola.
Read more: Star Wars actor Mark Hamill immortalized on Walk of Fame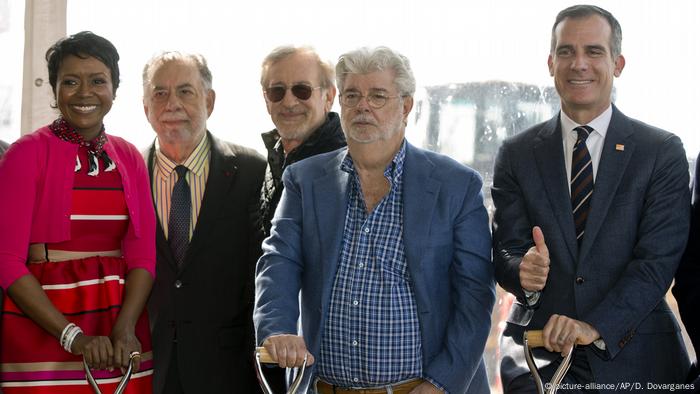 Lucas was joined by his wife Mellody Hobson and fellow directors Francis Ford Coppola and Steven Spielberg
Movies, Degas and lightsabers
The futuristic-looking, five-story museum was designed by Chinese architect Ma Yansong and should be completed by 2021. The Associated Press reported that the building is supposed to resemble the iconic Millennium Falcon spaceship used in the "Star Wars" franchise.
The 100,000-square-foot (9290-square-meter) museum will have plenty of room for gallery space, underground parking, a restaurant, a research library, classrooms and movie theaters.
Read more: 'Game of Thrones' creators to make new 'Star Wars' series
Although he is adamant that the space is not a "Star Wars" museum, the collection will include illustrations, digital art and paintings from the popular science-fiction franchise.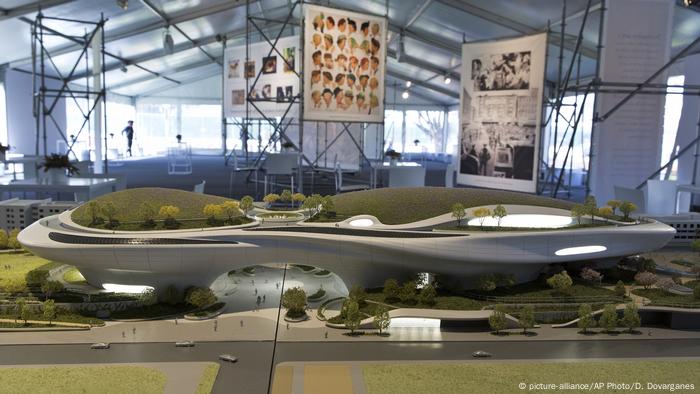 The museum will be located near the University of Southern California, where Lucas studied film
"Star Wars" fans will be able to glimpse Luke Skywalker's first lightsaber and Darth Vader's helmet while classic film junkies will be able to view pieces from "Casablanca," "The Ten Commandments" and "The Wizard of Oz," entertainment magazine Variety reported.
Read more: Tunisians restore Star Wars film sets to draw tourists
Alongside popular art, film art and comics, Lucas' museum will also display traditional artwork as well — including paintings from Edgar Degas, Pierre-Auguste Renoir and Norman Rockwell.
Lucas and his wife are footing the construction and operating endowment bill for the museum, which is expected to exceed $1 billion.
rs/sms (AP, dpa, Reuters)
Each evening at 1830 UTC, DW's editors send out a selection of the day's hard news and quality feature journalism. You can sign up to receive it directly here.