Director George Lucas' project, the Museum of Narrative Art, was approved by LA City Council on Tuesday.
The city's mayor, Eric Garcetti, applauded the council's move "to approve a gem for South LA that will touch the lives of Angelenos and visitors for generations to come."
The museum's opening is set for sometime in 2021. It is to be located in Exposition Park, near downtown Los Angeles. It will house the "Star Wars" creator's massive collection of art and film memorabilia, as well as items from the "Star Wars" franchise.
The one-billion-dollar museum, resembling a huge space ship, will sit in a seven-acre (three-hectare) landscape, and will be primarily funded by Lucas himself. Other buildings in the park include the Natural History Museum of Los Angeles County and the California Science Center, where the space shuttle Endeavour is located.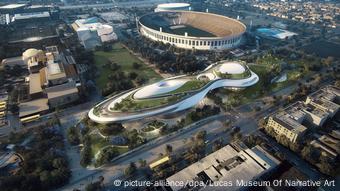 The space ship design will be surrounded by other major LA venues
'Art exists to inspire'
The project is seen as chance to bring thousands of jobs to the area and draw tourists to view blockbuster storytelling art.
"Art exists to inspire, to move, to educate, and to excite," said LA mayor Eric Garcetti in a statement. "Thanks to George Lucas and (his wife) Mellody Hobson, millions of Angelenos and visitors will enjoy an extraordinary collection anchored in storytelling - an art that carries so much meaning in the history and legacy of Los Angeles."
The museum is not just to display "Star Wars" memorabilia, but also to showcase Lucas' extensive personal collection - including everything from Norman Rockwell paintings to illustrations and film-related items like storyboards and costumes from "The Wizard of Oz" and ''Casablanca."
The director has been trying to build the museum for over a decade and had originally aimed for Chicago to be home for the venue before running into legal challenges. San Francisco had also tried to woo the director into settling his museum on Treasure Island.
als/kbm/eg (AFP, AP, Reuters)