Flanked by two Storm Troopers, "Star Wars" actor Mark Hamill, 66, sat cross-legged by his brand new star on the Hollywood Walk of Fame, the newest addition to blocks of star-studded sidewalks in L.A.
To the beeps and squeaks of the saga's robot R2-D2, Hamill was joined at the ceremony on Thursday by "Star Wars" creator and director George Lucas and Han Solo actor Harrison Ford.
Hamill acted in the original "Star Wars" trilogy, and again in the 2017 "Star Wars: The Last Jedi."
Read more: 'Game of Thrones' creators to make new 'Star Wars' series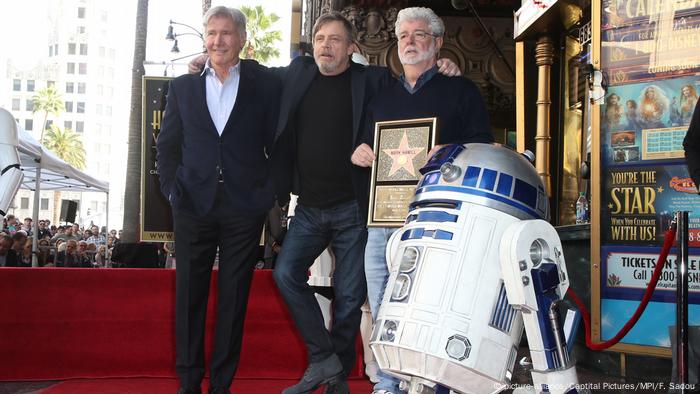 "It's hard to convey my gratitude, my joy, the exhilaration of being recognized in this way," Hamill told the many fans at the unveiling ceremony in front of El Capitan Theatre.
"I haven't been this speechless since 'Force Awakens,'" the actor joked, referring to his brief appearance without dialogue in the 2015 episode of the sequel trilogy.
But for the "genius of George Lucas," he wouldn't be standing on the Walk of Fame, Hamill said. "From Jedi to Joker and back again, it has been a fantastic ride, thank you so much and may the force be with each and every one of you," added the actor who also lends his voice to the villainous Joker in the animated shows "Batman" and "Justice League."
Read more: 'Star Wars: The Last Jedi': the best episode yet
Major tourist attraction
Hamill's is the 2,630th terrazzo and brass star. Harrison Ford received a star in 2003.
The stars are monuments to achievements in the entertainment industry, engraved among others with the names of actors, musicians, directors, producers and fictional characters.
db/eg (AFP, dpa)