A determined Suleiman Abu Oudeh makes his way through the busy UNRWA distribution center in the Al-Shati refugee camp in Gaza City. With his ID card and coupons in hand, he gets in line where food items are being handed out.
"Of course, everyone here is worried and knows that UNRWA is in a difficult situation," says Abu Oudeh, accepting a box of sunflower oil once he reaches the counter. "People are worried that rations might be cut in the long run. It has happened before. The situation in Gaza is so bad. There is no work and many are completely dependent on help."
Read more: The Druze: The Middle East's most persecuted minority?
Although food distribution is by no means under threat at the moment, the organization's financial crisis hangs like a dark cloud over all of its services. In mid-January, US President Donald Trump announced his administration's intention to drastically reduce payments to the relief organization. The move came after Trump had recognized Jerusalem as the capital of Israel in December, a move that angered Palestinians and led them to scale back communication with the Trump administration. The US, which had been the largest donor to UNRWA, slashed its annual $360 million (€310 million) contribution by more than 80 percent to $60 million.
UNRWA depends on continued funding to support 5 million Palestinian refugees across the Middle East.
Even though other countries stepped in to help fill the gap, UNRWA has been left in a financial crunch. In Gaza alone, the organization supports 1.3 million registered refugees through schools, health centers, social services and food aid. Conditions in Hamas-controlled Gaza have been deteriorating for over 10 years: The small enclave has been sealed off by Israel and Egypt, a policy that has crippled its economy and severely restricted the ability of Gazans to move in or out.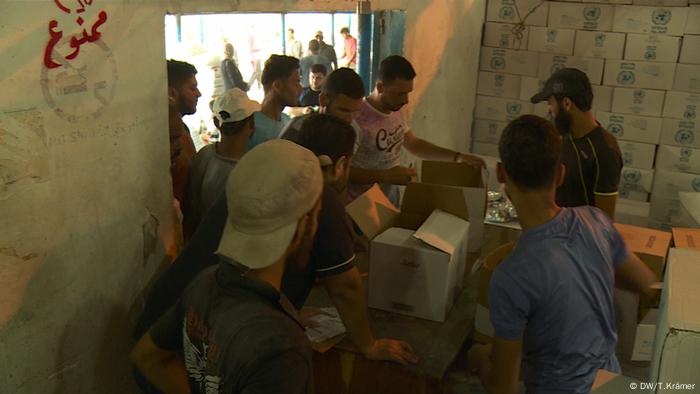 Food aid is important to help some Gazans make ends meet
Abu Oudeh later arrives at the area where bags of flour are handed out. At other counters, cans of sardines, lentils, chickpeas and rice are packed into bags. The amount they receive is barely enough to last a family through the three-month distribution intervals, but it's a big help in everyday life, says the 57-year old. Abu Oudeh has a family of seven and would rather work than stand in line at the distribution center. Outside donkey carts and cars are waiting to transport the heavy bags of flour to the Al-Shati camp nearby for a small fee.
Everyone seems worried by reports that the US may want to see the relief organization dismantled. Aside from providing aid, UNRWA also symbolizes the continued recognition by the United Nations that the Palestinian refugee issue still awaits political resolution. To Palestinians, UNRWA's dismantlement would threaten to diminish their stake in the issue of the right of return to what is now Israel, one of the thorniest issues in the Palestinian-Israeli conflict.
Leaked emails add to worries
Last week, Foreign Policy magazine published leaked emails attributed to Jared Kushner, Trump's son-in-law and top adviser to his Middle East peace team, in which Kushner apparently pushed to "disrupt UNRWA." According to the report, the emails said the agency "perpetuates the status quo, is corrupt, inefficient and doesn't help peace." The authenticity of the emails has not been confirmed. Criticism of the 70-year-old agency is nothing new: Israel has long accused UNRWA of perpetuating the refugee issue by extending refugee status to the descendants of those who originally fled their homes.
UNRWA has different concerns. "My sense is that among the 1.3 million refugees we are responsible for, there is deep anxiety and worry about the future. And it is not just the current cuts to the humanitarian work," says Matthias Schmale, head of UNRWA's operations in Gaza.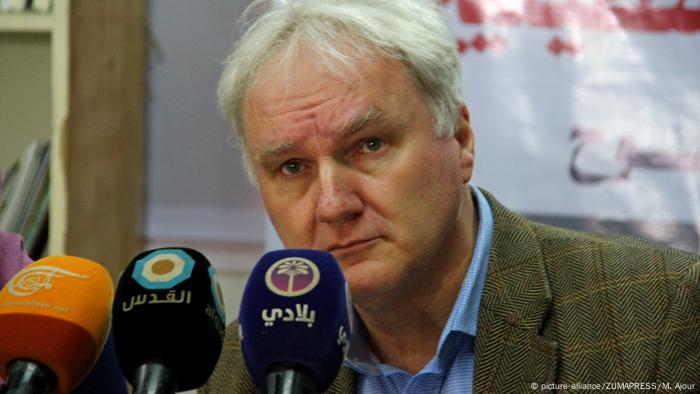 UMWRA head Schmale has been the focus of protests against job cuts
The US decision to recognize Jerusalem as the capital of Israel, its cut in funding, and the Palestinian "Great March of Return" demonstrations at the border with Israel have added to the ongoing uncertainty. UNRWA has endured financial difficulties before as contributions have often fallen short of increasing demands. But this year's funding crisis seems to be the most serious one yet.
Employees strike at UNRWA headquarters
For several days, UNRWA employees have been holding a sit-in at the agency's headquarters in Gaza City, blocking management from reaching its offices. Employees and trade unions are protesting part-time work and job cuts that were recently introduced.
Ismail Al Talla'a, one of the 113 employees threatened with dismissal, has even begun a hunger strike. "I have five children at home and UNRWA helped me until now to feed my family," he says. "If I lose my job, my life is ruined. I have financial obligations, and with this bad economic situation in Gaza, what am I supposed to do?"
The job cuts are a result of a $90 million shortfall that has hit UNRWA's emergency appeal, which finances food distribution and "cash for work" and community mental health programs.
Read more: Amid Israel-Hamas violence, Gazans fearful of full-scale war
"We are trying the best we can to prioritize food distribution. And that means we need to borrow some money and do less in the other two programs," explains Schmale.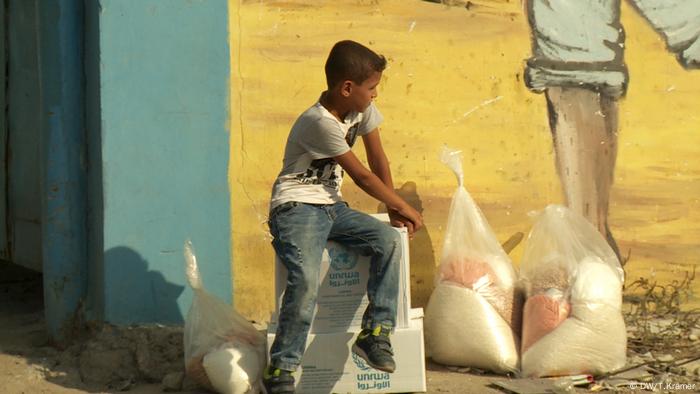 Refugee status can be inherited
UNRWA employs around 12,500 people in the Gaza Strip whose jobs afforded them steady incomes in a difficult economic environment.
"We spent our best years here. I never thought I would get into this situation," says Al Talla'a.
Finding a job in Gaza is considered almost impossible, with a jobless rate over 40 percent. Every second person under the age of 30 is unemployed. That only adds to concerns about the future implications of UNRWA's financial crisis.
Fear of war
UNRWA head Schmale and his team are currently working from their homes or hotels — for security reasons. Some of the protests have been directed at Schmale. Talks with the unions have so far not yielded any progress.
"This is unfortunately the situation we are dealing with. A number of our staff, roughly 1,000, are affected by this. Some of them will continue their job full time, some will have to move to part time, so we can fit food distribution into the budget. And sadly 113 people will lose their jobs," says Schmale. By mid-August the agency will also have to decide whether it has enough funds to keep the 267 schools it runs across the Gaza Strip open in the new school year, or to try and source new income to fill the gap.
Read more: Little optimism in Middle East conflict, Israeli historian says
At the same time, recent weeks have seen the most serious military escalations between Israel and Hamas since the war in 2014. On several occasions, it seemed it was only a matter of time until serious conflict broke out. Indirect talks in Cairo with the mediation of Egypt and the UN are aimed at achieving a ceasefire. But in Gaza, the situation remains deeply uncertain.
"There is a lot of anxiety among people not knowing whether the schools will open at the end of the month. Or whether all our rights as refugees will be questioned and what will happen next," says Suleiman Abu Oudeh in Al-Shati refugee camp. Every day that doesn't bring more bad news, he says, is a good day.