Nidal al Harazeen, a vendor who works at Gaza City's old market, says people are on edge. "During the heavy aerial bombing a couple of days ago, people fled the market and went home," he says, adding that many local residents are cautious not to spend any savings because they do not know what the future holds.
Nobody in Gaza wants to endure another war just because some Palestinians have been sending incendiary kites and balloons into Israel, says al Harazeen. He accuses Israel and Egypt of keeping Gazans locked up, saying the pressure is palpable. "You feel like a balloon with more and more air being pumped into it, until it bursts," al Harazeen says.
Read more: Israel's new nation-state law and the politics of superiority
Since the escalation of violence last weekend, the atmosphere within Gaza has been particularly tense. "People are scared of another war — but desperation is so extreme some think a war is needed to change our miserable situation," explains local resident Riyad al Zebda, who is against fresh hostilities.
A fragile ceasefire
For weeks now, Palestinians have been sending helium-filled condoms, balloons and self-made kites with incendiary devices attached into Israel as part of regular Friday protests. Israeli fields and forests have been set ablaze, causing substantial material damage. So far, no Israelis have been harmed.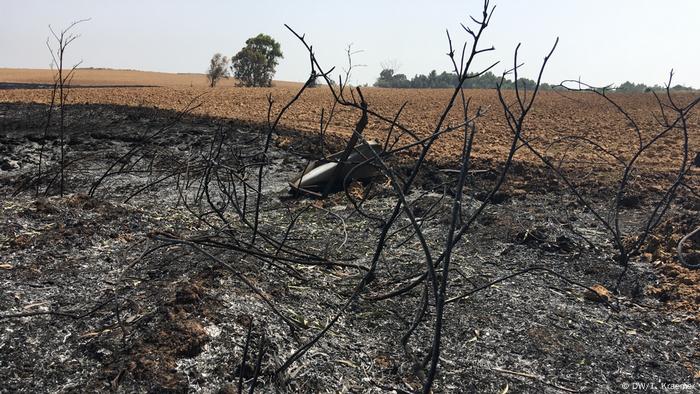 The incendiary kites have damanged farm fields, but no Israelis have been harmed
The Israeli army has retaliated by attacking Hamas military sites within Gaza, and by firing warning shots at so-called kite terror squads. Some Israeli politicians have demanded those launching incendiary kites should be killed, which Israeli's army, the IDF, says it rejects.
Read more: 70 years of Nakba: The ongoing struggle of Palestinian refugees
Last weekend, tension came to a head when Hamas, which governs Gaza, and other militant Palestinian groups fired rockets and mortar rounds into nearby fields and towns in Israeli territory — and Israel's air force conducted the heaviest strikes since the 2014 Hamas-Israel war. Two Palestinians teenagers were killed in Gaza City. Egypt and the United Nations then brokered a ceasefire, which has been repeatedly violated. On Friday, Israel carried out "wide scale" airstrikes in Gaza, killing at least four Palestinians.
'Kites are no nuclear weapons'
Public pressure has been mounting in Israel, with calls on the government to act against what are referred to as Palestinian "terror kites." Israeli authorities have warned Hamas to put a stop to the incendiary kites, or risk a large-scale military operation.
"We are already conducting a military campaign and the IDF is prepared for all possible scenarios," Israeli Prime Minister Benjamin Netanyahu reiterated while visiting the south of the country this week.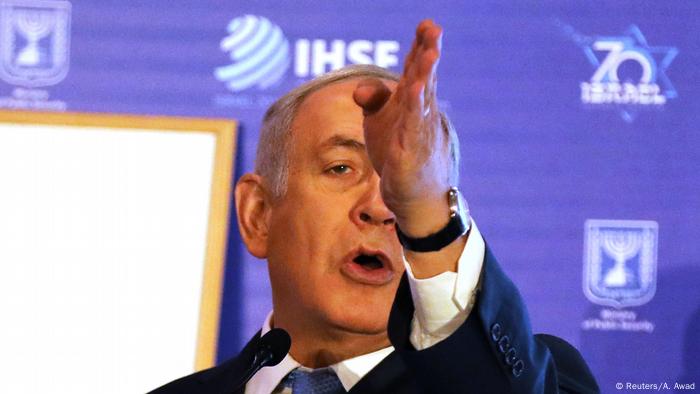 Netanyahu said this week the IDF is prepared for all possible scenarios
Ghazi Hamad, a Hamas politician in Gaza City, countered that Israel is making the incendiary kites out to be a bigger threat than they really are. "Kites are no nuclear weapons," he argued, adding that he believes Israel is using them as a pretext to bomb Gaza. "We are trying to prevent a further escalation into war," Hamad said. He called on the international community to exert pressure on Israel to stop its military campaign against the people of Gaza.
Read more: Gaza residents 'caged in a toxic slum: UN human rights chief Zeid
In the meantime, Egyptian negotiators have reportedly managed to get the various political groups in Gaza to agree to gradually reign in the use of incendiary kites.
Israel intensifies blockade
On Monday, Netanyahu intensified the long-standing blockade of Gaza. The sailing zone for Palestinian fishermen has now been reduced to 3 nautical miles (roughly 5 kilometers) from the shore of the coastal enclave. In addition, the flow of goods through Kerem Shalom border crossing — the only one of its kind between Gaza and Israel — was further restricted.
While medicines and food deliveries will still be let into Gaza, fuel will not — at least until Sunday. Even though Gaza receives fuel from Egypt, demand for diesel and petrol to power generators is extremely high, as electricity shortages are common there.
Fighting the fires
Evyatar Hanan, who has spent the last three years living at the Nahal Oz kibbutz in southern Israel, only about 1 kilometer from Gaza City, is now part of a group of volunteers assisting Israeli emergency services in extinguishing fires caused by incendiary kites. "It was a little chaotic at first but now we are well organized," the young man says.
Israeli farmers say they expect fields damaged by incendiary kite fires to recover by autumn
The kibbutz is protected through a special security fence. Behind it lies farmland, and in the distance, one can make out the buildings of Gaza City. Hanan recalls the last weekend with dread. "We spent a lot of time in the safe room," he remembers.
Read more: Israel deploys drones to combat incendiary balloons
Due to the settlement's close proximity to Gaza, residents have only 10 to 15 seconds to get to safety when rockets or mortar shells are fired into Israel. There are brightly colored bunkers everywhere, and every house has a reinforced safe room. A tall concrete wall protects the local school.
"It feels like the run up to Zuk Eitan four years ago," he says, referring to Operation Protective Edge, the previous war between Israel and Hamas in 2014.
Egypt and UN trying to stop hostilities
Egypt and the United Nations have been making efforts to calm tensions between both sides. Nickolay Mladenov, the UN Special Coordinator for the Middle East Peace Process, has announced a plan is being drawn up to alleviate Gaza's dire humanitarian situation. He said that above all, a fourth war must to be averted.
Within Gaza, meanwhile, ordinary people can do little else but wait and see what will happen. "The situation is getting harder by the day and we hope world attention is focused on our plight," says Sabreen Al Ayoube, a Gaza local on her way to the shops. But she is not very hopeful. "Our government does not care about anyone, we don't matter to them."
Currently, the danger that skirmishes could spark an all-out war between Hamas and Israel is very real. But that is a possibility Gazans just need to live with, says one local, adding that "war can break out any moment — without a warning."
Each evening at 1830 UTC, DW's editors send out a selection of the day's hard news and quality feature journalism. You can sign up to receive it directly here.