Hamburg Mayor Olaf Scholz says Chancellor Angela Merkel's Christian Democrats (CDU) should think again if they expect him to quit after clashes between police and protesters at the G20. Thousands of officers deployed water cannons and tear gas in efforts to prevent property damage by demonstrators, some of whom threw bottles or vandalized businesses or cars.
"No, I won't do that," Scholz, a member of the Social Democrats (SPD), told German journalist Anne Will in a live broadcast Sunday night, when asked if he would indulge CDU demands for his resignation. "We had 20,000 police officers for the operation," he added. "That was all that was made available in Germany."
Earlier Sunday, Scholz thanked "heroic" officers who suffered injuries while attempting to control protests and pledged compensation for vandalized businesses. According to officials nearly 500 police officers were injured, but it remained unclear how many protesters were also hurt.
Read more: What is the black bloc tactic used by Hamburg protesters?
Scholz dismissed accounts by demonstrators who said officers had used excessive force in what he called "the biggest police operation in the postwar period" and called for "lengthy jail sentences" for participants. Officials, including many policing figures, have said protesters who engaged in acts of vandalism represented a small minority.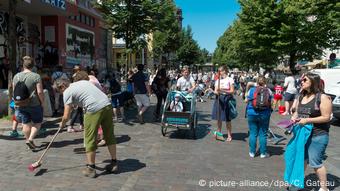 Despite accounts of postapocalyptic streetscapes, residents were able to clean up
'Shocked and dismayed'
Pundits have asked how a wealthy ports-and-publishing city such as Hamburg could descend into "mob rule" and others - including many journalists, residents and political figures - have publicly wondered whether German police could have used other tactics to put down the protests. Broadly, Germans have questioned why Chancellor Angela Merkel chose Hamburg, a city known for its skepticism of multinational neoliberal alliances and resistance to heavy-handed policing, as the venue for the G20.
German President Frank-Walter Steinmeier said the "will to destroy shown by demonstrators against police and private citizens' property" had left him "shocked and dismayed."
Center-right parties want stronger measures against suspected left-linked extremists. In an article in Monday's Mitteldeutschen Zeitung newspaper, for example, Ansgar Heveling, a member of the CDU and the chairman of the Bundestag's interior commission, said he wanted to see increased policing of self-administered spaces. In particular, he mentioned the Rote Flora alternative-arts center in Hamburg and Berlin's Rigaer Strasse housing project, which developers have long eyed hungrily.
Read more: Hamburg Mayor Olaf Scholz praises G20 cops
And Christian Linder, the leader of the economically liberal Free Democrats (FDP), told the national broadsheet Bild that "with vulgar critique of capitalism, left extremists are sowing the seeds."
Extremist database?
Despite calls for crackdowns on domestic dissent, Scholz and the SPD - like their counterparts, allies and rivals in the CDU and FDP - blamed much of the vandalism in Hamburg on protesters from abroad.
German Justice Minister Heiko Maas told the Bild on Monday events in Hamburg revealed the need for a European-wide database of extremists accessible to all countries. Many of those who engaged in violence were unknown individuals who came from outside of Germany, he said, adding that a database would help countries stop such individuals at the borders in the future.
cw,mkg/se (Reuters, AFP, dpa)