Germany's biggest airport is about to become even bigger after Fraport's supervisory board on Wednesday voted to build a third terminal at Frankfurt Airport.
The announcement is a slap in the face for local environmentalists, who had opposed the project over noise pollution concerns, arguing that the extra capacity at Europe's third-largest airport was not needed.
Fraport has repeatedly rejected such criticism, citing reports showing that the number of passengers could climb as high as 73 million annually from 2021, up from its present level of around 60 million and about 10 million higher than the airport's current maximum capacity. The new terminal is expected to serve an extra 25 million passengers a year.
The decision to press on followed a study commissioned by the Hesse state government.
"We have thoroughly assessed and scrutinized all possible alternatives before deciding in favor of Terminal 3," said Fraport's Chief Executive Stefan Schulte.
"We are very well aware of our responsibility to our shareholders, our customers, passengers and employees, as well as to the people living in the region."
Sky's the limit?
Construction is slated to begin this year and scheduled to be completed by 2022. However, Fraport says it will provide almost instant relief, as the gradual opening will allow it to service an extra 14 million passengers annually.
But a report released Wednesday by Germany's air traffic controller, Deutsche Flugsicherung (DFS), has raised questions over Fraport's estimates. According to DFS chief Klaus-Dieter Scheurle, air traffic only grew by 0.9 percent last year to 2.98 million flights - a far cry from the 2008 peak of 3.15 million. The report blamed the drop on spending cuts at national carriers such as Lufthansa.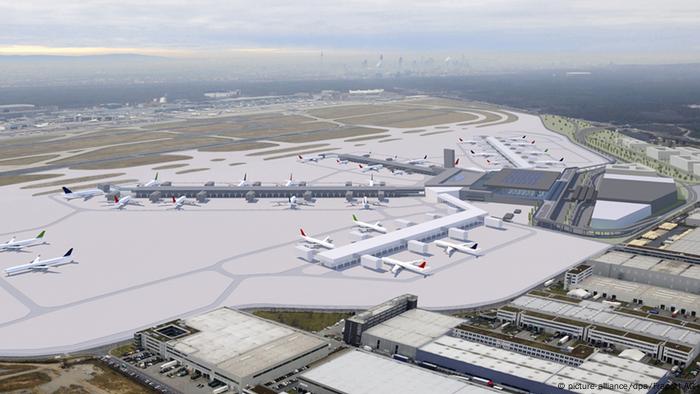 Could Frankfurt Airport's new terminal be another construction disaster?
Turbulence ahead
That's not all. The project's price tag of up to 3 billion euros ($3.2 billion) has raised eyebrows well beyond Frankfurt. The country has racked up an impressive record of failed or delayed building projects in recent years, much to the outrage of taxpayers, who have been left to pick up the tab.
Hailed as the new pride of the German capital, the Berlin Brandenburg Airport was originally scheduled to open in 2010. Today, nearly a decade since the ground-breaking ceremony, the promised aviation hub remains a 5.4-billion-euro construction site. The total costs are expected to balloon even further, as many are calling on authorities to tear down the building and start all over.
In Hamburg, the 110-meter tall Elbphilharmonie has become a blemish on the port city's skyline. The lavish concert hall was scheduled to be finished in 2010, but after a string of construction foul-ups, the building isn't expected to open to the public for another two years. Price tag: at least 800 million euros - up from the original estimate of 77 million euros.
Fraport will now face intense public pressure to guarantee it won't be included in Germany's growing annals of construction catastrophes.
pad/bk (AFP, Reuters)