"Passengers traveling to Bangkok are requested to make their way to the gate", chimes from the loudspeakers. Travelers with suitcases gather around the baggage check-in and lose themselves in a maze of shops and cafes. During holiday times, Frankfurt Airport is a hub of activity.
But just one storey above the baggage check-in at Terminal 1, all is quiet. The ecumenical chapel is sparsely decorated: A metal cross on glass plates, a window by the glass artist Johannes Schreiter , a wooden figure of the Virgin Mary and Child surrounded by flowers and burning tea lights - a place of tranquility.
Reasons for Devotion are as Diverse as Travel Destinations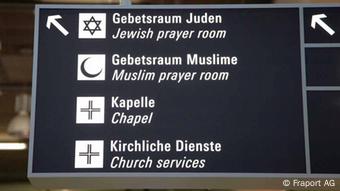 According to the Lutheran airport chaplain Ulrike Johanns, every day more than a hundred visitors find their way out of the crowds at the airport and into the prayer room, each in a very different state of mind. Johanns once met a couple who were sobbing heavily. But it wasn't because of a tragedy - the flood of tears came after seeing off their 17-year-old son, who was off to spend a year in the United States. Travelers have entrusted greater hardships to the intercessions book, which is placed next to the figure of Mary.
"I really hope to see you soon", one person wrote, "It hurts so much not to be near you. I hope your father comes to his senses. I love you, your mom." "The airport chapel is a place where people link the state of travelling and their faith and catch their breath", says Minister Johanns. And the chapel is sought out: "Every day passengers ask about the prayer room", a colleague at the information desk confirms, "Most often it's Muslims, and among the Christians it's mainly Americans."
A Cooperation of Religions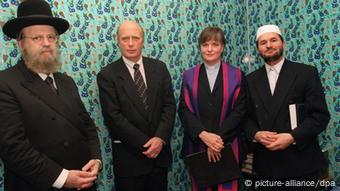 For Christians, Jews and Muslims there are ten prayer rooms spread throughout the two terminals and transit area. At the end of January 2015, another ecumenical prayer room will be opened in transit. A colorful menorah adorned with ceramic beads is the focal point of the Jewish prayer room in Terminal 1, which measures just several meters wide and long. The white walls are decorated with the Star of David and a travel prayer in Hebrew and German.
The neighboring Christian-Orthodox prayer room is full of ornaments: the carpet and walls are red and gold, icons cover the whole of the long wall, the wall behind the altar is adorned with a life-sized painting of Mary, Jesus and an angel. A Frankfurt Airport employee holds Friday prayers for Muslims. But the religions aren't kept entirely separate at the airport. In the December following the terrorist attacks on 11 September 2001 in the USA, Christians, Jews and Muslims came together for a celebration of peace. The Abraham Celebration became an institution, and is held every year at the airport.
A Place of Refuge – not just for Passengers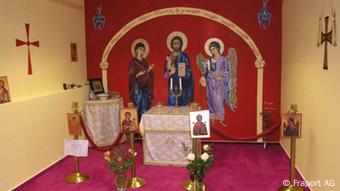 Each of the two Lutheran and Catholic clericals holds prayers and services every day, which around a dozen people attend. They also hold funerals and baptisms on request, hear confessions and offer travel blessings and conversation. Lutheran chaplain Benjamin Krieg recalls that after one such chat the visitor said: "I have never told anyone that." The long periods of waiting while traveling and the fact that they are unlikely to ever see the chaplain again help people to open up.
The chapel is also a meeting point for airport employees. Every month an employee holds prayers and every month there is a concert. "The chapel is an important place for many colleagues, a place where you can come for peace and to recharge", says Anja Schneider, who works for Lufthansa in Emergency Management. "They know that there's someone to talk to here, someone you can talk to about personal matters." Some airport employees visit the chapel to consult with a chaplain before making important decisions.
By Jens Bayer-Gimm (epd)