Manish Bhanej, 36, a small-scale farmer from Balaguda village in the central state of Madhya Pradesh, dumped his entire stock of 1,000 crates of tomatoes last week on the main road in a fit of fury.
"A 25-kilogram crate of tomatoes is selling for about 60 rupees (€0.76, $0.89) in the wholesale market. Prices have hit rock bottom and we are struggling with these low prices," Bhanej told DW.
Thousands of farmers across eight Indian states, mostly ruled by Prime Minister Narendra Modi's Bhartiya Janata Party (BJP), began their 10-day protest last Friday to press demands such as farm loan waivers and higher prices for produce such as cereals, oilseeds and milk.
The farmers have also restricted supplies of vegetable and milk to the cities' markets, causing prices to jump in some places.
Millions of India's mostly small-scale farmers have been squeezed by falling prices for their crops and the rising transportation and storage costs.
Read more: India's agricultural economy in deep crisis
In recent days, farmers blocked highways in some places and poured milk onto roads. In Meerut city, in northern Uttar Pradesh state, and adjoining towns, potato farmers recently dumped their produce on various roads and highways to protest against falling prices.
"This year, I produced 200 sacks. Out of it, 100 were sold in the market while the other half I dumped in a cold storage," Kulbir Yadav, a farmer told DW, pointing out that it was becoming increasingly difficult to sustain their livelihood under these circumstances.
The protests have been peaceful so far, although organizers are planning to increase the intensity in coming days.
"Farmers are in debt today because of the lopsided policies of the government. After we pay respect to the farmers who died last year in Mandsaur, we could resort to holding up public transport if the government does not pay heed to our demands," Sandeep Gidde Patil, a senior member of the Rashtriya Kisan Mahasangh (RKM), the farmer organization that is spearheading the current protests, told DW. Mandsaur in the central Madhya Pradesh state was the place where six farmers were killed by police during protests last year.
Anger against the government
India's Agriculture Minister Radha Mohan Singh last week termed the farmer agitation as a "publicity stunt," stating that the momentum would peter out because it was not supported by major farmer unions.
However, capitalizing on the farmers' angst, the president of the opposition Congress party, Rahul Gandhi, met with the families of the farmers killed in Mandsaur and addressed a rally that marked the beginning of his party's assembly election campaign in Madhya Pradesh.
"Narendra Modi has betrayed farmers. He promised to get them the right price for the produce. The truth is PM Modi and BJP are not concerned about farmers. Helping their rich businessmen friends is their only priority," Gandhi told farmers on Wednesday.
Outbreaks of rural discontent pose a challenge to PM Modi, who promised to double farm incomes in five years when he came to power in 2014.
Two-thirds of India's population of 1.3 billion depends on farming for their livelihood, but agriculture makes up just around 17 percent of the nation's total economic output, amounting to about $2.3 trillion.
Read more: India's agricultural economy in deep crisis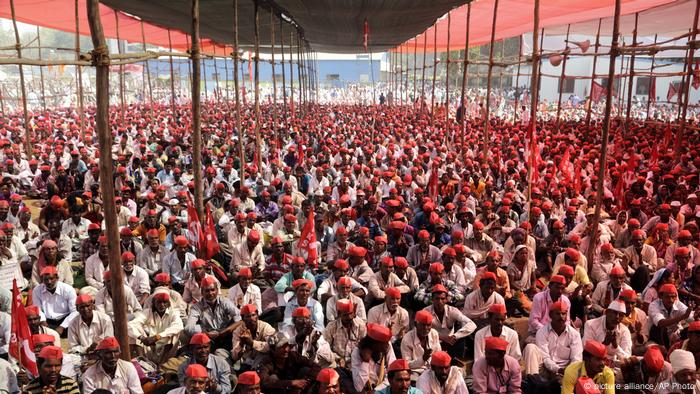 Two-thirds of India's population of 1.3 billion depends on farming for their livelihood
Despite growing migration to cities in the past two decades, over half of the population still lives in rural areas, forming a key electoral bloc that determines which party governs the country.
It has been a season of agrarian discontent in India and farmers across various states have regularly been holding demonstrations over the past year pressing the government to offer them more help. The situation exposes the precarious state in which the country's struggling farmers and impoverished landless agricultural laborers currently find themselves in.
Many farmers are struggling with high debts and poor earnings from lower produce prices. Experts say many farm commodities are trading below support prices set by the authorities, because the government only commits serious sums to buying wheat and rice, but not other crops.
The Indian government sets purchase prices for about two dozen crops but it buys only a tiny proportion. It leaves farmers to deal with the consequences of dropping prices during good harvest seasons.
Read more: Narendra Modi's 4 years in power: Good or bad for India?
Need for a multi-pronged approach
Financial difficulties have led to hundreds of thousands of farmers in India committing suicide over the past two decades. According to National Crime Records Bureau data, over 300,000 farmers have committed suicide since 1995. Many say the figure could be even higher.
Loan waivers is a major demand by the protesting farmers, but analysts say they amount to quick fixes and cannot tackle the structural flaws in farm policies, which have encouraged higher production of crops previously in short supply but offered scant production on prices.
Experts point out that there is no one solution for India's agrarian crisis. It needs a multi-pronged approach, including a review of the agriculture pricing mechanism in a way that it factors in farmers' input costs and formulates a policy which ensures a sustainable income for every farmer.