Swaminala Vimalnathan, 45, a farmer from Thanjavur, often referred to as the rice bowl of Tamil Nadu, is wearing a mask of Prime Minister Narendra Modi and flogging the agitating farmers with a whip. He is dressed in Modi's trademark jacket and kurta (a loose collarless shirt) and shows no regret while flogging the protesters.
"This mock drill is to showcase the insensitive attitude of the Modi government. By whipping us, we are trying to tell the world that the Prime Minister is trying to beat us out of Delhi," says Vimalnathan, dressed only in a green loincloth.
Eye-popping protests
Braving scorching temperatures, this collective of over 100 farmers from various parts of Tamil Nadu has been camping at Jantar Mantar, the capital's iconic rallying site, to highlight their grievances and are determined they will not leave till their demands are met.
They want their loans waved off as their crops were ruined in a severe drought and a subsequent cyclone last year.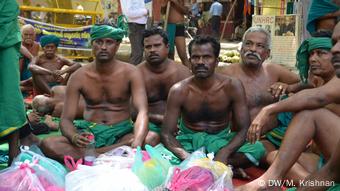 The farmers have conducted mock funerals, eaten mice to depict loss of livelihood due to drought and also paraded naked in front of the Prime Minister's Office
They have come prepared for the long haul and have brought along with them props, skulls, mice and snakes to showcase their bizarre protests. Almost all of them sleep out in the open, some on hot pavements with no protection from the natural elements.
"Modi refers to farmers as the backbone of the nation. But our backbone has been crushed. Yet we will not give up. For us, this is a do-or-die battle," says P Ayyakannu, 72, the leader of the protest.
To draw attention to their plight, the farmers have conducted mock funerals, had their heads tonsured, eaten mice to depict loss of livelihood due to drought and also paraded naked in front of the Prime Minister's Office. To mark the Tamil New Year on April 15, five farmers including a woman cut their hands with razors as a mark of protest.
Many have brought along skulls of their fellow farmers (main picture) who committed suicide because of the crippling debts they could not pay off, and have displayed them prominently at the rallying site.
"I have brought my wife's skull. She worked in a rural bank and when I was unable to pay off the loan and had to sell my land, she committed suicide by consuming pesticide," said Damodar, a farmer from Salem.
Charter of demands
The group is determined to get the government to meet their various demands, which include payment of drought relief as well as pensions to old farmers who can no longer tend to their fields. If they are approved, the assistance is expected to cost the government about 40,000 crore rupees (around 5.7 billion euros).
"If the government can grant corporate loan waivers, then why is it ignoring the demands of farmers? There is massive rural distress in Tamil Nadu and you are looking at another looming drought this year," says Kartikeya Shivasenapati, a farmer from a local cooperative.
Earlier this month, the northern state of Uttar Pradesh, governed by PM Modi's BJP party, decided to waive crop loans of up to 100,000 rupees (1,400 euros) of small and marginal farmers in the province that benefitted about 21 million cultivators.
Crop loans may be farm loans or investment loans taken to buy agricultural or irrigation equipment. But when there is a poor monsoon or natural calamity, farmers are unable to repay loans and are often forced to borrow to manage expenses. Also, many small farmers not eligible for bank credit borrow at exorbitant interest rates from private sources.
Though the Tamil Nadu farmers have met some senior cabinet ministers who have assured them of succor, they are unsatisfied and want an audience with Modi and a guarantee that their demands will be met.
A similar protest by farmers was last held in 1988 when a farmer from the Jat community of Uttar Pradesh, Mahendra Singh Tikait, laid siege to the capital with a charter of demands. However, at that time hundreds of thousands of farmers had arrived with their tractors, cattle and cooking utensils and camped at the scenic Boat Club lawns.
"Our next course of action will be even more drastic. We will drink our own urine and eat our faeces," exclaims Ayyakannu.
Given the fiery determination and resolve of the agitating farmers, and with more farmers arriving from Tamil Nadu to lend support and join the ranks, the protests are not going away in a hurry.