After going into self-imposed exile nine months ago, former German cabinet minister Karl-Theodor zu Guttenberg reemerged Monday with an honorary post as a European Union adviser.
The 40-year-old, once considered the rising star of German conservatism, was forced to resign the Defense Ministry in March when it emerged that he had copied parts of his 2006 university thesis without providing adequate citation.
Neelie Kroes, the European Commissioner responsible for digital issues, said Guttenberg would advise her on how the EU can support bloggers and cyber-activists suffering repression in authoritarian nations.
The announcement was met with instant criticism in German media and political circles. Critics have accused Guttenberg of staging a kind of "absurdist act," referring to his use of a serious initiative for his own purposes.
Alexander Alvaro, who represents Germany's liberal Free Democrats in the European Parliament, said the Commission was "providing Guttenberg the means with which to cleanse his name."
'Not a political comeback'
"I'm looking for talent, not for saints," said Kroes in a retort to such criticism of the appointment.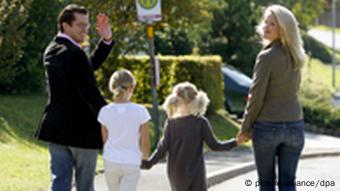 Following his resignation, Guttenberg moved with his family to the US
"This is not a political comeback," Guttenberg chimed in at a joint news conference in Brussels, where he fielded questions from journalists for the first time since his resignation.
"I was exposed to the power of the Internet for the first time this year. And I am aware of and cherish its ability to hold those in power to account for their actions," he added.
German authorities dropped their investigation into the plagiarism charges against Guttenberg last month after he agreed to make a donation of 20,000 euros ($26,400) to an organization for children with cancer.
The public prosecutor's office said that although 23 passages of Guttenberg's doctoral thesis possibly violated copyright laws, the monetary damage to the original author was only marginal and Guttenberg had not profited financially.
Author: Gabriel Borrud (dpa, AFP)
Editor: Martin Kuebler