German authorities have dropped their investigation into plagiarism charges against Karl-Theodor zu Guttenberg after the former defense minister agreed to make a donation to a charitable institution.
The public prosecutor's office said that although 23 passages of Guttenberg's doctoral thesis possibly violated copyright laws, the monetary damage to the original author was only marginal and Guttenberg had not profited financially.
According to German law, misdemeanor cases can be dismissed if the accused agrees to pay a sum of money, usually to the state or a charitable organization. The court, public prosecutor's office and the alleged victim all have to agree to the dismissal.
Guttenberg has already wired 20,000 euros ($26,794) to German Cancer Aid, a non-profit organization that supports research into cancer prevention and treatment. The former defense minister can now avoid a criminal record, although the investigation could be resumed if new evidence comes to light.
"It's a second-rate dismissal, but it's a dismissal" said Norbert Geis, a legal expert and a parliamentary representative with Guttenberg's Christian Social Union, a regional ally of Chancellor Angela Merkel's Christian Democrats.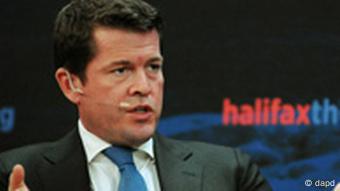 Guttenberg has been received as a 'Distinguished Statesman' across the Atlantic
Speculation of comeback
Guttenberg resigned his post as defense minister last March in the wake of accusations that he had plagiarized large portions of his doctoral thesis. The University of Bayreuth stripped Guttenberg of his doctorate title after finding that he copied word-for-word 48 passages without citing the appropriate authors.
The dismissal of the case has raised speculation that Guttenberg, once an up-and-coming star tipped to be a future candidate for the German chancellery, could stage a political comeback. Guttenberg currently resides in the US and recently made a public appearance at a forum on security policy in Halifax, Canada.
The former German defense minister accepted a position at the world-renowned think tank Center for Strategic and International Studies (CSIS) in Washington D.C., where he holds the title of "Distinguished Statesman."
Author: Spencer Kimball (dpa, dapd, AFP)
Editor: Michael Lawton