In a recent study, two German scholars at the University of Warwick in the United Kingdom demonstrated that there was a correlation between hate inspired Facebook posts and a subsequent rise in hate crimes committed against refugees in Germany.
Carlo Schwarz and Karsten Müller examined all 3,335 anti-refugee attacks in Germany, over a two-year period. In each instance, they took a look at the local community by a number of variables among which were the number of refugees, economics, demographics, support for far-right politics, the history of hate crimes and the number of protests directed at refugees.
One incident they noted in their study took place in the town of Altena, about 100 kilometers east of the city of Düsseldorf. There, a trainee firefighter attempted to set fire to a refugee center. When police examined his cell phone, there was evidence of heavy usage on Facebook and specifically exposure to right wing, anti-refugee sentiments on Facebook.
Their study also showed that in towns where social media usage was higher than average, there were commensurately more attacks on refugees. That pattern held in virtually any type of community, whether it was a big city or small town.
Deutsche Welle spoke with Carlo Schwarz, one of the authors of the study.
DW: How did you initially conceive this study?
Carlo Schwarz: Karstenand I saw all these news stories about hate speech in social media and many people speculated about a potential link to hate crime. We then looked for research online and we couldn't find any empirical research whatsoever that investigated the potential link between the two. Because both of us are German we have some inside knowledge.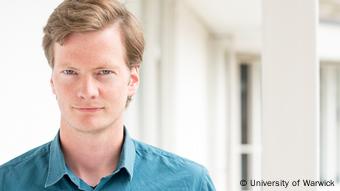 Carlo Rasmus Schwarz works at the University of Warwick in the UK
Can one say that people who spend time on the Alternative for Deutschland page are more inclined to commit hate crimes?
Our research cannot disentangle the AfD Facebook page from other social media sources. Moreover, it is important to be careful that clearly not all incidents were incited by hate speech online. Hate speech online is probably not even the most important factor. We just aim to show that it is one factor among others.
Do minor players become bigger players on social media? And why?
It's surprising that the AfD was able to get this significant amount of following and we still don't know why this is a case or maybe why these populist parties are particularly strong on Facebook. What we know is that a lot of people are very active on the AfD Facebook page and even individual people post several times a day on the AfD Facebook page in some cases. So we clearly see that the AfD provide a forum for people who might be frustrated with the status quo and politics in Germany.
So would you say that if you've got a city and the number of Facebook users is very high, that the number of hate crimes increases there too?
Our argument is not that if you have many social media users you have more hate crimes against refugees.Our argument is that in areas with high social media usage, hate crimes will specifically happen in regions in which these sources and the anti-refugee sentiments on social media spike.
If I click on hate speech on Facebook and the more I click, then the algorithm is picking that up and the more I am shown. Isn't that to do a lot with the algorithm itself?
We do not deny that. The Facebook algorithm, as soon as you like for example the AfD, is more likely to suggest to you other sites that also will hold similar political views and this will increase your exposure to those views.
So what's the solution? How do we stop it or, how do we change people's behavior?
I don't think Facebook should be in the business of censoring speech… and I'm not sure if it's worth the price you might be paying in blanket censorship on Facebook. And it's really difficult because again we have to decide where is the line between free speech and hate speech. And I want to be absolutely clear here that most of the posts that we classify on Facebook as being anti refugees are clearly legal. There's no way they would ever be banned by any court. People should be allowed to voice their discontent with whatever event is currently happening. And I think one thing I always hope for is that people realize there is an echo chamber they're actually moving in. And I think in the end the onus must be on the people to be aware what social media does to them and how it influences their behavior.
Andy Valvur conducted the interview.
Each evening at 1830 UTC, DW's editors send out a selection of the day's hard news and quality feature journalism. You can sign up to receive it directly here.