The trial of the 56-year-old man charged with the attempted murder of the mayor of the town of Altena, which lies just south of Dortmund, started on Tuesday.
A statement from the defendant was read out in court. He confessed to the crime but said he had not wanted to kill or hurt the mayor but that: "He should feel scared and hopeless like I do."
"He should feel how it is when you do not know whether you can go on living," the man said in his statement. He had lost his job, separated from his wife and was depressed, he added.
Shortly before he acted, the accused said he had heard about the arrival of 200 refugees and said he felt this was unfair. When he saw the mayor in the takeaway shop he had spontaneously decided to scare him and had been heard to say: "You let me die of thirst, but you bring 200 foreigners to the town."
Mayor Andreas Hollstein was in the City Döner-Pizza last November when he was approached by the man who asked him if he was the mayor. The man then reportedly made his comments related to immigration policies before stabbing Hollstein, causing a 15-centimeter (5.9-inch) knife wound on his neck.
The food shop's owner, Demir Abdullah, and his son helped to tackle the attacker who was then arrested. Police said the attack had been politically motivated and the assailant had a high level of alcohol in his blood.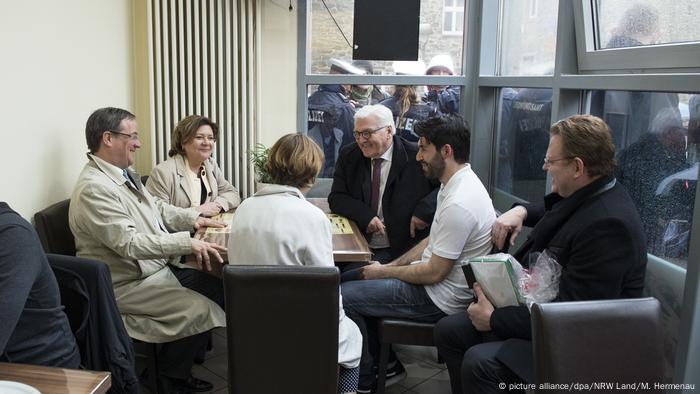 President Walter Steinmeier visited Altena in February and met Demir Abdullah
Awarded for welcoming refugees
The previous May, Altena had been awarded Germany's first National Prize for Integration after it took in 370 refugees, which was 100 more than it was required to under law. Presenting the award to Hollstein in Berlin, Chancellor Angela Merkel told him "We want everybody to see how integration can be a success — and that it can be a success."
The prize was intended to publicize positive examples of integration into Germany's life and culture.
A number of Altena's 17,000 residents took migrants into their own homes, instead of leaving them in migrant shelters.
jm/kms (dpa, AFP)
Each evening at 1830 UTC, DW's editors send out a selection of the day's hard news and quality feature journalism. You can sign up to receive it directly here.