Less than 24 hours after Altena Mayor Andreas Hollstein was attacked by a man with a knife at a neighborhood kebab shop, he returned to the scene of the crime on Tuesday — to thank the men who helped save his life.
Carrying a bouquet of bright flowers and with a long, white bandage covering up the 15-centimeter (5.9-inch) knife wound on his neck, Hollstein strode into City Döner-Pizza, warmly embracing the shop's owner, Demir Abdullah, who along with his son helped tackle the assailant.
"I am certain that if I hadn't received help, I wouldn't be here," Hollstein said during a press conference earlier in the day.
Abdullah, sporting his own bandage on his left hand from injuries sustained during the struggle with the suspect, smiled when asked what the mayor brought him.
"He gave me flowers," Abdullah told DW, "He said he wanted to say thank you."
The migrant-friendly mayor
Hollstein's efforts to take in 370 refugees — 100 more than was required by law — had earned Altena accolades, including Germany's first-ever National Prize for Integration.
It also made him a target on Monday night. According to eye witnesses, the 56-year-old assailant in the shop asked Hollstein: "Are you the mayor?" and made comments related to immigration policies before slashing at Hollstein's throat.
The suspect, who prosecutors said had a high level of alcohol in his blood at the time of the attack, has been charged with attempted murder. Authorities have said that the attack was "politically motivated."
A town divided
For the residents of Altena, nestled in a valley in the state of North Rhine-Westphalia, the news about the attack on their town's mayor came as a shock.
"I never would have expected that," 74-year-old Doris Beyer told DW. "I think it's absolutely terrible."
She said that although "some people have this attitude against refugees," she isn't bothered by the town's policies and can understand that people fleeing conflicts in their home countries "want to live in peace."
Ali Erdem and Youbane Rashid, two locals who have called Altena home for decades after moving to the German town from Turkey and Morocco respectively, were likewise disturbed about the news and even more concerned about the alleged motive behind the attack.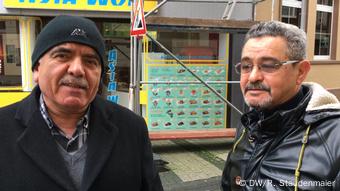 Erdem and Rashid say they have never experienced anti-immigrant sentiment in Altena
"I have no idea why something like this would suddenly happen," Rashid told DW. "The mayor is good. He does his job. What's happened here isn't good."
Asked if they've experienced any anti-migrant sentiment in town, Erdem said he's "never heard anything," noting that they "have a good life."
'This is a dead town'
Many locals emphasized that the attacker was likely an outlier. As one woman in her 60s put it: "There are always idiots."
Some, however, told DW they perhaps understood what may have motivated the crime.
"I think it's sad that it had to come to this," said 41-year-old Jürgen Menzel. "But some residents do not agree with how politics are run here in Altena."
Regardless of how they personally feel about Hollstein's refugee policies, nearly everyone in Altena agreed the town needs fixing.
"This is a dead town," repeated residents time and time again in a chorus echoing through the damp city streets.
"Look at these apartments, they're half empty," one woman who did not wish to be named told DW, gesturing at rows of buildings. "There's no playgrounds, no open spaces in daycare, there's nothing here."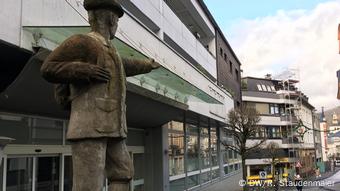 Altena residents say the ever-growing number of empty storefronts has fueled discontent
"It's terrible what happened to the mayor, but it was to be expected," she added. "He's done nothing to fix this."
The local government's refugee policies didn't cause Altena's problems, but the perception of preferential treatment, a fear that something is "being taken away" from them as well as the stark reality of an ever-growing number of empty storefronts has led to a strong undercurrent of discontent.
These perceptions — many noted that these are misconceptions — have agitated the wounds of a town that has experienced a serious demographic shift as industry jobs move away from the area, leaving many residents with no option but to depart with them.
Hollstein said Tuesday he was already addressing some of these concerns, and that he stands by the town's refugee policy, and he will keep on fighting to improve the lives of those living in Altena.
"I will continue to work for the refugees as well as the people who were already there," Hollstein said.