Following the latest terror attack in Turkey, the country's Prime Minister Ahmet Davutoglu canceled his trip to Brussels for the EU Summit. His absence was felt by the EU member states that are most affected by the refugee crisis, as their main meeting partner fell to the wayside. The so-called "Coalition of the Willing," which had placed its hopes on tight cooperation with Turkey in order to lower the numbers of refugees, were left more or less out in the cold in Brussels.
A meeting of the coalition made little sense in the absence of Turkey's prime minister, and guest host Austria called off the event. German Chancellor Angela Merkel had said in an address to parliament on Wednesday that talks with Turkey regarding the securing of borders and return of refugees to Turkey was the most important element in the summit's strategy.
Inadequate implementation
European Commission President Jean-Claude Juncker had already declared shortly before the meeting kicked off in Brussels that this time there would be no new resolutions made.
"We need to implement those things we've already decided upon," Juncker said, referring to decisions already made at previous summits to divvy up the refugees in Greece and Italy to other EU member states.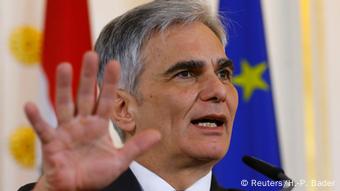 Austrian Chancellor Werner Faymann has said his country would cap asylum applications
"To say the implementation is inadequate is to put it politely," said Juncker, assessing the diligence with which EU member states have already held up their end of the bargain.
To date, just 600 of the 160,000 people who should have been redistributed have been. This redistribution has not picked up its pace since the last EU summit in December. Back then, Merkel spoke of an "exponential increase" and a "learning curve" but neither of these have come to fruition. Now Merkel is saying that making any new resolutions concerning a quota at this summit would be considered after the last failed attempt, "laughable." These contingencies were to include the direct resettlement of Syrian refugees from Turkey to EU member states.
Germany's closest partner in the EU, France, shot down that proposal, forcing Berlin to backpedal.
Lowering expectations
German diplomats have attempted in recent days to get the message across in Brussels that they aren't interested in discussing quotas and new resolutions. And yet Merkel, while out on the campaign trail in Rheinland-Palatinate a few weeks ago, said that securing the border between Turkey and Greece only makes sense when there's simultaneously a quota for the relocation of refugees. Otherwise Turkey would be left alone with all of the refugees.
Martin Schulz, president of the European Parliament, denounced the terror attack in Turkey ahead of the Brussels summit and said the victims would be mourned. Still, he hoped "to be able to speak with the Turkish government as soon as possible about cooperation."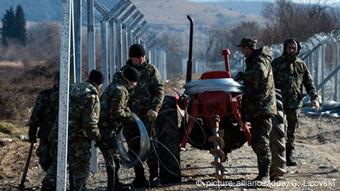 Macedonia has begun building a fence along the border to Greece
Without the Turkish partners at the table, no decisions will be taken at this EU summit; no new proposals will be put forward. Still, there is tension and a need for meetings, especially for some member states along the Balkan route.
Juncker told reporters that already on Wednesday a pre-summit meeting of the western Balkan states said they were ready to cooperate.
"Others are planning surprises," he noted, a subtle hint at Austria, which announced tougher border controls at Slovenia and Italy on Wednesday, along with plans to only allow 80 asylum applications per day. Even the onward journeys of some refugees and migrants to Germany are being hindered, leading to back-ups in the Balkans which will lead all the way back to Greece. Further border controls or the erection of fences will have consequences. Jean-Claude Juncker criticizes this "trend" toward border controls.
"We want a European solution. We don't want border controls."
Preventing Brexit - open options
Juncker and Schulz were confident that they'd be able to come to a compromise with Great Britain within the two days of the summit. Brexit, the decision to leave the EU, that has been put to a vote in the UK, must be prevented, said Schulz.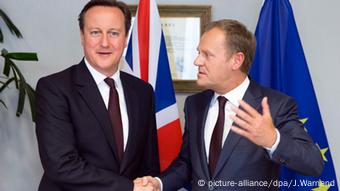 British Prime Minister Cameron is pushing hard for concessions to keep the UK in the EU
"That's a decisive question for the EU."
Juncker said that there is still a lot to discuss. Nothing has been laid out on the table yet from which agreements can be made. "I am very confident, that that will occur," said Juncker.
British Prime Minister David Cameron called for reforms within the EU. Especially highly debated is his demand that UK social benefits not be paid out to migrants from within the EU for a certain period of time. Opposed to this are the Eastern Europe states from which many of the immigrants come.
The European Parliament also needs to agree on a number of changes to the law, said Schulz. "That's only something that we can do, however, when a text is presented to us and a positive referendum made."
The vote could be taken in Britain as early as June. David Cameron would like guarantees ahead of that in which the European Parliament would decide in his favor. That can't happen, said Schulz, saying that a parliament as a democratic institution cannot be tied to the decrees of just one head of state.
An agreement with Great Britain is expected on Friday. Dozens of lawyers and experts will work through the night Thursday in an attempt to formulate an air-tight legal text. Lawyers for the heads of governments will be working in tandem in special meeting halls in EU buildings to try to bring the ideas of their state heads into international legal contractual terms that hold water.