The EU summit wrapped up Friday evening on a warmer, if still uncertain, note about the state of negotiations between the United Kingdom and the 27 remaining member nations. The bloc agreed to take up internal discussions on the future of a UK-EU relationship, though it pushed talks between the divorcing partners until after December, at the earliest.
EU leaders also discussed the bloc's priorities beyond Brexit.
Read more: Opinion: Trouble brewing in every corner of Europe
Some progress, not enough
On the second day of the two-day summit, European Council President Donald Tusk said that the so-called EU-27 had agreed to start preparatory talks between the remaining EU member states on a possible future relationship with Britain.
He cast aside rumors that Brexit negotiations had come to a standstill, while admitting that work was still needed in key areas.
"My impression is that reports of the deadlock between the European Union and the UK have been exaggerated, and while progress has not been sufficient, it does not mean there is no progress at all," Tusk said.
The EU says that "sufficient progress" needs to be made in three key areas — citizens' rights, the border between Ireland and Northern Ireland, and a financial settlement — before talks with Britain can move into phrase two and discuss the post-Brexit economic relationship.
"We have some details, but we do not have all the details we need," European Commission President Jean-Claude Juncker told reporters on Friday.
British Prime Minister Theresa May met Friday morning with European Council President Donald Tusk and later with other EU leaders before leaving the remaining 27 leaders to discuss internal Brexit matters.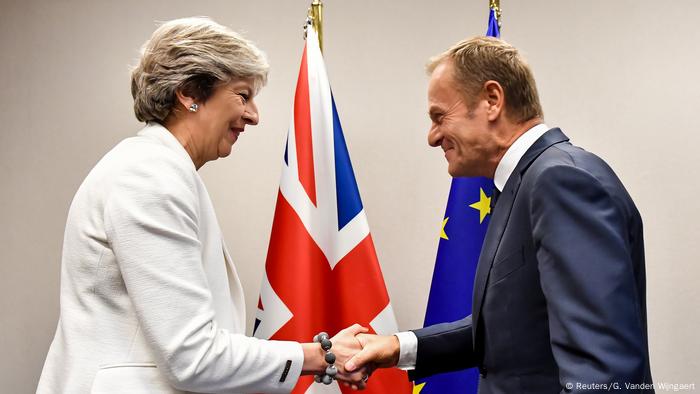 May and Tusk both expressed cautious optimism in Brussels
May, who faces domestic political devisions, has been pushing for talks on the UK's future relationship with the EU. In a dinner speech on Thursday evening, she issued an impassioned plea for negotiations to turn to the future relationship.
Before departing, May told reporters she had pledged that Britain would honor its commitments to the EU on Brexit and that other countries would not lose out in the current budget plan. However, she declined to say whether she had offered EU leaders a higher financial settlement, instead repeating that the divorce bill's total must wait.
"The full and final settlement will come as part of the final agreement that we're getting in relation to the future partnership," May said.
According to DW's Georg Matthes, May appeared at least a little encouraged by the Brussels proceedings as she headed back to London Friday morning.
Opinions from the 27
In a Friday press conference, German Chancellor Angela Merkel voiced her opinion on May's recent announced that the UK would institute a two-year transition period after the March 2019 exit date, calling it an "interesting idea," but saying it could only be addressed later on.
The chancellor confirmed that the leaders hoped they could decide to take up Phase 2 of Brexit talks in December, but that this depended on how Britain moved on the financial settlement with the EU.
Danish Prime Minister Lars Lokke Rasmussen appeared to share Merkel's careful optimism in comments he made on Friday.
"We need [May] and the British negotiators to move this into the negotiation room. And hopefully we will soon have made sufficient progress that we can continue into the next phase. And I think that's what we all hope for," Rasmussen told journalists including DW's EU correspondent Georg Matthes.
Read more: Brexit Diaries 14: Boris Johnson rocks the boat
But not all European heads headed home with the same shared Merkel's cautiously optimistic assessment.
French President Emmanuel Macron said that "there is a lot of work left to do" to lay out Britain's departure from the EU. "We have not gone even halfway down the road," he said.
Tax, Iran and Turkey
EU leaders also spent time discussing other critical issues for the bloc including tax, security and migration policy.
Macron has made a strong push to reform the bloc. One of his more contested proposals is to make giant tech companies such as Google and Facebook pay taxes where they make profits so as to avoid tax havens. However, he received pushback from smaller EU states such as Ireland and Luxembourg, which benefit from the companies' presence in their countries, and who argued that the issue should be approached globally.
Also discussed was US President Donald Trump's opposition to the landmark nuclear agreement with Iran. The EU leaders reached unanimous agreement to support the accord as a means of bolstering global peace and allowing renewed trade with Iran, a long-time trading partner of European countries.
The leaders also agreed on wanting to maintain "full control" of the EU's exterior borders in the face of global migration and agreed on the need to oversee migration routes, fight human trafficking and undertake more deportations.
The EU states' heads also agreed to maintain the migration deal with Turkey that has been in place since spring 2016. At the same time, the group examined whether and how to cut pre-accession finances to the neighbor nation over alleged human rights abuses and aggressive rhetoric towards Europe.
cmb/msh (AP, Reuters, dpa)