The European Commission has hailed the success of an open door policy pursued by three EU countries -- Britain, Ireland and Sweden -- towards jobseekers from new EU states since the bloc's 2004 "big bang" expansion two years ago.
But the commission, which will give a positive assessment in a formal report next month, stopped short of urging all other European Union states to drop restrictions on workers from the mostly ex-communist EU newcomer states.
"Free movement (of workers) has not created any major problems in the three countries which did not impose restrictions," said Katharina von Schnurbein, spokeswoman for EU employment commissioner Vladimir Spidla.
Ten new countries joined the EU in 2004: Cyprus, the Czech Republic, Estonia, Hungary, Latvia, Lithuania, Malta, Poland, Slovakia and Slovenia.
As allowed under EU rules, 12 of the existing member states chose to maintain for two years restrictions requiring jobseekers from the EU newcomer states to apply for a work permit. They must decide by April whether to prolong the move by a further three years.
Germany to keep restrictions
Germany and Austria, both bordering on new member states, plan to maintain the restrictions, while Finland and Spain could lift them. Danish Prime Minister Anders Fogh Rasmussen has also promised to reconsider the issue.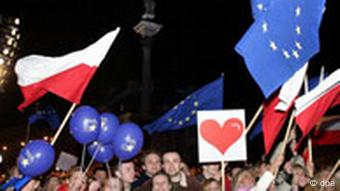 Poles may be EU citizens, but they still cannot work freely in Germany
In 2009, the member states can prolong the restrictions for a final two-year period, but only if they can prove that lifting them would cause serious disruption to their labor markets.
The EU jobs commissioner regularly says that the "old" EU member states should reconsider their restrictions, questioning whether they were really necessary, Spidla's spokeswoman noted.
But the new official report, to be presented on Feb. 8, "will be very factual and will not include recommendations. It's up to each member state to decide if they keep the restrictions."
British authorities said in November that more than 290,000 eastern Europeans have applied to work in Britain since their countries joined the now 25-nation bloc, far more than government estimates before the EU's enlargement.
But London said the new workers were being absorbed well, for example, bolstering public services and the economy while making few demands on the welfare system.