Since September, border officials at the Russian-Belarusian crossing of Krasnoye, near Smolensk, have no longer allowed EU citizens to enter Russia. It is not an international border crossing for foreign citizens, argues Moscow.
Poland was the first country to sound the alarm. Outraged, Polish radio broadcasts reported that the direct route from Warsaw to Moscow was blocked. Russian guards had apparently sent travelers back to Moscow and suggested they travel to Latvia and then to the next international Russian border crossing, Burachki-Terehova. The road to Moscow via Latvia is 500 kilometers (300 miles) longer.
Dispute has intensified
On September 12, the Polish Embassy in Moscow shared its concern with the Russian foreign ministry. Russia had already complained about Poland's suspension of a local border traffic agreement on July 4. According to the deal, residents of the Russian exclave of Kaliningrad and the Polish border region could freely travel back and forth between the two countries. Poland said its suspension was due to the NATO summit in Warsaw and World Youth Day in Krakow. But Warsaw has indeed not yet repealed the local border traffic suspension.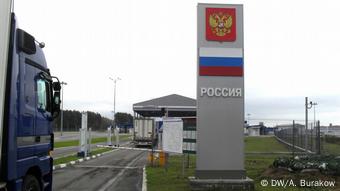 EU citizens can now only enter Russia from certain checkpoints
Moscow, it now seems, may no longer allow EU citizens to transit through Belarus. In response to a DW inquiry, Russian border officials said that EU citizens who took a train or bus to Russia must carry a passport that contains a rubber stamp allowing them to cross the border to Russia. In the future, entry via Belarus will be regarded as an offense subject to a fine from 29-100 euros ($32 to $110) and deportation.
'Three sisters'
Yet Russian border officials in Smolensk are also suggesting that EU citizens take another detour - apart from Latvia - via Novy Yurkovich. They claim that it is the only international Russian border crossing from Belarus to Russia. The route through the Belarusian Gomel area is a 300 kilometer detour.
The Soviet-era Friendship Monument still stands at the border crossing. Called "Three Sisters," it is supposed to symbolize the friendship between the people of Russia, Belarus and Ukraine. This is where the countries converge. There are three border-crossings: Veselovka to Belarus, Senkovka to Ukraine and Novy Yurkovich to Russia.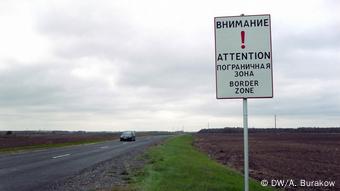 Those entering Russia via Belarus illegally face fines and deportation
EU travelers will encounter many surprises on their journey. From Gomel, there is only a very narrow road towards Russia, which passes through dozens of villages. The speed limit is 40 kilometers per hour. Furthermore, the border area where no stops are allowed begins 20 kilometers ahead of the crossing. The Russian border crossing Novy Yurkovich, with its barbed wire, machine gun nests and sandbags, looks menacing. The Russian-Ukrainian border is nearby.
Lieutenant Sheronin, on duty in Novy Yurkovich, immediately explained that he is not authorized to make any statements. He simply said that citizens of the Commonwealth of Independent States (CIS), which includes Belarus, must also pass official international border crossings to enter Russia. Most of them travel to Novy Yurkovich. The border official said that one rarely sees cars from the EU in this area.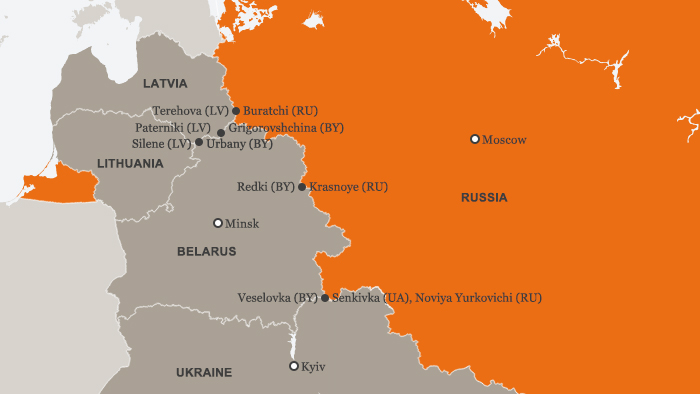 Belarus 'does not ask Russia'
Russian political scientist Dimitriy Oreshkin explained that the Russian government's actions were inevitable. "They want an iron curtain again and to go back to the Soviet way of life," he said. But that would obviously lead to contradictions within the Eurasian Economic Union (EAEU). Its members Belarus and Kazakhstan would like to take advantage of their position to make money, said Oreshkin. But Russia is taking away those opportunities.
Andrei Susdalzew from the Higher School of Economics in Moscow thinks there should be no borders within the EAEU. Right now, there are different border and visa regulations between the countries.
Belarus would like to allow visa-free entry at Minsk's airport for citizens of 80 countries who would be able to stay in the country up to five days. Starting October 23, people who visit the Augustov Canal will no longer need a visa.
"Belarus opens its gates to foreigners and does not ask Russia about it," said Susdalzew. The Augustov Canal is a waterway built in the 19th century and crosses Polish and Belarusian territory. It is primarily a tourist attraction and benefits Minsk's aim to boost its tourism industry.