The number of first-time asylum applications in the EU fell to 287,085 in the first quarter, Eurostat said on Thursday, with Germany continuing to take in the vast bulk of applications. That constituted a 33-percent drop on figures from the previous quarter, but an increase on first quarter figures for 2015.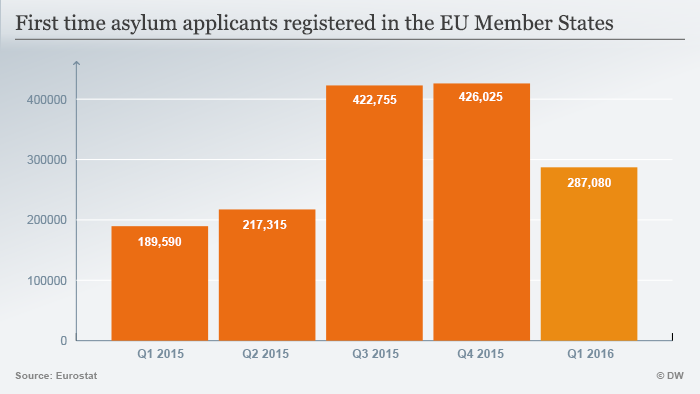 The EU took in about a million migrants and refugees last year, triggering a crisis that has threatened the unity of the bloc. Poor winter weather, the closure of the Balkan route used by migrants to reach northern Europe, and an EU deal with Turkey have since partially stemmed the flow.
Roughly 36 percent of asylum applications in EU member states came from Syrians, with Afghans and Iraqis following with 12 percent each. More than 85 percent of Syrians, about three-quarters of Iraqis and more than half of Afghans applied for asylum in Germany.
In all, six-in-ten asylum seekers, or 175,000 first-time applicants, applied in Germany in the first quarter. Italy followed in second place with 8 percent, France with 6 percent, Austria with 5 percent and the United Kingdom 4 percent.
As a proportion of the population, Germany again topped the list in the first quarter of the year with 2,155 first-time asylum applicants per one million inhabitants. Austria came in second with 1,619 applicants per one million inhabitants.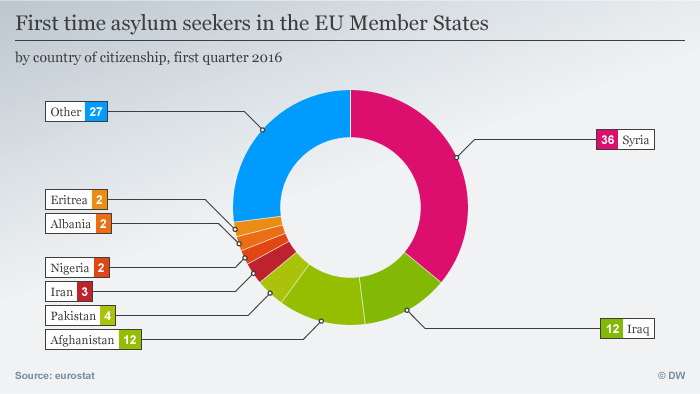 Eurostat also said there remain more than one million pending applications EU-wide. The so-called "stock" of applications is used as an indicator to measure the workload of countries in processing the backlog of asylum applications.
Germany again topped the countries with a backlog of asylum decisions to be made, with 473,000, or 47 percent. Germany was followed by Sweden with 15 percent of the EU total, Austria with 8 percent, Italy with 6 percent and France rounding out fifth place with 4 percent.
The nearly 1 million backlog applications compares to 560,000 pending applications last year at the same time. Not all migrants arriving in the EU apply for asylum upon arrival, meaning some migrants already in the bloc are likely to add to existing applications.
While crossings from Turkey to Greece have dropped, migrant arrivals from Libya to Italy are on pace to match last year. Most of the migrants plying the Central Mediterranean route come from sub-Saharan Africa.