French President Emmanuel Macron and Indian Prime Minister Narendra Modi have pledged to work together following talks in New Delhi on Saturday.
Macron, who arrived in the Indian capital on Friday, said France and India should be key partners.
"I hope this visit will open a new era for this strategic partnership," Macron added Saturday.
Read more: France's Macron seeks closer India ties amid global uncertainty
'Entry point to Europe'
The French leader expressed his desire to make his country "India's best partner in Europe," replacing Britain as India's "gateway to Europe."
"Your historical partner in Europe was the United Kingdom, and I want France to become the new partner," Macron told Indian media.
"The first [objective of my visit] is to seal for the decade to come a strong pact around collective security in the region between our two democracies," Macron emphasized.
Read more: New France-India military aerospace joint venture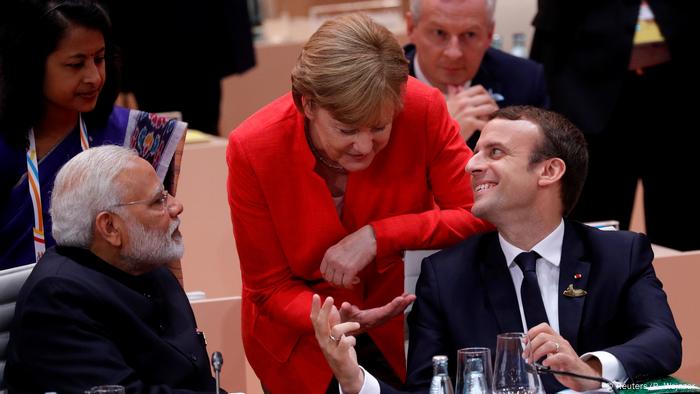 France and Germany are increasingly worried about China's 'agressive' behavior in the Indian Ocean
Security, trade and climate
India and France are set to sign a deal to increase naval cooperation in the Indian Ocean where China has been flexing its military might. According to Indian media, France could announce plans to let the Indian navy use its bases in the southern Indian Ocean.
"European powers such as France and Germany are increasingly worried about China's behavior. They would like greater stability and some balance in Asia, and therefore see India as a possible partner in this endeavor," Rajesh Rajagopan, a New Delhi-based professor of international politics, told DW.
Trade between India and France in 2016-17 touched $10.95 billion (€8.9 billion), with France listed as the ninth largest foreign investor in India with a cumulative investment of over $6 billion (€4.87 billion) from April 2000 to October 2017, according to Indian government figures. The investments span various sectors, including defense, automobiles, aviation and pharmacy.
On Sunday, Modi and Macron will co-chair the founding conference of the International Solar Alliance (ISA). The ISA was a flagship Indian initiative launched by Modi and former French President Francois Hollande on the sidelines of the Paris Climate Conference in 2015.
Read more: Despite Trump climate turmoil, India's PM Modi reaffirms Paris pact during France visit
Personal rapport
After his arrival in India, Macron also talked about his personal relations with Indian PM Modi.
"I think we have a very good chemistry. Our two great democracies have a historic relationship," the French president said.
In a tweet on Friday, Modi welcomed Macron to India, saying: "Your visit will add great strength to the strategic partnership between India and France." Modi also shared his photos with the French president.