The leaders of Ethiopia and Egypt signaled on Sunday that their two countries had achieved a breakthrough in the ongoing dispute over the Grand Renaissance Dam, Ethiopia's €3.4 billion ($4 billion) hydroelectric project.
The ambitious project will be Africa's largest hydroelectric dam. It is being built on the Blue Nile tributary of the Nile River, Egypt's main source of water for consumption, industry and farming.
"We will take care of the Nile, and we will preserve your share of the Nile water and we will work to increase this share," Ethiopian Prime Minister Abiy Ahmed promised the Egyptian people following his meeting with President Abdel-Fatah el-Sissi.
Read more: Egypt and Ethiopia argue over dam project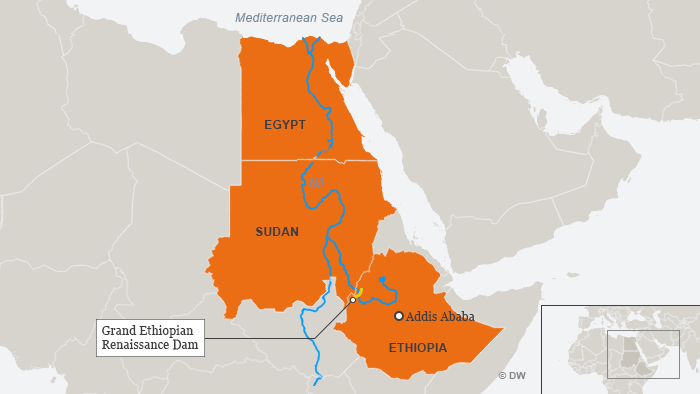 Ethiopia as regional energy hub
Cairo worries that the dam's reservoir could lead to a reduction in the freshwater flow of the Nile in its territory. The Nile River flows through Ethiopia, Sudan and Egypt, but the largest share of the river runs through Egyptian territory.
The dam is being built near the Ethiopia-Sudan border and is already 63 percent complete. Ethiopia hopes the finished project can transform it into a key energy hub in Africa.
Read more: Opinion: Ethiopia's peace offer comes with strings attached
El-Sissi said that both countries sought a final agreement over the Renaissance Dam that would "secure" Egypt's fair share of Nile waters, while also aiding Ethiopia's development.
"We have come a long way in building confidence with Ethiopia," el-Sissi said about the bilateral talks that have taken place over the course of four years.
On May 16, the irrigation ministers of all three countries that share the Nile agreed to establish a scientific study group on how the dam would be filled and agreed to hold meetings every six months on the matter.
At Sunday's meeting in Cairo, Ahmed reassured el-Sissi that his country had "no desire to harm the Egyptian people."
"We believe that we should benefit from this river, the Nile, but when we benefit we should not do harm to the Egyptian people," Ahmed said.
The two sides pledged to set up an infrastructure investment fund that would benefit all three countries' development.
Egyptian presidents in the past have threatened military force in defense of their share of the Nile and against any attempts to build dams on it. The announcement of the ambitious dam had led many to fear the outbreak of a water war between Egypt and Ethiopia.
But while engaging the Ethiopian government on the matter throughout the year, President Abdel-Fattah el-Sissi has denied that his country would pursue a military option.
jcg/aw (dpa, Reuters, AP)
Each evening at 1830 UTC, DW's editors send out a selection of the day's hard news and quality feature journalism. You can sign up to receive it directly here.