The speed with which new Prime Minister Abiy Ahmed is getting things done is making Ethiopians dizzy. In office for just two months, the 41-year-old is demonstrating a keenness for reform that is thoroughly shaking up the country's encrusted political landscape. Thousands of political prisoners have been freed, reconciliation talks with the opposition are underway and the state of emergency has been lifted earlier than expected. After years of being frozen in a political ice age, Ethiopia is now ready to recognise the 2002 ruling by the International Court of Arbitration in The Hague which confirmed the course of the border to the advantage of Eritrea, Ethiopia's arch enemy for many years. Rubbing their eyes in amazement, Ethiopians are now wondering what will come next. Perhaps even a peaceful agreement with neighboring Egypt over the use of water from the Nile?
In his first speech on taking office, Ethiopia's new strongman had already announced a peace initiative with Eritrea. But the speed with which he is forging ahead still comes as a surprise.
Ethiopia's sudden concession is, at first sight, a political victory for Eritrea. Ethiopia must now withdraw from the territory accorded to Eritrea by the arbitration commission, including the disputed border town of Badme. That is already an ambitious goal.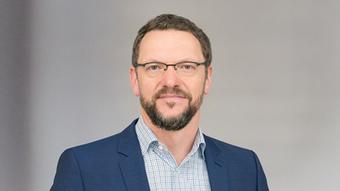 Ludger Schadomsky heads DW's Amharic Service
Will Eritrea accept the olive branch?
But there's a catch to the good news. Eritrea's regime cannot be pleased with Ethiopia's political about turn. Since the 2002 decision, the authoritarian regime of Isaias Afwerki has upheld the "No peace, no war" status. The latent state of war with Ethiopia allowed the regime in Asmara to maintain its apparatus of repression and spies, which has turned hundreds of thousands of young Eritreans into refugees trying to cross the sea to Europe.
With its neighbor's new sunshine policy, there is no longer any need for the forced militarisation in Eritrea which for two decades has characterised the everyday life of its citizens, defining their right to exist and possibly the legitimacy of Afwerki as head of state.
Much will now depend on how Eritrea reacts to Ethiopia's outstretched hand. As yet, there has been no official reaction. According to reports, Afwerki has rejected an offer of diplomatic mediation by the Saudis.
An Eritrean president fighting to survive could destroy the hope that peace could come to the Horn of Africa, ending years of unrest. Strategically positioned on the Red Sea, the small country is a stage for numerous proxy wars. It is a powder keg that could explode at any time. Especially when pressure from the street grows — and Eritrea's youth are calling for their voices to be heard; they want jobs and overdue political reforms.
In Ethiopia, reactions to the move by the new young prime minister have initially been cautious, even negative. On social media platforms there is even talk of a sellout. Prime Minister Abiy Ahmed, a member of the Oromo ethnic group, has a host of powerful opponents, especially within the security and military apparatus. They are just waiting for him to make a mistake.
And so it is too early to rejoice.