In a letter to the European Union's (EU) national leaders, European Council (EC) President Donald Tusk said Tuesday that the bloc's current challenges "are more dangerous than ever before in the time since the signature of the Treaty of Rome 60 years ago."
Tusk highlighted an "assertive China," "Russia's aggressive policy" in Eastern Europe, and "radical Islam" as key external threats to the EU. These factors "as well as worrying declarations by the new American administration all make our future highly unpredictable," he said, referencing the Trump administration.
Tusk's placement of Europe's long-term transatlantic ally alongside polities and ideologies with whom Europe has tense relationships was a frank re-categorization that reflects the worries of many European national leaders regarding the Trump presidency.
A Trump presidency may pose an 'external threat' to the EU
"Particularly the change in Washington puts the European Union in a difficult situation; with the new administration seeming to put into question the last 70 years of American foreign policy," Tusk wrote.
Trump has repeatedly questioned the value of American participation in NATO, although he has simultaneously made assurances that the United States remains committed to the military alliance. In addition, the American president's nationalist economic and immigration policies, especially the recent travel ban, have drawn condemnation from various EU leaders.
Despite the threat posed by a Trump administration, Tusk called on the union to remain united and committed to a strong transatlantic relationship underpinning global peace and order.
"We should remind today our American friends of their own motto: United we stand, divided we fall," he said.

Goodbye, Britain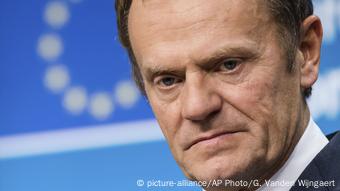 Tusk will meet with EU leaders in Malta on Friday
Tusk's letter came a few days before EU leaders are due to meet in Malta to discuss the future of the EU as a 27-member state bloc. Although he did not directly mention Great Britain, the EC President implied that the nation's rationale for voting to leave the EU would weaken both Britain and the union.
"It must be made crystal clear that the disintegration of the European Union will not lead to the restoration of some mythical, full sovereignty of its member states, but to their real and factual dependence on the great superpowers: the United States, Russia and China," he said. "Only together can we be fully independent."
Great Britain will attend the summit in the Maltese capital of Valletta on Friday but will only partake in the morning discussion on migration. In the afternoon, the leaders of the remaining 27 nations will discuss post-Brexit reforms.
British Prime Minister Theresa May has been less critical of Trump in comparison to her European counterparts, and her recent visit to Washington signaled a possible strengthening of the British-American relationship outside the EU arena.
cmb/jm (AP, Reuters)