Germans, Belgians and French tourists flock to the Dutch border town of Maastricht for the shopping -- but also for ready access to the hashish and marijuana legally sold in its coffee shops.
The city in Holland has proposed a plan to move the legal cannabis cafes to a stretch of road close to the Belgian border, much to the dismay of the city's Belgian neighbors.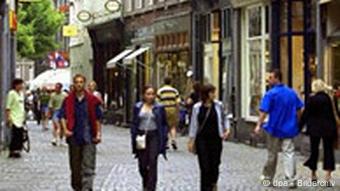 Downtown Maastricht attracts shoppers as well as smokers
Maastricht is best known for the European Union's Maastricht Treaty, signed in 1992. But because it sits at a crossroads of two major highways, coming from Belgium and Germany, it has also become a key stopping point for Belgians, Germans and French who enjoy Holland's lax laws on soft drugs.
Booming tourism trade
"Each day between 3,500 and 4,000 tourists come to the coffee shops in the city center, making up a total of 1.5 million cannabis users annually. Two-thirds come from Belgium, Germany or France," said Mark Josemans, chairman of an organization representing the 16 officially licensed coffee shops operating in Maastricht.
But the soft-drugs tourism is causing increasing problems for the town, according to Maastricht officials, such as cannabis tourists taking up the limited parking spaces, petty crime and hard drugs dealers offering their goods in the vicinity of coffee shops.
Choosing regulation
In December the city council unanimously put their weight behind plans by Maastricht Mayor Gerd Leers to move the coffee shops out of town. Leers is actually opposed to drugs, but said he preferred to regulate the legal trade of soft drugs rather than have everything go underground.
"The coffee shops are located in the city centre," Leers said, "but in Maastricht there are over a hundred private residencies that also illegally cater to this wave of drug users."
Criticism from neighbors
Supported by Maastricht's aldermen and the coffee shop owners, the mayor's project, dubbed the "Weed Boulevard" in the local media, has attracted fierce criticism from the neighboring Belgian communities of Fourons and Lanaken.
"Some 80 to 90 percent of the traffic in the direction of Maastricht passes through Fourons and as the legal sale of soft drugs comes closer to the border the illegal traffic in hard drugs will also come to the surrounding areas, being the territory of Fourons or (near-by) Vise," said Huub Broers, the mayor of Fourons, a town some 15 kilometers (10 miles) from Maastricht.
"I only have 20 police officers, how can I control all that?" he asked. "It is wrong from a democratic standpoint. (Maastricht's) resolving problems at our costs is not good neighborliness."