Berlin is big on innovative retail concepts, especially when they have a green and sustainable angle. In 2011, Europe's first vegan supermarket chain opened its first store here (it now has three in Berlin). In 2014, the city got its first packaging-free supermarket.
Last week, three friendly-looking guys opened a new store with a green twist in the city. It's called SirPlus and as the name suggests, it sells leftover food or more specifically food that would otherwise be thrown away. Essentially the store turns dumpster diving into a business.
People have long picked through rubbish for food and other valuables out of necessity. But in recent years, dumpster diving - as the practise of collecting food from supermarket skips has become known - has been taken up by those who object to a supply system based on the large-scale waste of perfectly edible food.
The Food and Agriculture Organization of the United Nations estimates that every year, 1.3 billion tons of food goes to waste worldwide.
From rejecting money to starting a company
One of those protesting dumpster divers was Raphael Fellmer. He went so far as to live without money for five years, which eventually earned him a spot on many German talk shows and a book deal. But he has since had a change of heart when it comes to cash and is now one of the co-founders of SirPlus. "You can do many positive things with money," he recently said in an interview.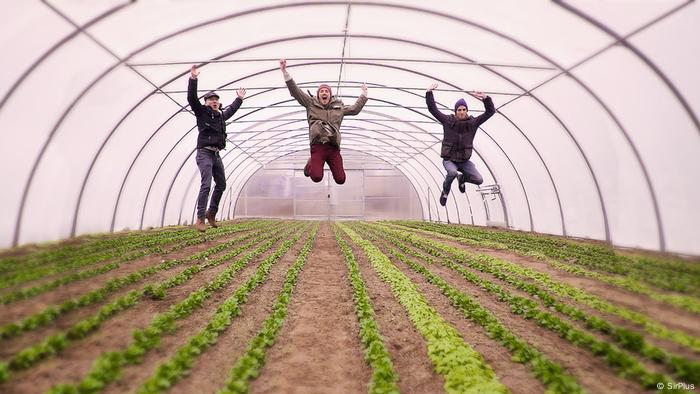 The founders of SirPlus have big plans that go far beyond their little store in western Berlin
So what's the business model?
Put simply, SirPlus has agreements with major food producers and retailers to take edible food they would otherwise dump and sell it for a big discount at their small store in Berlin's Charlottenburg district.
It's a win-win situation. The companies get good PR for avoiding food waste and save on garbage disposal, while consumers get bread, soy milk, baby food or juice at a massive discount of up to 70 percent. SirPlus does plan to make a profit with the enterprise, although they are quick to point out that they will give 20 percent of that to charity.
A cute store with big plans
For now, SirPlus is a cute little store in a pedestrian zone in the western part of Berlin, but the founders have much bigger plans.
Once the new business is fully up and running, they want to launch an online shop and offer home delivery, not just in Berlin but throughout Germany. Talk about taking dumpster diving mainstream!