US President Donald Trump signed an executive order on Friday suspending refugee arrivals and imposing tough new controls on travelers from seven Muslim countries.
The order imposed a 120-day suspension of the entire US Refugee Admissions Program and a 90-day ban on all entry to the United States from countries with terrorism concerns.
The State Department said the three-month ban applied to Iraq, Syria, Iran, Sudan, Libya, Somalia and Yemen - all Muslim-majority nations. The order also specifically bars Syrian refugees from the US indefinitely, or until the president decides that they no longer pose a threat.
"We want to ensure that we are not admitting into our country the very threats our soldiers are fighting overseas," he said . "We only want to admit those into our country who will support our country and love - deeply - our people."
During the suspensions of the refugee and visa programs, new rules would be devised for the "extreme vetting" of applicants' backgrounds.
The temporary halt to refugee processing does not apply to religious minorities claiming persecution, such as Christians from Muslim-majority countries.
Trump said separately he would allow some exceptions for "religious minorities," such as Syrian Christians.
The executive order also cut the number of refugees the US planned to accept this budget year by more than half, to 50,000 people from around the world.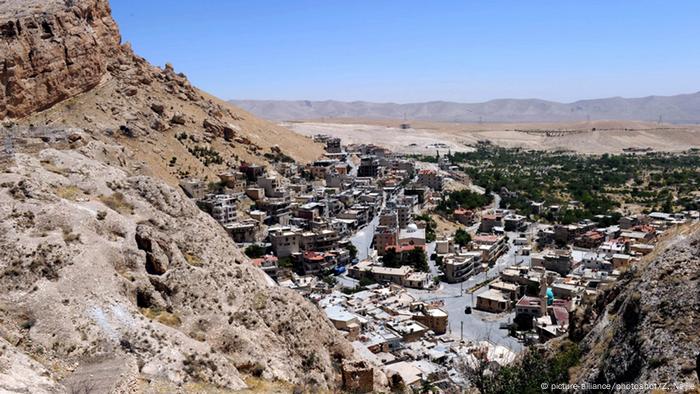 Christian minorities, such as those from the ancient Christian town of Maaloula in Syria, would be exempt from the ban
We will fight it 'tooth and nail'
Civil liberties groups and many counterterror experts condemned the measures, even before full details were released, saying it was inhumane to group together the victims of conflict with the extremists who threatened them.
"'Extreme vetting' is just a euphemism for discriminating against Muslims," said Anthony Romero, executive director of the American Civil Liberties Union.
Romero argued that choosing countries with Muslim majorities for tougher treatment would breach the US Constitution's ban on religious discrimination.
Stephen Legomsky, a former Chief Counsel at US Citizenship and Immigration Services in the Obama administration, also said prioritizing Christians could be unconstitutional.
"If they are thinking about an exception for Christians, in almost any other legal context discriminating in favor of one religion and against another religion could violate the constitution," he said.
But Peter Spiro, a professor at Temple University Beasley School of Law, said Trump's move would likely be constitutional because the president and Congress were allowed considerable latitude when it came to asylum decisions.
"It's a completely plausible prioritization, to the extent this group is actually being persecuted," Spiro said.
Ahmed Rehab, director of the Chicago chapter of the Council on American-Islamic Relations, told AFP his group would mount legal challenges to fight the order "tooth and nail."
State Department ready for changes
The State Department, which alongside the Department of Homeland Security will have to implement the measures, said it was ready to put them into immediate effect.
"We will announce any changes affecting travelers to the United States as soon as that information is available," spokesman Mark Toner said.
"We take seriously our responsibility to safeguard the American public while remaining committed to assisting the world's most vulnerable people," he said.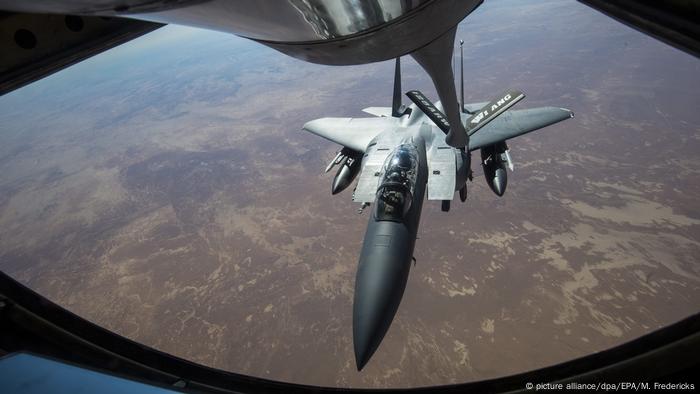 A separate executive order called for "rebuilding" the US armed forces
Rebuilding the military
Also on Friday Trump signed a separate executive order on rebuilding the US military.
The other executive order signed Friday calls for a "great rebuilding of the US armed forces, developing a plan for new planes, new ships, new resources, and new tools for our men and women in uniform."
He said the action would "ensure the sacrifices of our military are supported by the actions of our government."
In the past budget year the US accepted 84,995 refugees, including 12,587 people from Syria. President Barack Obama had set the refugee limit for this budget year at 110,000. The draft proposal would cut that to 50,000.
aw/bw (AFP, dpa, Reuters, AP)