Confirming that dozens of countries had pledged to double the number of refugees resettled to 360,000 in 2016, Obama urged countries to "welcome the stranger in our midst."
"I called this summit because this crisis is one of the most urgent tasks for our time, our capacity for collective action," the US leader said in his final address to the UN General Assembly.
"We cannot avert our eyes or turn our backs - to slam the door in the face of these families would betray our deepest values."
Germany singled out
Obama praised Germany after it opened its doors to nearly 1.5 million people over the past 15 months.
During the summit, the Berlin government pledged to continue welcoming those in search of refuge, despite a backlash from many voters in recent state elections against Chancellor Angela Merkel's Christian Democrat party.
"I believe we cannot allow ourselves to stop here. We must finally get ahead in tackling this crisis," German Foreign Minister Frank-Walter Steinmeier said.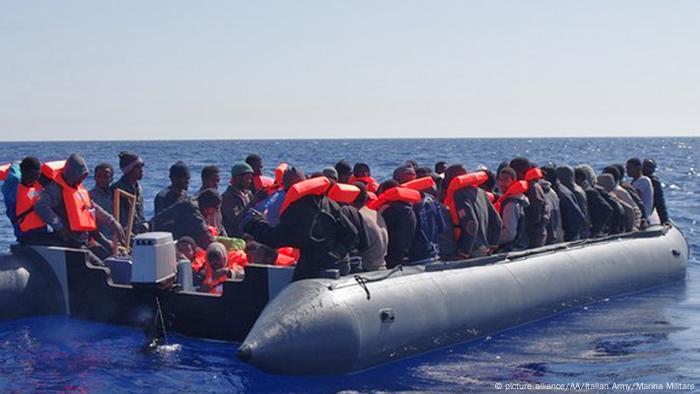 Thousands of migrants, fleeing war and poverty, continue to cross the Mediterranean in an attempt to reach Europe
Seven countries - Romania, Portugal, Spain, Czech Republic, Italy, France, and Luxembourg - committed to resettle or admit at least 10 times more refugees than in 2015, according to US officials.
Washington has said the US will raise the number of refugees entering the country by 25,000 to 110,000 in the next fiscal year, which begins in October.
Large aid increase
In addition to the increased resettlement commitment, those participating countries in Tuesday's US-led summit pledged to increase their humanitarian aid in 2016 by $4.5 billion compared to last year, Obama added.
Tuesday's summit took place a day after the 193 UN member-states adopted a global plan to confront the current refugee crisis, which has left a record-breaking 65 million people displaced globally, including nine million due to the Syrian conflict.
Pledges also included funds for ensuring access to schools for a million refugee children and enabling one million refugees to work legally.
But rights groups dismissed the agreement as falling far short of the needed international response.
UN Secretary-General Ban Ki-moon, who also gave his final address to the UN General Assembly, said it was up to the world to show "strong leadership, and in particular, compassion."
But not all world leaders were so welcoming in their position on refugees; Austria's Chancellor Gerhard Kern called for a "Marshall Plan" for countries that are the main source of migrants, to reduce the number of refugees traveling elsewhere.
His foreign minister Sebastian Kurz said Vienna was not alone in the EU in switching its call from open to tight borders in light of the European migrant crisis.
mm/kl (AFP, AP, dpa, Reuters)