UN Secretary-General Ban Ki-moon opened Monday's session by calling on world leaders to commit to "upholding the rights and dignity of everyone forced by circumstance to flee their homes in search of a better life."
"Refugees and migrants are not to be seen a burden - they offer great potential, if only we unlock it," he told delegates in New York.
By agreeing to the 22-page "New York Declaration for Refugees and Migrants," world leaders committed to enhance international cooperation and ensure that the rights of migrants and refugees are respected worldwide.
Very few specifics
The document, which is not legally binding, has been criticized for lacking concrete commitments. But it does call for UN member states to boost their aid pledges and increase resettlement guarantees for refugees.
The agreement also sets a two-year process for the creation of global frameworks to manage the movement of migrants, UN officials said.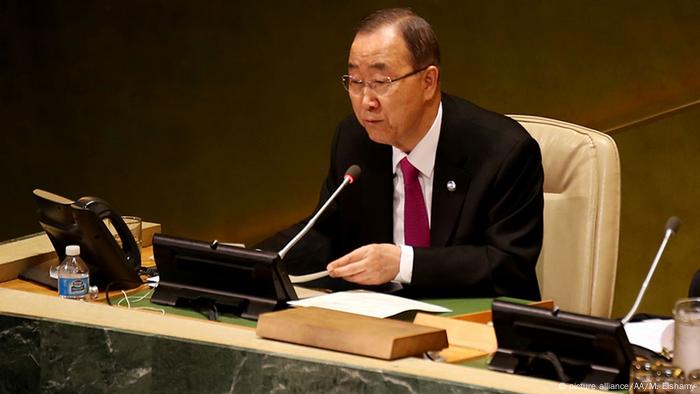 At the UN summit, Ban praised the "breakthrough" in efforts to help refugees
Ban said he hoped the deal would mean that more refugee children would be able to attend school and more migrants would be able to find employment abroad.
But he spoke as hopes faded that a week-old truce would hold in the besieged northern Syrian city of Aleppo, after violations by government forces and rebels. Around 250,000 people in the city's eastern side are still awaiting aid deliveries that were promised weeks ago.
Rights leader angry
Meanwhile, the UN's human rights chief Zeid Ra'ad al-Hussein used the summit to accuse the international community of having failed to protect those caught up in conflict zones like Syria.
"The bitter truth is, this summit was called because we have been largely failing; failing the long-suffering people of Syria, in not ending the war in its infancy; failing others in now chronic conflict zones, for the same reason; failing millions of migrants who deserve far more than lives marked by cradle-to-grave indignity and desperation," he told delegates in New York.
Al-Hussein spoke of "an epidemic of amnesia" among leaders "who seem to have forgotten the two world wars" and warned that the darkest chapters of history could return to be played out again.
Chinese hope
Chinese Premier Li Keqiang gave more reason for hope, announcing that Beijing had upped its aid budget by an additional $100 million (895 million euros) to help deal with the global refugee crisis.
"We are committed to shouldering our responsibilities compatible with our abilities," Li told the New York summit, noting that the movement of so many millions of people posed political, social and security threats.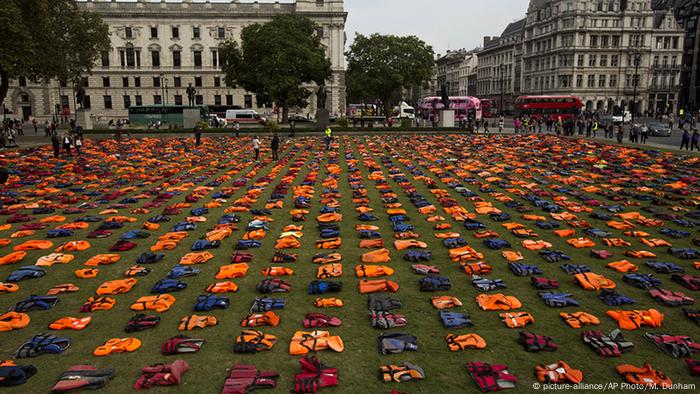 UNHCR and four other aid groups teamed up for a "lifejacket graveyard" display
As the conference got underway, thousands of kilometers away in London, aid agencies laid out 2,500 lifejackets outside Britain's parliament to symbolize the refugees crossing the Mediterranean to reach mainland Europe.
The "lifejacket graveyard" was organized to illustrate the risks migrants take, aid groups said, and to call on the UK government to take in thousands more refugees.
Between January 2015 and August this year, the UNHCR estimates that nearly 7,000 people drowned or went missing while making the journey.
In addition to Monday's UN conference, a second summit, hosted by President Barack Obama on Tuesday, will seek concrete aid pledges from world leaders.
A record-breaking 65 million people are on the move worldwide at present, fleeing wars, repression and poverty, including 21 million refugees, amid infighting among several countries about resettlement responsibilities.
mm/jil (AFP, AP, dpa)