Search results for tourist accommodations in Crimea no longer appear on the website booking.com. Instead, the the company offers the following message: "We're sorry, it's not possible to make leisure reservations in Crimea at this time on our website."
Reports that the international booking agency had stopped offering services in Crimea on July 16 sparked outrage in Russia. Lawmakers in Russia's parliament, the Duma, jumped on the reports to once again condemn European Union sanctions.
Brussels imposed the punitive measures four years ago in protest to Russia's illegal annexation of Ukraine's Crimean peninsula. The sanctions prohibit EU businesses from offering tourists services in Crimea. Officially, Dutch company booking.com ended services for tourists in 2014, insisting instead that offers were "exclusively for business travelers." Still, anyone looking for accommodation in Crimea on booking.com could find them. Such searches were only blocked in instances when users actually declared they were tourists. Now it seems booking.com has changed that.
'Business travel only'
When booking.com was asked about its policies by DW, its press department said: "The global company booking.com makes a conscious effort to uphold existing law." As the company is based in the Netherlands, booking.com has structured its website and reservation service to comply with those laws. The company added: "In doing so we hope to make reservations in Crimea possible, but only for business travelers."
Read more: OSCE 'concerned' of spy affair at Ukraine mission
The company, unlike most other international service providers, does indeed offer bookings in Crimea. If one clicks on the "business travel" search option, more than 1,000 accommodation choices appear, ranging from single rooms to luxury hotel suites. Thus, one can easily "trick" booking.com in order to reserve a room for a Crimean vacation.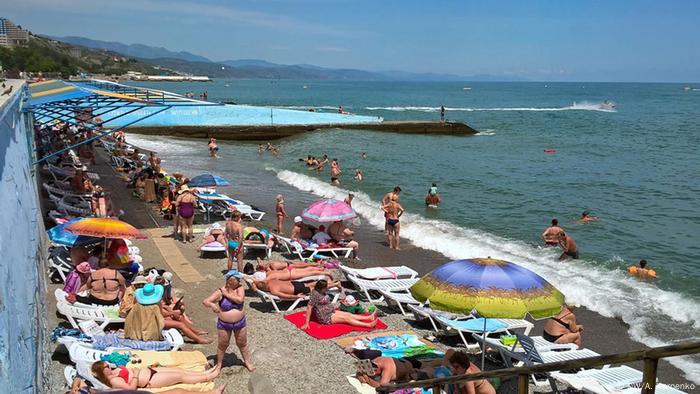 Crimea has long been known as a popular tourist destination
But does this comply with sanctions law? Thomas Heidemann of the Düsseldorf and Moscow-based law firm CMS, which provides advice to clients concerning business trips in Russia and Eastern Europe, said that as long as a company clearly offers services for business travelers and not tourists everything is fine. He cautioned, however, that assurances must be put in place to ensure sanctions cannot be skirted.
"If a provider's site is set up in such a way that tourists rather than business travelers systematically use it, that would be something very close to skirting sanctions," Heidemann said.
Comments disabled
Interestingly, thousands of reviews for Crimean accommodations on booking.com over the past four years were written by vacationers. Recently the company removed all such reviews and has disabled comments regarding Crimea.
Read more: Nord Stream 2 gas pipeline – What is the controversy about?
One year ago, booking.com's press department assured DW that it was strictly abiding by EU sanctions law. Yet only now has the company apparently made an effort to clearly differentiate between tourist and business travel. Furthermore, private bookings are still possible on the site.
The threat of heavy fines
Unlike booking.com, all other major international competitors have refused to offer reservations in Crimea since 2014. Germany's market leader for hotel booking services, HRS, told DW: "As a matter of fact we no longer offer any hotel bookings in Crimea due to the unstable political situation. We made that decision on our own since we have seen little interest in the region from our customers, who are mainly business travelers."
It is no coincidence that so many service providers have taken such a cautious approach. Sanctions violations can result in serious fines within the EU. The Netherlands Foreign Ministry told DW that fines for Dutch companies can run as high as €870,000 ($1 million) for sanctions violations, as well as carrying prison sentences of up to six years.