Denmark on Tuesday accused Iranian intelligence of planning to carry out assassinations against Iranian Arab dissidents on Danish soil, in an alleged plot that is likely to ratchet up tensions between Iran and Europe.
Danish domestic intelligence chief Finn Borch Andersen said his PET agency suspected Iranian intelligence of "planning an attack on Danish soil" against three members of the Arab Struggle Movement for the Liberation of Ahwaz (ASMLA).
A Norwegian citizen of Iranian origin was arrested on October 21 in Sweden in relation to the plot and extradited to Denmark, Swedish authorities said.
Andersen said the suspect had taken photographs of the residences of members ASMLA, which Iran considers a terrorist organization.
Andersen noted that a massive operation in September that saw Danish authorities cut land links to the island of Zealand – where the capital, Copenhagen, is located – was part of a chase to capture a person suspected of involvement in the foiled attack.
Three members of ASMLA remain under Danish police protection, as the "threats have not been eliminated," Andersen said.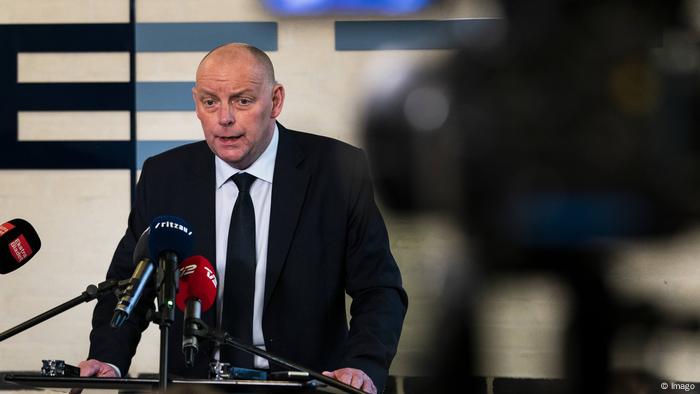 Finn Borch Andersen, domestic spy chief, has accused Iran of preparing to commit an attack on Danish soil
ASMLA in Europe
Tehran accuses the Arab separatist group of attacking a military parade in the southwestern Iranian city of Ahvaz in September, which killed 25 people and drew accusations from Iran that the group was receiving outside help.
The Ahvaz National Resistance, a faction of the ASMLA, claimed credit for the attack to a Saudi-funded London-based Iranian television nework. The "Islamic State" also claimed credit for the attack, prompting Iran to fire ballistic missles at targets in Syria in early October.
Read more: Attack on Iranian military parade may harden domestic and regional policies
However, the Netherlands-based ASMLA later denied any involvement in the Ahvaz. Danish media later reported that the Ahvaz National Resistance member who claimed credit for the attack lives in Denmark.
Arab separatists have carried small scale attacks in Iran's Khuzestan province for more than a decade.
In 2017, ASMLA leader Ahmad Mola Nissi was gunned down in the Netherlands by an unidentified assailant in what was widely viewed as a political murder.
Pressure on Iran-EU relations
Danish Foreign Minister Anders Samuelsen said that he had recalled Denmark's ambassador to Tehran for consultations. The foreign ministry also summoned Iran's ambassador in Copenhagen.
"It is the Iranian government, it is the Iranian state that is behind" the plot, Samuelsen said.
He added that Denmark had reached out to its European partners to determine "further steps," including possible sanctions against Iran.
Iran's Foreign Ministry denied the country had any role in the alleged assassination plot.
"This is yet another scenario in a series of conspiracies and plots by well-known Iran adversaries in an attempt to jeopardize the good and progressive Iran-EU relations at this very important and critical juncture," the Foreign Ministry said in a statement.
Analysts have pointed out that hardliners in Iran's intelligence services may plan plots in Europe without the knowledge or control of Iran's government led by President Hassan Rouhani. The rogue elements may even be trying to undermine pragmists in the Iranian government and good relations with the Europe.
The alleged Iranian intelligence plot in Denmark threatens to add to tensions between Iran and Europe at a time the two sides are seeking to save the Iran nuclear deal following the US exit from the pact earlier this year.
On November 5, US sanctions on Iranian oil exports are set to go into effect while the EU, China and Russia are still scrambling to establish a payment system outside of the US financial system.
Read more: EU plan to sidestep Iran sanctions: How will it work?
US Secretary of State Mike Pompeo said on Twitter that the alleged assassination plot highlighted the need for allies to confront Iran.
"We congratulate the government of Denmark on its arrest of an Iranian regime assassin. For nearly 40 years, Europe has been the target of Iran-sponsored terrorist attacks. We call on our allies and partners to confront the full range of Iran's threats to peace and security," he said.
In the shadow of Paris bomb plot
Separately, France, Belgium and Germany accuse Iranian intelligence of being being a foiled bomb plot at a June 30 rally in Paris held by an exiled opposition group, the People's Mujahedeen of Iran (MEK), which Iran considers a terrorist organization.
In July, German prosecutors charged an Iranian diplomat with working as a foreign spy and orchestrating a conspiracy to commit murder as part of the suspected bomb plot against the Paris rally.
Prosecutors said the diplomat was suspected of hiring a Belgian-Iranian couple to carry out the attack. German police arrested him while he was on holiday in Bavaria, away from his diplomatic mission in Austria. Since he wasn't in Austria at the time of the arrest, he was not entitled to diplomatic immunity.
Earlier this month, German authorities extradited the diplomat to Belgium.
Iran accuses Denmark, France, the Netherlands, Britain and other states of harboring dissident groups it labels as terrorists.
cw,ls/bw (AP, Reuters)
Each evening at 1830 UTC, DW's editors send out a selection of the day's hard news and quality feature journalism. You can sign up to receive it directly here.