Despite broad international criticism, strong doubts about Iran's real intentions, and technical delays, Russia's Rosatom state energy corporation has supplied the Bushehr nuclear plant on the Persian Gulf with the fuel rods necessary to begin operations at the reactor.
"The operation of transferring nuclear fuel to the reactor was carried out on 30th of Mordad (August 21) in presence of Ali Akbar Salehi, vice president and head of Iran's atomic body, and Sergei Kiriyenko," a statement by Iran's Atomic Energy Organisation said on Saturday, August 21.
For Moscow, it is a signal that it values good relations with Iran. Nevertheless bilateral ties remain on an uncertain footing.
A year ago, everything was looking good from the perspective of Iran's president Mahmoud Ahmadinejad. At the height of protests rejecting the results of the country's purportedly rigged presidential election, he traveled to Russia for the so-called Shanghai Conference in Yekaterinenburg.
Ahmadinejad was received by his Russian counterpart, Dmitri Medvedev, with open arms and, despite the controversial outcome of the Iranian vote, warmly congratulated on his re-election.
Many Iranians are wary of Moscow
The effusive welcome left much of the international community miffed and was met with outright scorn by the Iranian opposition. Crowds of demonstrators chanted "Death to Russia" after the reception in Yekaterinenburg.
For historical reasons, many Iranians are skeptical about relations with Russia. One protester told German radio that he was concerned about the unexpected rapprochement.
"Before the October Revolution, and after several wars, Russia annexed a large part of Iran. During the Soviet era, the USSR massively interfered in Iran's domestic affairs through a proxy party. And now, a lot of Iranians think that Russia is using the Islamic Republic again for its global political aims. These are all reasons why people here are very sensitive," the protester said.
Britain and the United States, meanwhile, reiterated their concerns on Saturday over Iran's nuclear program.
"Until Iran suspends its proliferation-sensitive nuclear activities and responds in full to IAEA concerns about potential military dimensions, it will be in contravention of six UNSC (UN Security Council) resolutions and have to bear the economic cost of sanctions," a Foreign Office minister said in London.
Israel on Saturday denounced Iran's fueling up of its first nuclear power plant as "totally unacceptable" and called for more international pressure to force Tehran to cease any uranium enrichment.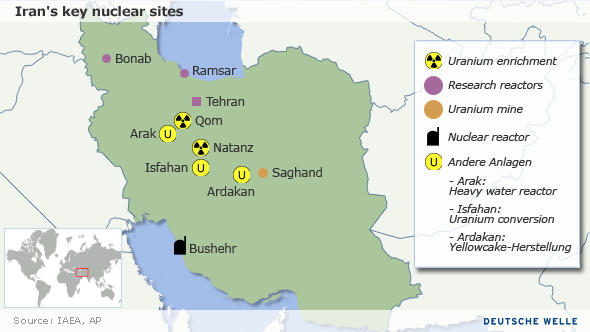 The West is concerned that the Bushehr plant could help Iran produce weapons-grade uranium
Bushehr is a symbol of power politics
Both countries, however, benefit from each other. Moscow knows, for example, that as long as the controversy swirling around Iran's nuclear program continues, the less time US President Barack Obama will have to focus on Russian foreign policy.
For Tehran, its partnership with Moscow is important because Russia is a permanent member of the UN Security Council and this means that it can block new sanctions against the Islamic Republic.
This plays an important role in Russia's involvement with the Bushehr nuclear power station. In 1995, Moscow pledged to complete the plant, which was started in 1975 by German engineering giant Siemens, and get it up and running. The original plan called for a start in 2004 but that date was repeatedly postponed.
When Russia's energy minister last year said that the plant could only start up this spring, Tehran lost patience. A spokesman for the parliamentary security committee blustered that Russia had been "toying with Iran for the last 20 years."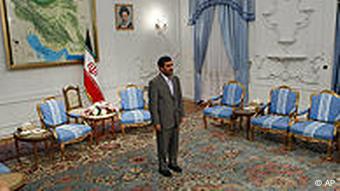 Without Russia, Ahmadinejad would be very much alone
The anger and disappointment in Tehran was understandable. After all, President Ahmadinejad has been hoping for much more than just the 1,000 megawatts from Bushehr.
"We are determined to expand and develop our nuclear power plants across the country to 20,000 megawatts," Ahmadinejad told a rally earlier this year.
Sore points remain
This spring, Ahmadinejad accused Russia of taking a pro-American position on new sanctions toward Iran. Anti-Russian tirades could be heard in parliament with one popular deputy, Ali Motahari, demanding that Tehran increase its support for the Moslems in Chechnya.
Moscow responded angrily, accusing Iran of political agitation and ultimately voting in favor of new sanctions against Tehran.
But, just because the Bushehr reactor is now starting to generate electricity, does not mean that Russian-Iranian relations are back on track. There is another sore point that severely annoys Tehran.
Moscow is continuing to refuse to deliver a promised air defense missile system. The modern S-300 ground-to-air batteries could prove more important to Tehran than starting up a long-awaited nuclear reactor, which - fearing Iran's pursuit of nuclear weapons - Israel has threatened to destroy.
Author: Ulrich Pick (gb)
Editor: Susan Houlton