Interior Minister Thomas de Maiziere on Thursday toured a shelter camp for asylum seekers at Eisenhüttenstadt, accompanied by Brandenburg state premier Dietmar Woidke.
Speaking to reporters during his visit, de Maiziere condemned a recent spate of anti-foreigner protests in Germany as well as arson attacks on shelters housing asylum seekers.
The interior minister described such attacks as "incomprehensible, unacceptable and unworthy of our country." He also pledged that the authorities would bring the "full severity of the law" to bear against the perpetrators.
At the same time, though, de Maiziere admitted that the government estimate of the number of migrants expected to enter Germany in 2015 would have to be corrected upward from the current 400,000 asylum applications. Still, he expressed confidence that Germany would be able to cope with the unprecedented wave of refugees.
"It is a major challenge, which we will meet. It is not insurmountable for a large and rich country like ours," he said. "The key is that we differentiate between those who need protection and those who do not," de Maiziere added.
'Embarassment for Europe'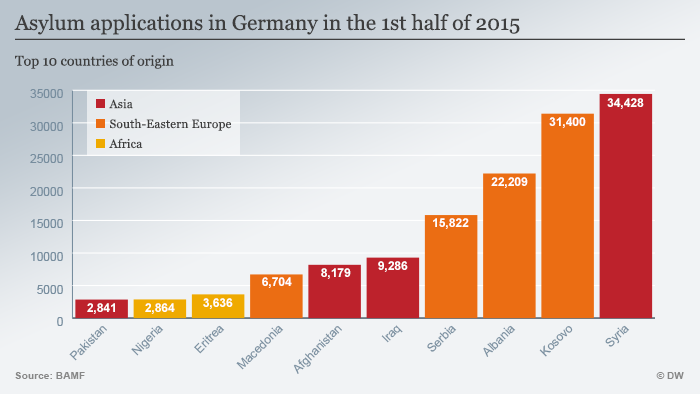 He then noted that almost half of the approximately 200,000 asylum seekers who have arrived in Germany this year have come from the Balkans, where there are currently no major military conflicts. This he said, was "unacceptable and an embarrassment for Europe."
"Here in Eisenhüttenstadt, the largest group is from Syria, but the second and third countries of origin are Serbia and Albania," he noted.
Currently, fewer than one percent of Balkan applicants are granted asylum in Germany. Chancellor Angela Merkel's Christian Democrats, of which de Maiziere is a member, have recently said they want to extend a list of so-called "safe countries of origin" to included Albania, Kosovo and Montenegro. Late last year, Bosnia-Herzegovina, Macedonia and Serbia were added.
Merkel's government recently began airing public service announcements on television stations in the Balkans, warning that people leaving those countries for economic reasons stood almost no chance of being granted political asylum in Germany.
The refugee camp at Eisenhüttenstadt currently houses around 2,200 asylum seekers, 450 of whom are sleeping in tents erected after space ran out in the buildings.
pfd/rc (AFP, EPD, KNA)