Vladimir Lenin fell victim to the so-called Darth Vader movement in Ukraine on Friday when some Ukrainians added new elements to his communist-era statue in Ukraine's fourth largest city.
The founder of the former communist state, the Soviet Union, has long been despised by many Ukrainians. In April, the government passed a law, ordering all symbols of the Soviet era to be removed from the country.
"After the anti-communism law was adopted earlier this year, we had to decide what to do with the monument [of Lenin]," Oleksandr Milov, the sculptor of the new statue, told the AFP news agency.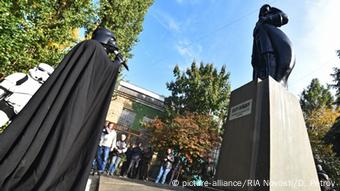 A 'real life' Vader, one of several in Ukraine, was on hand to check that the new statue was 'fully operational'
"Honestly, I did not like the idea of destroying it, so we decided on a more flexible solution," he said, adding that they were planning to install a Wi-fi router on the statue's head so that he can "communicate with the other Siths."
The people of the eastern European country are increasingly embracing the western culture, a transition that angers Russia, which has been involved in a pro-Moscow separatist insurgency in the Ukraine's eastern parts.
Darth Vader - a villainous masked character fighting against the forces of good - is a popular character in George Lucas' movies. The transformation of Lenin's statue into Darth Vader comes two months before the release of the latest Star Wars movie, The Force Awakens, in the US.
The Darth Vader movement
A Darth Vader movement has surfaced in Ukrainian politics, with several Dark lords running as candidates for the mayorship of the capital Kyiv and Odessa. One masked man ran for last year's presidential elections, only to be denied registration by authorities after he refused to disclose his real identify.
This Sunday, another Darth Vader will run for Odessa mayor again.
Most of these Ukrainian Darth Vaders represent a small Pirate Party of Ukraine – one of more than 40 groups in the world that advocate the defense of Internet freedoms and limits on copyright laws.
shs/msh (AFP, dpa)