On Sunday, investigators and officials in Denmark were liaising with their counterparts in Britain, France, Germany and Sweden, as well as with Europol, hours after deadly shootings in Copenhagen that left two people dead.
Danish Prime Minister Helle Thorning-Schmidt (pictured right) urged citizens to maintain a balanced perspective on what had happened before the police's findings were released.
"We don't know the motive for the attacks but we know that there are forces that want to harm Denmark, that want to crush our freedom of expression, our belief in liberty," she said.
The Copenhagen shootings over the weekend parallel a deadly attack in Paris last month, which targeted both the satirical magazine Charlie Hebdo for lampooning the Prophet Muhammad, and France's Jewish community. However, no information has been released about the man believed to be the sole attacker in the Copenhagen attacks, thus leaving the case open to speculation.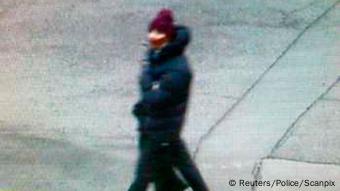 Surveillance footage purportedly shows the suspect behind the Copenhagen attacks
The Copenhagen shooter first attacked a panel discussion on art and free speech on Saturday evening, killing a 55-year-old man, later identified as documentary filmmaker Finn Noergaard. The discussion was attended by Swedish cartoonist Lars Vilks - the man behind a controversial depiction of the Prophet Muhammad which sparked protests in 2007.
The same gunman is alleged to have then shot dead a Jewish security guard at the city's main synagogue in the early hours of Sunday morning. Denmark's Chief Rabbi, Jair Melchior, has identified the dead man as Dan Uzan, 37.
Police then shot and killed the main suspect near his apartment building in the Noerrebro district several hours later, after cordoning off parts of the city and evacuating the nearby train station.
"We are not facing a fight between Islam and the West, it is not a fight between Muslims and non-Muslims," said Thorning-Schmidt.
Support for Jewish Danes
The Danish prime minister also reiterated her country's solidarity with its Jewish community on Sunday.
"When the Jewish community is attacked, our democracy is attacked, the whole of Denmark is attacked," she said.
Both the European Union and North America have seen an alarming rise in the threat of terrorism by Islamist extremists in the last year. The phenomenon relates in part to the sudden emergence of the "Islamic State" (IS) in Syria and Iraq, whose Internet propaganda has drawn new members from around the world, including from Western nations.
The looming threat of these extremists returning and carrying out attacks has worried leaders in the EU and bolstered right-wing rhetoric against what they perceive as an "Islamization" of Western Europe.
The added targeting of Jews, particularly in the Paris attack last month, has drawn attention to a rise in anti-Semitism. On Sunday, Israeli Prime Minister Benjamin Netanyahu renewed calls for Europe's Jewish communities to resettle in Israel.
kms/ksb (AP, AFP, Reuters, dpa)