Cologne's Rose Monday Carnival parade draws hundreds of thousands to the city each year and many of its floats are derived from current affairs and are often political in nature.
Following the deadly attack on the satirical magazine "Charlie Hebdo" in Paris on January 7, which were widely seen as an attack on the freedom of expression organizers of the Cologne Carnival parade decided to create a float as show of support.
Now organizers confirmed that they have decided to cancel the float because of security concerns.
"We want all visitors, citizens, and participants of Cologne's Carnival parade to feel safe and enjoy the day without worry," the Carnival Festival Committee said.
A float that "restricts the freedom and lightheartedness of Carnival" is not wanted, organizers added. At the same time, the event's organizing committee denied anyone had expressed fears about the inclusion of the Charlie Hebdo float.
"On the contrary, there have been many people who have contacted us and want to be involved with the float - a sign of freedom of expression."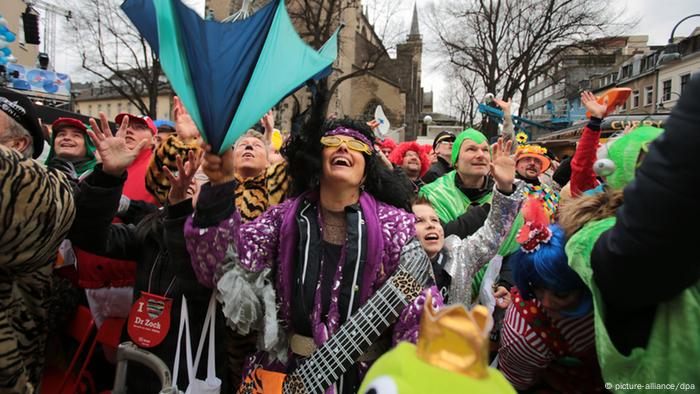 Hundreds of thousands of people throng the streets on Rose Monday
The public had been asked to vote on ideas for a float to feature in the February 16 parade via Facebook. The winning design, showing a cartoonist with a red clown nose inserting a pencil into the barrel of a black-clad assassin's gun (pictured above), was chosen by more than 2,500 people in an online poll.
Float is almost finished
However, according to media reports, several groups participating in the parade said they did not want to be placed either directly in front of or behind the float.
Ever since the September 11, 2001 terrorist attacks in the United States, Germany has faced a "heightened abstract potential" for an attack, Cologne police spokesman Christoph Gilles told DW. However, authorities have "no concrete evidence of a threat to the parade," Gilles added.
Every year, police and the parade's organizers get together for a meeting, he said, adding that it is a private event, and it's entirely up to the Festival Committee to decide on the participating floats.
"Such gravity, such portentousness - that's too big for Carnival, anyway," Cologne's "Kölner Stadtanzeiger" newspaper commented on Thursday in an editorial.
"One of the peaceful images you can rely on seeing at every Rose Monday parade is that of police officers directing traffic along the parade route, flowers tucked into their uniforms, joking with the crowds," the paper wrote. The potential addition of disguised special forces to protect a float is the "exact opposite of what Carnival stands for."