Supporters of the PEGIDA (Patriotic Europeans Against the Islamization of Europe) movement in Germany's eastern city of Leipzig, where the movement is called LEGIDA, had once again planned to take to the streets on Monday.
But the city called off the protest, saying police do not have enough officers to provide security and prevent violence.
Not enough police officers? The demonstrators think that reason was given as a false pretense to prohibit them from exercising a basic right. The ban amounts to "surrender by the constitutional democracy", says Rainer Wendt, head of the German Police Union.
It's a fact that the anti-Islamization movement has for weeks embarrassed quite a few politicians in Saxony state. They have been forced to explain why it would seem that the Saxon cities of Leipzig and Dresden are hotbeds of xenophobic radicals. They would like to be rid of the bothersome protesters. A ban looked like an option, and referring to a lack of police officers could block the freedom of assembly for weeks because the authorities have the right to ban protests if the police can't guarantee safety during a demonstration.
Unfounded conspiracy theories
On closer inspection, conspiracy theories and suspicions that a basic German right is being eroded turn out to be untenable.
"I absolutely don't see the erosion of the freedom of assembly," says Daniel Schily of the "More Democracy!" group.
An assembly ban is "an exception," says former constitutional judge Hans-Jürgen Papier, adding that it must always be well-founded, and can't be exercised arbitrarily.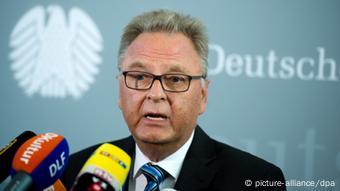 While in fact, thousands of jobs have been cut in Germany's police forces in the wake of reforms, Saxony's police have so far managed to pull in reinforcements from other states when needed. This Monday was different, however: so many rallies were registered in Saxony and other German states that instead of the requested 31 groups of 100 police officers, only eight groups would have been available.
2,000 police officers are not enough
According to the police risk assessment, Leipzig Mayor Burkhard Jung pointed out that 800 police officers would not have been enough to safeguard the rally. More than 2,000 officers were deployed at the last PEGIDA protest in the city and even that wasn't enough to prevent clashes between PEGIDA supporters and opponents, Jung argued. Banning the demonstration was thus by no means an arbitrary act, he said.
Every demonstration application must be processed by local authorities. Permits are not administered based on the political orientation of the demonstration, but on whether or not it poses any threat to the constitution. Under freedom of opinion and freedom of assembly laws, the constitution guarantees the right to state opinions publicly, no matter how outlandish they may seem.
Demonstrators allowed to challenge application rejection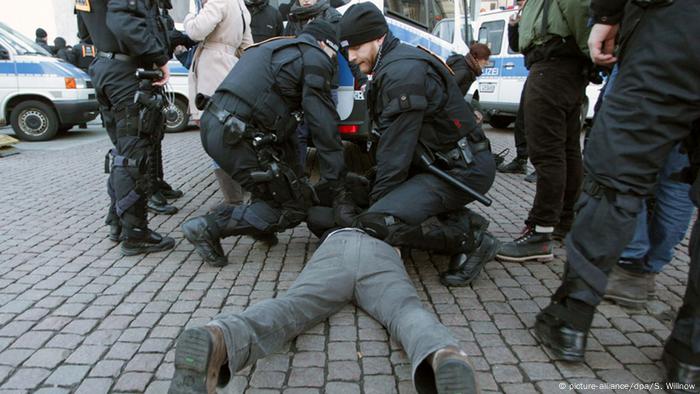 Observers thus fear that the developments among the parties in Saxony and the new demonstration ban may prompt people to challenge this in a court of law. Any German citizen is able to legally challenge an assembly ban. In such claims in the past, many administrative courts have in the end allowed the demonstrations to take place - most recently in the autumn of 2014, when Hannover's administration court ended up approving a hooligan demonstration, despite it having been banned by the local assembly authorities. As long as the right to file suits is upheld, experts on constitutional law see no danger to Germany's freedom of assembly.
The increased number of banned demonstrations in Saxony has become a special concern for the state that does not apply to other states. "In Saxony, it seems the police, the interior ministry and the politicians are fighting for their own interests," Daniel Schily believes. Chancellor Angela Merkel has already stepped in, saying in January that she wanted to protect the freedom of assembly. If need be, she said, more federal police should be made available so that demonstrations could take place.