On the beach at Njivice on Krk in late June, tourists set out their towels and slip into the crystal clear waters under a shining sun.
But beneath the idyllic cliché, a battle is raging. Local environmentalists are fighting to make the 410 square kilometer (255 square mile) island in the Adriatic Sea the Mediterranean region's first carbon dioxide-neutral island. In other words, removing as much CO2 from the atmosphere as was put into it.
Plans to make Krk the Mediterranean region's first carbon dioxide-neutral island has pitted environmentalists against energy utilities.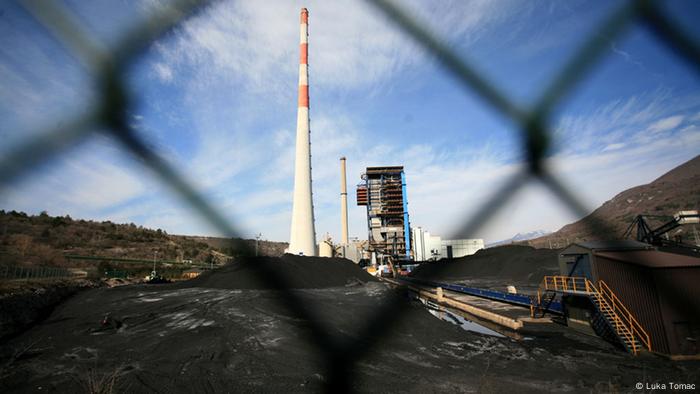 Environmentalists oppose the Plomin C power plant being expanded on the Croatian mainland
"We are something like a combat unit that can shut down any dangerous environmental project in the Mediterranean," said Vjeran Pirsic, co-founder of Eko Kvarner, a local environmental group. The group formed in 2002 while defeating plans for a deep-sea port that would have exported Russian oil.
That victory led Krk's campaigners to set a new challenge: making their island not only CO2 neutral, but also self-sufficient in energy and agriculture.
Differing energy visions
"With higher prices of oil, it's not likely that many people will come here," said Zoran Skala, a local government official on Krk. If gas prices double as expected, he said, the island's tourism industry will suffer.
Croatia, which became the 28th member of the European Union July 2013, imports half of its energy and food. Higher prices means people are paying "more and more just for essential needs - for food, for heating, for cooling, for driving," Zoran told DW.
The plan to make Krk CO2 neutral would see the island's energy from a mix of solar, wind, biomass and hydroelectric power.
But instead of promoting alternative energy sources, the government in Zagreb gave approval last year to enlarge a coal-fired power station on the mainland. Known as Plomin C, the power station is slated to become the primary future energy source for Krk and the nearby Istrian peninsula.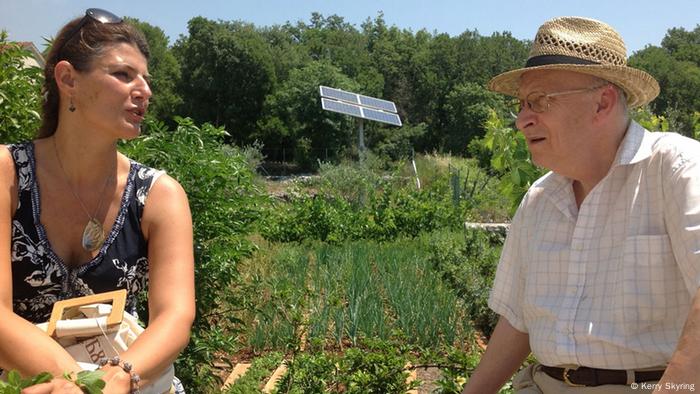 Cvijetic talks with local priest Zdenko Kirincic, one of the few islanders with solar panels on his home
At the time Plomin C was announced, Prime Minister Zoran Milanovic said cleaner alternatives such as gas had to be ruled out on economic grounds. Recently, Milanovic again defended the plans to expand coal-fired power, saying it's "part of a 6 billion euro investment in energy, industry and tourism which will create 2,500 jobs." That's a powerful argument in a country with 21 percent unemployment.
But Zoran Skala, the local planning official, says the government's plans are flawed. He argues that the coal will have to be imported, as Croatia has no supplies of its own. This in turn would perpetuate the country's dependency on imported energy.
Expanding coal power would also thwart hopes to make Krk CO2 neutral. "If the government decides to finance that big power plant, definitely they will lack the financial means to support renewables," Skala said.
Oceans of sunshine, little solar
Marijana Cvijetic runs a tourist booking agency just a few hundred meters from the beach at Njivice. "It's said that the Bavarian region [of Germany] has more solar panels on the roofs than we have in the whole of Croatia, and that's not good," she said.
Like many on Krk, she can't understand why the government is investing heavily in fossil fuel energy when Croatia has abundant sunshine. On a drive around the island with Cvijetic, there were few solar panels to be seen.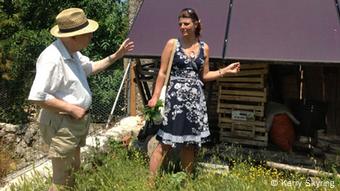 Cvijetic and Kirincic investigate his solar cells
But establishing a renewables industry on the island is extremely tough, according to environmentalists. "In our energy strategy you can find the fingerprint of the coal lobby, of the gas lobby, of the nuclear lobby and of the windmill lobbies," Pirsic told DW. He added that his office has been broken into three times and that he's been threatened with violence. "Believe me, from time to time it was very hard to stay alive," he said.
Environment first
Beyond clean energy the environmentalists of Krk have persuaded their local government to introduce a rubbish recycling program, which they describe as "the best in Croatia." They're also ready to campaign against unsightly development.
"We have to protect our culture and our space and try to avoid what Spain made of their coast, because they made their whole coast in concrete, and it is a disaster," Cvijetic said.