The turmoil in Crimea appears to be influencing international markets less than initially feared, and stock markets stabilized after plunging on Monday. But Ukraine is facing national bankruptcy unless international investors step in.
Russia's RTS index slumped 12 percent on Monday - its lowest point in six years - amid fears that the crisis would escalate.
The Dow Jones Industrial Average fell by one percent, Europe's benchmark EuroStoxx 50 fell by 2.25 percent and Germany's DAX slumped by 3.5 percent. In early trading Tuesday, trading had somewhat recovered: EuroStoxx 50 and the DAX were both up by about one percent. The Russian ruble's slide has come to a halt for the time being, too, after the Russian Central Bank raised the key interest rate from 5.5 to seven percent.
No threat to the EU
For the time being, analysts don't feel the global economy is in danger. "The European Union imports one fifth of its gas from Russia," says Commerzbank chief economist Jörg Krämer. But if gas could no longer be piped through Ukraine, the economist told DW, "only about half that amount could be redirected to other pipelines."
A supply risk for the EU may emerge, but that's unlikely, Krämer says, adding that Russia has always painstakingly adhered to private enterprise contracts in the past because the country's economy depends on gas exports. On the other hand, he argues Europe's dependency on Russian gas prevents a military intervention in the conflict. "The West has threatened to exclude Russia from the G8 summit, but it won't take military action - it never has," Krämer says.
Nervous businesses
Germany imports about one third of its gas from Russia, but a shift to US gas could compensate for any shortages, the Commerzbank analyst says. German companies with branches in Ukraine are in a different situation. About 500 German firms are in Ukraine, including Adidas and the Metro group, says Rainer Lindner, executive director of the Committee on Eastern European Economic Relations (OA).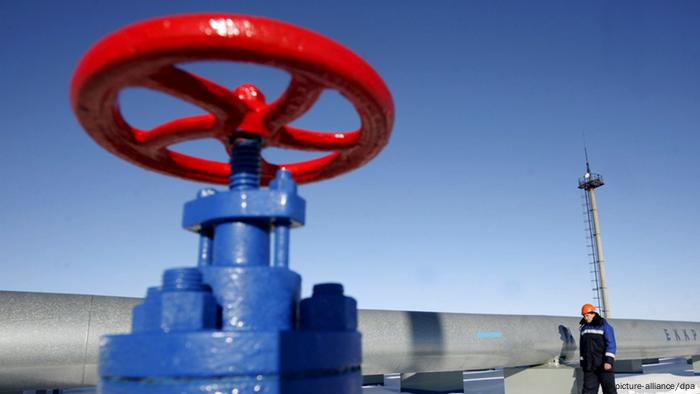 A third of Russian gas exports to Germany pass through Ukraine
About 6,000 German firms are active in Russia, and Germany is Ukraine's second most important trade partner after Russia. "Of course, they're worried about the future," Lindner tells DW.
The current situation in Ukraine is dramatic. The country has grappled with an imbalance in foreign trade for decades: high prices for Russian gas imports and low prices on the global market for Ukrainian exports such as grain and steel.
The EU "was and is" a partner expected to modernize Ukraine, Lindner says, adding that Kyiv had fully planned to sign a free trade agreement with the bloc last year. An ongoing conflict between the EU and Russia could have a negative effect on Eastern Europe's general economic development, the OA head believes. The current depreciation of the ruble has already increased the price of German exports to Russia.
Financial assistance
Ukraine's social systems have suffered a blow, and the country barely has enough financial reserves to meet its foreign debt. Interim finance minister Yuriy Kolobov said Ukraine may need 25 billion euros ($34.4 billion) by the end of next year: Ukraine, according to Standard and Poor's rating agency, is on the brink of bankruptcy.
German economist Lindner says what Ukraine needs now is fresh money "that is not directly linked to fast reforms." Without financial assistance from the West, he, too, warns, "Ukraine will shortly be bankrupt."
A delegation from the International Monetary Fund (IMF) is currently in Kyiv on a fact-finding mission to examine the government's request for assistance. The IMF is obligated to make possible loans conditional on reforms.