Bill Gates calls for drugs and potential vaccine to be given first to those who need them most
Texas' governor warns of a new lockdown if the US state can't stem record-setting infection rate
Nearly a dozen Indian states have reimposed partial lockdown due to a surge in cases
Iran admits it can't afford to shut down its economy for a second time
All updates in Universal Coordinated Time (UTC/GMT)
21:53: US President Donald Trump made his first public appearance with a face mask on Saturday at the Walter Reed National Military Medical Center in the state of Maryland. The president wore a navy-blue mask emblazoned with a presidential seal at the military medical facility, where he was scheduled to meet combat veterans and healthcare workers.
"I think when you are in a hospital, especially in that particular setting when you are talking to a lot of soldiers, people that in some cases just got off the operating table, I think it's a great thing to wear a mask," Trump said during a press briefing before the visit to the hospital.
Trump had previously refused to wear a mask publicly or ask Americans to do so, citing the decision to wear a mask a "personal choice."
In May, Trump had been spotted wearing a mask during a visit to a factory operated by US carmaker Ford. However, he didn't wear the mask in the public portion of the plant, saying that he didn't "want to give the press the pleasure of seeing him" in a face mask.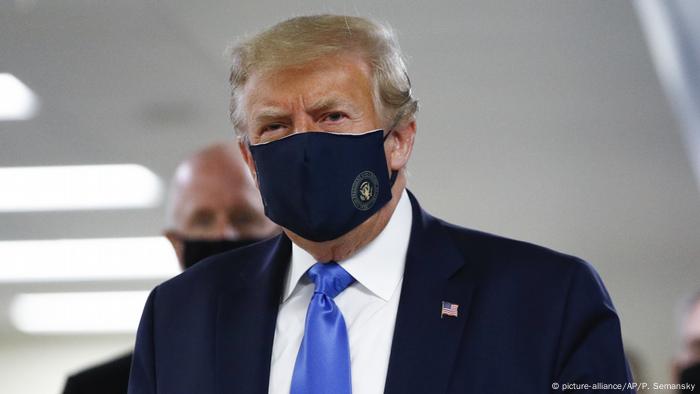 19:49 Thousands of Israelis have taken to the streets in the coastal city of Tel Aviv to protest the government's response to the pandemic.
People gathered in central Tel Aviv's Rabin Square to protest what is widely seen as Prime Minister Benjamin Netanyahu's failure to address Israel's economic distress brought by the coronavirus crisis. The protest was organized by the unemployed, self-employed, entrepreneurs and business owners.
Many Israelis feel that the government has not done enough to compensate hundreds of thousands of workers who became unemployed as a result of shutdowns and restrictions.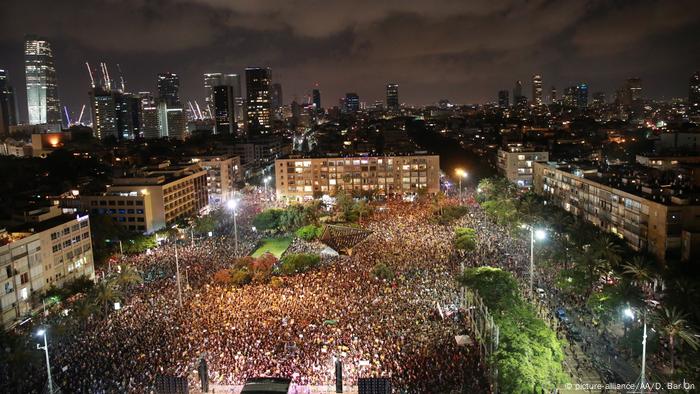 Thousands gathered in Rabin Square, central Tel Aviv
Israel's unemployment rate has climbed over 20%.
One man at the protest held a photo of Netanyahu with the words: "The No.1 Corrupt Person."
Netanyahu has seen his popularity plunge even further amid the pandemic and following allegations of corruption.
On Thursday, Netanyahu said a plan for an economic "safety net" consisting of rapid relief for the self-employed and struggling business owners is expected to be approved on Sunday.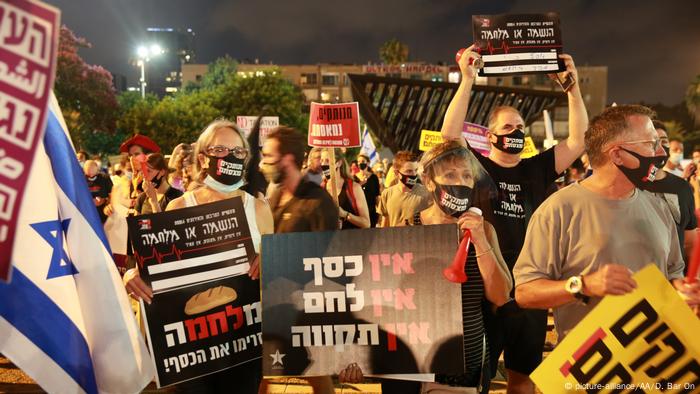 Many feel that the government has not done enough to compensate workers who became unemployed during the crisis
"We will stop the protests when the money is in the bank," Ronen Miley, a protest organizer told Israel's Channel 12.
18:30 Hundreds of German holidaymakers in the Spanish island of Mallorca have flocked to Bierstraße, a popular German party zone in s'Arenal.
Local newspaper the Mallorca Zeitung reported that large crowds of rowdy Germans without face masks partied and danced throughout Friday night, failing to adhere to social distancing rules.
"While the introduction of a strict mask requirement is currently being discussed on the island, several hundred German tourists on Friday evening crowded around and ushered in plenty of alcohol while largely ignoring coronavirus protection rules," the Mallorca Zeitung said.
The newspaper added, "Without masks and without adhering to the prescribed distance of 1.5 meters, there was exuberant celebrations, drinking and dancing. It seemed nobody had ever heard of the pandemic."
Police did not intervene Friday evening.
17:00 World Disney's Magic Kingdom and Animal Kingdom in Florida have reopened, as US coronavirus cases mount.
"The Most Magical Place on Earth" reopened after almost four months of shutdown due to the pandemic.
Disney says it has implemented new rules to help prevent the spread of the virus, including mandatory face masks and social distancing. Visitors will need to make prior reservations to enter a park, and they won't be allowed to hop between the parks.
Visitors and employees must also undergo temperature checks upon entry.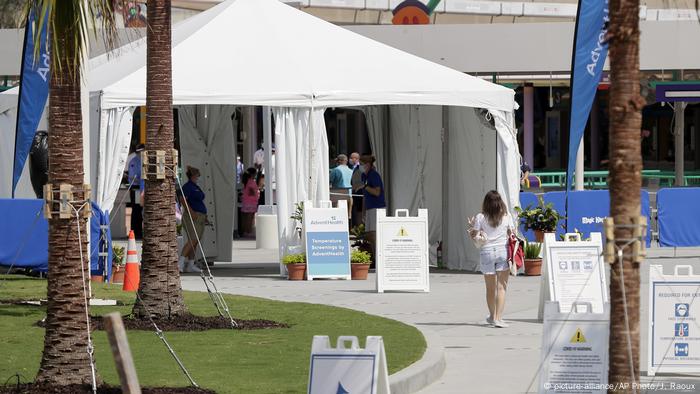 Visitors have to have their temperature taken before entering the theme park
Firework shows and parades have been suspended to prevent attracting to many crowds together. Some attractions and dining areas are not yet open.
In addition, visitors are banned from hugging and greeting the costumed Disney characters, who now make their way through the park on cavalcades or motorcades.
Walt Disney World Resort theme park Epcot and Disney's Hollywood Studios are scheduled to reopen four days later.
Disney's reopening comes as a significant surge of Floridians have tested positive for the coronavirus in recent weeks. On Saturday, there were about 10,000 new cases reported, according to state statistics.
16:15 Hundreds of people gathered in the German city of Stuttgart on Saturday to protest against restrictions to curb the spread of COVID-19, although the protest was notably smaller than the demonstrations that took place in spring.
Local media reported that "a few hundred" demonstrators took part in the protest, dubbed the "Festival for Peace and Freedom." According to city officials, 5,000 participants had been registered.
Pictures from the protest showed people wearing shirts supporting conspiracy theories around the pandemic. Others carried signs reading: "End forced masks immediately" and "Stop the regulation dictatorship."
In May, Stuttgart saw several weekends of anti-coronavirus regulation protests, with thousands of people taking part.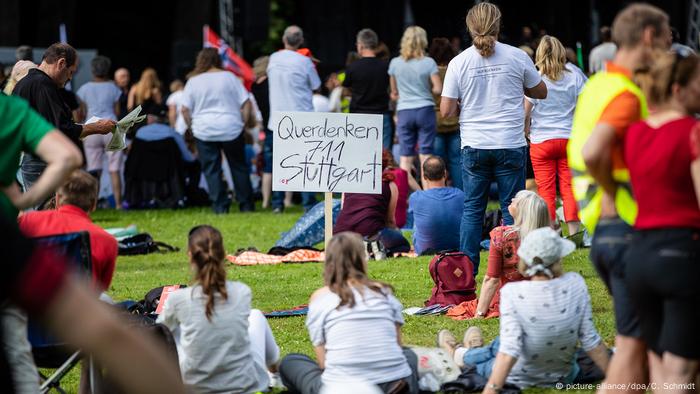 'Think differently 711 Stuttgart' is the group that organized the protest. The number is in reference to the city's telephone area code
15:55 Dozens of US marines on the southern Japanese island of Okinawa have been infected with the coronavirus in what is feared to be a massive outbreak, Okinawa's governor announced.
The new clusters w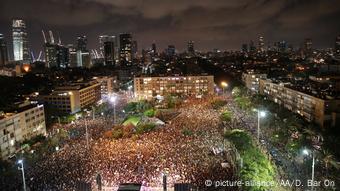 Thousands gathered in Rabin Square, central Tel Aviv
ere found at two bases: Marine Corps Air Station Futenma and Camp Hansen, Governor Denny Tamaki reported.
Local authorities are demanding an explanation from the US military. They are also urging US officials to step up preventative measures to curb further spread of the disease.
Tamaki said he could only say that a "few dozen" cases have been found recently because the US military requested that the exact figure not be released.
Read more: Japan marks 75th anniversary of the end of Battle of Okinawa
"Okinawans are shocked by what we were told (by the US military),'' Tamaki told a news conference." We now have strong doubts that the US military has taken adequate disease prevention measures.''
Local media are reporting that around 60 people had contracted the virus.
On Friday, the Marines said in a statement that troops were taking extra measures to "protect our forces, our families, and the local community,'' without giving details on the infections.
More than half of about 50,000 American troops based in Japan are in Okinawa under a bilateral security agreement.
Many locals have long expressed concerns about crime, pollution and noise related to the US bases.
15:38 German Bundesliga club Union Berlin defended its plans to pack its stadium with fans once again at the start of the next season in September.
The top-tier football club said it was prepared to pay for COVID-19 tests for all its staff and its 22,012 season ticket holders so that they can re-enter the stadium. Fans would have to show a ticket and a negative test that is less than 24 hours old to enter the stands.
The plans have raised eyebrows, prompting Union Berlin to defend its strategy.
"People are begging us every day to make sure that they can come back. That is what we want to address" Christian Arbeit, the club's head of communication, told local public broadcaster RBB24.
In a statement announcing the move late Friday, club chairman Dirk Zingler said that the club would try to completely take over the costs of testing to ease the burden on fans.
"Our stadium experience doesn't work with social distancing, and if we aren't allowed to sing and shout, then it's not Union," Zingler said.
15:07 Croatia expanded its face mask regulations on Saturday, making them mandatory in most public indoor spaces as the number of COVID-19 cases continues to rise.
Starting next week, face masks will be required for both customers and employees in shops, bars, restaurants and other places where there is close contact with customers, the national civil protection directorate announced.
Face masks were already required on public transportation several weeks ago.
Although Croatia successfully curbed the spread of the virus in the spring and early June, the number of new cases has taken off in recent weeks. Many have blamed the surge of cases on larger gatherings such as weddings.
On Saturday, the number of new daily cases hit 140—making it the highest recorded in a single day. The country has registered over 3,600 COVID-19 cases and 118 deaths.
14:40 Anger is growing in Spain after authorities barred hundreds of people infected with COVID-19 from taking part in local elections this Sunday — including not letting them vote by mail.
The decision impacts some 450 to 500 people in the Spanish regions of Basque Country and Galicia. They were notified that they would not be allowed to vote with a postal ballot as the deadline for mail-in ballots had passed.
Since they are in quarantine, or registered as infected but asymptomatic or waiting on test results, they are also barred from voting in person. Legal experts in Spain have decried the move, calling it unconstitutional.
"This is extremely problematic, and what's more, it is quite infuriating because it could have been anticipated," political scientist Pablo Simon wrote on Twitter.
The regional elections in Basque Country and Galicia were originally slated to take place on April 5 but were postponed to July 12 due to the pandemic.
14:07 The German Football League's (DFL) plans to let fans back into stadiums, but without singing or allowing loud shouting, takes the spirit out of the game, one stadium pastor said.
"There is a football liturgy, and of course this includes the songs before the game with which you greet your own team," Eugen Eckert, the stadium pastor for Frankfurt's Commerzbank Arena told Catholic broadcaster Domradio.
He added that the songs and chants from fans serve to motivate players and add a communal experience to attending the games.
"In fact the whole stadium lives from the liturgy. If it doesn't take place, then an important component of the game is missing," Eckert said.
While many other professional European soccer leagues are still looking to finish this year's seasons, which were interrupted by the coronavirus pandemic, Germany's Bundesliga has already wrapped up the 2019-20 season and is set to start its 2020-21 season on September 18.
The Bundesliga has faced pushback from fans for the decision to continue to hold games without letting audiences back into stadiums.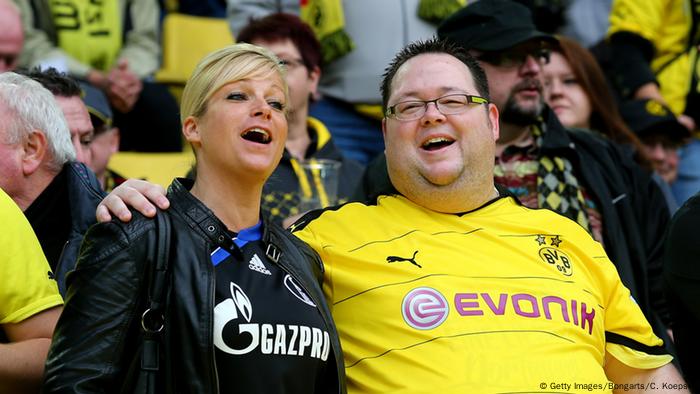 Football without singing and chanting is taking away half the fun
11:33 The German government will take further stakes in companies threatened by the coronavirus pandemic, Economy Minister Peter Altmaier said, adding that "probably a few dozen" firms might follow airline group Lufthansa in passing into partial state ownership.
Shareholders backed a €9 billion ($10.1 billion) government bailout last month, securing the future of Germany's flagship carrier after it was brought to the brink of collapse by the travel slump caused by the pandemic.
In an interview with the Frankfurter Allgemeine Zeitung, Altmaier said: "We're talking about perhaps a few dozen cases. In these very limited number of cases, we will use the possibilities offered by the economic stabilization fund, including taking a stake where appropriate."
It was also possible that the state would buy into other strategically important companies, like vaccine maker CureVac, in that case fending off an attempt by the United States government to buy it. "I've always made it clear that state stakes must be an absolute exception," he added.
On the airline group, which this week announced plans to cut 20% of its leadership positions and 1,000 administrative jobs, Altmaier said the government would not stand in the way of lay-offs.
10:29 Iran says it cannot afford to shut down its sanctions-hit economy, even as the Middle East's deadliest coronavirus outbreak worsens with record-high death tolls and rising infections.
Iran must continue "economic, social and cultural activities while observing health protocols", President Hassan Rouhani said during a televised virus taskforce meeting.
"The simplest solution is to close down all activities, (but) the next day, people would come out to protest the (resulting) chaos, hunger, hardship and pressure," he added.
The Islamic republic has been struggling since late February to contain the country's COVID-19 outbreak, which has killed over 12,400 people and infected more than 252,000.
Deaths from the respiratory disease hit 221 on Thursday — a single-day record.
Iran has suffered a sharp economic downturn after US President Donald Trump withdrew from a landmark nuclear agreement in 2018 and reimposed crippling sanctions.
The International Monetary Fund predicts Iran's economy will shrink by 6% this year.
10:11 Hospitals in the rebel-controlled stronghold of Idlib in north-western Syria have cut their work to just emergency cases after the first coronavirus infection was recorded in the region, a doctor said on Saturday.
"The hospitals have suspended outpatient clinics and only receive emergency cases," Mazen Kewara, the country director for Turkey of the Syrian American Medical Society (SAMS), told the German press agency.
He added that the Bab al-Hawa hospital, where the first infection of a doctor was reported, has been completely shut down.
Idlib is the last rebel stronghold in war-torn Syria and home to 3 million people.
On Friday, Russia and China vetoed a compromise proposal in the UN Security Council to continue humanitarian aid for millions of Syrians The resolution called for the two border crossings to Syria to be kept open for another six months.
Ahmad Ramadan, a spokesman for the Syrian National Coalition (SNC), an umbrella organization for the opposition, condemned the veto and said cutting aid was a "crime."
"This will cause a humanitarian catastrophe, especially that Idlib has registered its first Vod-19 case. The world community should stand against this mainly Russian move."
09:49 France has vowed to come down hard on the perpetrators of a deadly attack on a bus driver who reportedly would not allow them to board without face masks.
Prime Minister Jean Castex promised that the judiciary would "punish the perpetrators of this heinous crime" in response to calls by politicians for tough measures against the four people presumed responsible for the attack on the driver.
The bus driver, in his late 50s, was initially declared brain dead after the attack in Bayonne, in south-western France, earlier this week that caused shock and outrage nationwide. He died on Friday.
According to local media reports, he had turned away several people at a bus stop in Bayonne, near the border to Spain, after they wanted to board without masks or a valid ticket.
The rejected passengers are said to have attacked the driver, with heavy blows to the head.
Four suspects are reported to have been arrested. A 22-year-old and a 23-year-old are under investigation for attempted manslaughter, while the other two are suspected of failing to provide assistance.
Read more: Film-loving France fears the loss of a generation to coronavirus
09:02 Billionaire philanthropist Bill Gates has called for drugs to treat the coronavirus and an eventual vaccine to be made available to the countries and people that need them most, not to the "highest bidder."
"If we just let drugs and vaccines go to the highest bidder, instead of to the people and the places where they are most needed, we'll have a longer, more unjust, deadlier pandemic," the Microsoft founder said in a video released during a virtual COVID-19 conference organized by the International AIDS society.
"We need leaders to make these hard decisions about distributing based on equity, not just on market-driven factors."
Hundreds of vaccine projects are currently in development around the globe. Experts have raised concerns that richer nations could buy up all medicine reserves, leaving developing countries empty-handed.
Both the European Commission and the World Health Organization (WHO) have warned against unhealthy competition in the rush to develop a medicine seen as key to saving lives.
Gates said the international approach to fighting the global HIV/AIDS crisis could serve as a model for the coronavirus pandemic. Two decades ago, countries collaborated to make medicines available in most countries around the world, including Africa.
He pointed to the organizations the Global Fund to Fight AIDS, Tuberculosis and Malaria and the US-based President's Emergency Plan For AIDS Relief as examples for how to distribute medicines to combat some of the world's deadliest diseases.
"One of the best lessons in the fight against HIV/AIDS is the importance of building this large, fair global distribution system to get the drugs out to everyone," Gates said.
07:29 The 25th anniversary of the Srebrenica genocide is being marked under the shadow of the COVID-19 pandemic, which has forced changes to the commemoration events.
The main ceremony, at Potocari, near Srebrenica, will be held with social distancing protocols in place, while other events have been called off.
The ceremony began at 9:30 a.m local time (0730 UTC/GMT), marking the day — near the end of the 1992-95 Bosnian war — when the massacre began.
On July 11, 1995, Bosnian Serb forces marched into Srebrenica, a Muslim enclave on Serb territory in Bosnia that had been under UN protection.
They brushed Dutch UN peacekeepers aside, separated able-bodied men and boys from the rest of the population, and, over the next few days, executed around 8,000 of them.
The mass graves were later dug up and their remains reburied to hide the atrocity.
More than 6,640 victims are now buried in the Potocari memorial cemetery, with around 1,000 still missing. The burial of nine recently identified victims is scheduled for Saturday afternoon.
German Foreign Minister Heiko Maas warned that a massacre like the one in Srebrenica must never happen again.
The killings had taken place "at the end of the 20th century in the middle of Europe, almost under the eyes of the global public," he emphasized in a statement.
"We must oppose nationalist tendencies wherever we encounter them," added Germany's top diplomat.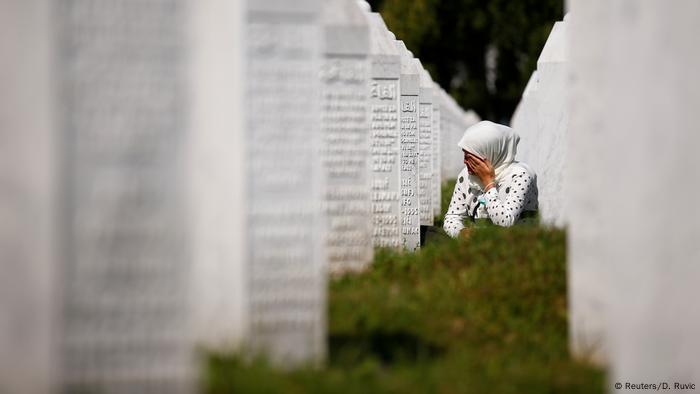 06:02 The United States has set a record high in cases for the third consecutive day, with 69,000 new recorded infections.
A total of nine states — Alaska, Georgia, Idaho, Iowa, Louisiana, Montana, Ohio, Utah and Wisconsin — also reached records for single-day cases, officials said on Friday.
In Texas, another hot zone, Governor Greg Abbott has warned that he may have to impose new clampdowns if the state cannot stem its record-setting caseloads and hospitalizations through masks and social distancing.
California has said it will release up to 8,000 inmates early from prisons to slow the spread of COVID-19 inside the facilities. At San Quentin State Prison, outside San Francisco, half of the facility's roughly 3,300 prisoners have tested positive for the virus.
The Walt Disney Co said the theme parks in Orlando, Florida, would open on Saturday to a limited number of guests.
Roughly 19,000 people, including some theme park workers, have signed a petition asking Disney to delay the reopening.
The union representing 750 Walt Disney World performers has filed a grievance against the company, claiming retaliation against members over a union demand that they are tested for COVID-19.
Other theme parks opened in Orlando in June, including Comcast Corp's Universal Studios Orlando and SeaWorld Entertainment Inc's SeaWorld.
05:50 Coronavirus cases in India have passed 800,000, with the biggest spike of 27,114 cases in the past 24 hours.
The surge prompted nearly a dozen states to impose a partial lockdown in high-risk areas. The new confirmed cases took the national total to 820,916.
The Health Ministry on Saturday also reported another 519 deaths for a total of 22,123.
India's most populous state of Uttar Pradesh, with nearly 230 million people, imposed a weekend lockdown while several others announced restrictions in districts reporting major spikes.
Eight of the country's 28 states, including the worst-hit Maharashtra, Tamil Nadu and New Delhi, account for nearly 90% of all infections.
Read more: How coronavirus is affecting underprivileged children in India
05:34 Hospitals in Panama are on the brink of collapse as coronavirus cases spike in the Central American country worst hit by the pandemic, the French news agency AFP reports.
With a population of 4 million, Panama has gone from 200 cases a day to 1,100 over the last few weeks.
"Our daily number of infected patients has been increasing in a sustained way to the point of passing 1,000 cases," said David Villalobos, head of the intensive care unit at the Arnulfo Arias Madrid Hospital in Panama City.
"There are no hospitals that could sustain such a number," he said.
The sharp increase has forced authorities to adapt existing hospitals and look for new spaces, like convention centers, to boost a health system with a range of problems including long waiting lists.
"The fear of the collapse of the public system in our country is evident if the number of cases remains the same," Domingo Moreno, coordinator of a coalition of healthcare workers' unions, told AFP.
"In the next two weeks, we probably won't have anywhere to put beds."
With 42,000 cases and 839 deaths, Panama has the worst official tally of coronavirus infections in the region.
05:08 German researchers testing a vaccination for the coronavirus say they're surprised at the number of people willing to become volunteers.
Some 4,000 people have so far registered to take part in the trials at the University Hospital in Tübingen, near Stuttgart.
"It's a real luxury situation, unlike usual clinical trials," study director Peter Kremsner told the German press agency. "Normally we have trouble coming up with enough test subjects."
A clinical study began in mid-June to test the tolerability of a vaccine developed by the biopharmaceutical company CureVac.
Since then, around 50 people have received the drug. According to Kremsner, no surprising side effects have yet occurred. So far everything has been fine, he said, adding that the study had not revealed any sensational or concerning findings.
A total of 168 subjects are to be vaccinated. In addition to Tübingen, there will also be centers in Hannover, Munich, and in the Belgian city of Ghent.
If the Phase 1 trial is successful, investigations with significantly more test subjects will follow.
Read more: Severe brain damage possible even with mild coronavirus symptoms
04:55 An unexplained outbreak of pneumonia in Kazakhstan is likely due to the coronavirus, the emergencies chief of the World Health Organization said on Friday.
Dr. Michael Ryan said Kazakh authorities have reported more than 10,000 lab-confirmed COVID-19 cases in the last week and just under 50,000 cases and 264 deaths as of Tuesday.
"We're looking at the actual testing and the quality of testing to make sure that there haven't been false negative tests for some of those other pneumonias that are provisionally tested negative,'' Ryan said.
He added that many pneumonia cases were likely to be COVID-19 and "just have not been diagnosed correctly.'"
On Thursday, the Chinese embassy in the central Asian country had warned on its website of a disease with "a mortality rate far higher than COVID-19" — an assertion that was later removed from the statement.
Kazakh health officials dismissed the report saying the claim the did not "correspond to reality."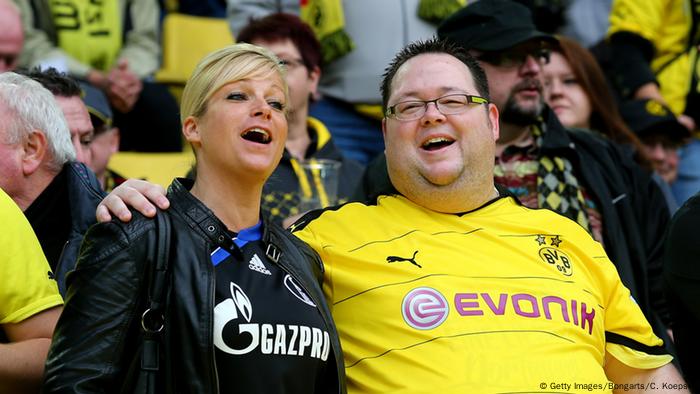 Football without singing and chanting is taking away half the fun
04:26 The number of confirmed coronavirus cases in Germany has increased by 378 to 198,556, data from the Robert Koch Institute (RKI) for infectious diseases showed on Saturday.
The reported death toll rose by six to 9,060, the tally showed.
The country has recently seen clusters of cases linked to housing blocks and a slaughterhouse, where more than 1,500 workers tested positive for the virus.
This caused a lockdown for 600,000 people in the surrounding Gütersloh region of the western state of North Rhine-Westphalia, which was lifted this week.
Read more: Brief reprieve for German pigs as COVID-19 shuts slaughterhouses
02:54 Customs authorities in China said they would halt imports from three Ecuadorian shrimp producers after tests showed the presence of coronavirus in recent shipments.
As newcoronavirus cases have dropped sharply in China, health authorities are turning their attention to concerns that the virus could spread through imported food.
Testing has now been increased on incoming food shipments, customs officials have said.
Coronavirus was reportedly detected on the outer packaging of the Ecuadorian shrimp shipments on July 3. But the inner packaging and the shrimp themselves tested negative.
All the products from the three companies that received after March 12 have been ordered to be returned or destroyed.
Read more: WHO experts head to China for prelude to coronavirus probe
01:45: The US recorded 63,643 new cases of the coronavirus on Friday, according to the Johns Hopkins University. The US now has 3.2 million cases of the coronavirus.
Eight US states recorded the highest infections in a single day. The governor of Texas warned that the state could impose new lockdown measures if it could not control the spread of the pandemic.
The country reported 774 new deaths on Friday, and now has a total death toll of 133,969.
Meanwhile, the state of California said that it would release 8,000 prisoners ahead of schedule, to control a growing outbreak inside the state prisons.
More than 2,000 prisoners have tested positive for the coronavirus, while 31 have died.
01:05 Thousands of protesters took to the streets across Serbia for the fourth day in a row, with citizens decrying the government's botched coronavirus response.
Hundreds have tried to storm the parliament building in Belgrade, with police firing tear gas.
The country faces a "dramatic increase" in both infections and fatalities, according to Prime Minister Ana Brnabic.
Protesters blame the government for the new pandemic peak. Serbia's strongman president, Aleksandar Vucic, had imposed draconian lockdown measures before lifting virtually all of them in an apparent bid to hold a parliamentary election last month.
With the latest wave of infections and deaths, Vucic rejected the blame and instead urged the citizens not to be "irresponsible."
The ongoing unrest was prompted by his Tuesday announcement that Serbia would go back to imposing lockdown measures and lengthy curfews.
Vucic has blamed the unrest on criminals, political rivals, and foreign intelligence agencies.
00:59: The governor of Texas has warned that 'things will get worse' in the state, after Texas recorded 95 new deaths on Friday.
Texas now has over 10,000 patients hospitalized with the coronavirus. Members of Congress from the state have requested the US government for a field hospital in the Rio Grande valley.
"There is no indication that case counts will level out soon," they warned in a letter.
00:00: Brazil reported 1,200 new deaths from the coronavirus on Friday.
The country's total death toll has now reached 70,400 — the second highest in the world, after the US.
The Health Ministry said 45,000 new infections were recorded in the last 24 hours, taking the total number of cases to 1.8 million.
President Jair Bolsonaro is also among the infected.
00:00 Catch up on Friday's coronavirus news here: Coronavirus latest: WHO logs new daily record in global virus cases
In reporting on the coronavirus pandemic, unless otherwise specified, DW uses figures provided by the Johns Hopkins University (JHU) Coronavirus Resource Center in the United States. JHU updates figures in real-time, collating data from world health organizations, state and national governments, and other public official sources, all of whom have their own systems for compiling information.
Germany's national statistics are compiled by its public health agency, the Robert Koch Institute (RKI). These figures depend on data transmission from state and local levels and are updated around once a day, which can lead to deviation from JHU.
am,jcg/dj (dpa, AFP, Reuters)