The Chinese army medical vessel "Peace Ark" arrived in Venezuela's La Guaira port on Saturday, as the country faces a deep economic crisis that has devastated its public health services.
It is the latest stop for the People's Liberation Army Navy's ship in its 11-nation "Mission Harmony" tour. The visit is taking place on the heels of the US announcing that it would also be sending a navy medical ship, the USS Comfort, to help Venezuelan refugees in Colombia, a move that Caracas has criticized.
Read more: Multilateral approach needed to contain Venezuela's refugee crisis, experts warn
Top Venezuelan officials saw the Comfort's deployment as a threat and a sign that the US seeks a military intervention on humanitarian grounds.
Though the stated goal of the Peace Ark is primarily humanitarian, Padrino said its visit to Venezuela was part of the government's "strategic defense operation."
"This is how you undertake diplomacy in the world," Defense Minister Vladimir Padrino said in a welcome ceremony, "with concrete actions of cooperation and not stoking the false voices of those who beat the drum of war."
President Nicolas Maduro said on Twitter that the Peace Ark had arrived "with the goal of initiating a combined and comprehensive strategic operation between both countries."
The embattled president has recently returned from China, a visit he made to seek critical investment and financial support.
Medical crisis in Venezuela
The Peace Ark is equipped with 300 beds, eight operating theaters and a medical helicopter. It has so far traveled to more than 40 countries and provided free medical services to 180,000 people since it was commissioned in 2008.
Its arrival will provide needed relief to the beleaguered South American nation, which is currently reeling from acute shortages of medicines and medical supplies. Prices for imported medicines have soared as the currency devalues. Venezuela has also suffered a loss of medical professionals as a result of mass emigration, and those who have stayed are facing dramatic drops in real-terms wages. As a result, protests by nurses and doctors have become a familiar sight in the streets of Caracas.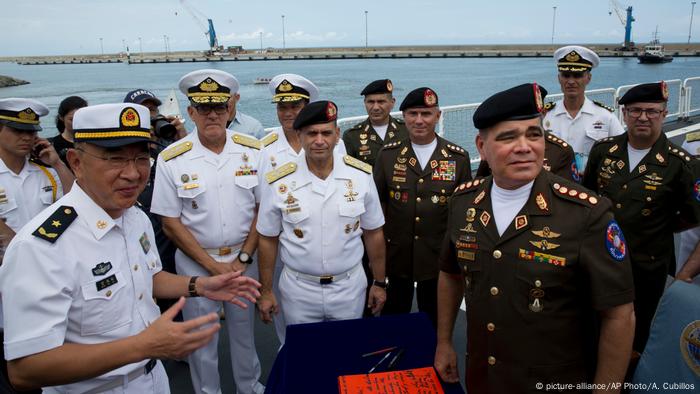 Defense Minister Vladimir Padrino welcomed the vessel's arrival in La Guaira port.
According to the Venezuelan Pharmaceutical Association, the country has a shortage of 83 to 85 percent of medicines. Chief among them are drugs for chronic illnesses such as multiple sclerosis, for HIV, cancer and Parkinson's disease.
Read more: For Venezuela HIV patients, lack of medicine 'a death sentence'
A 'knowledge exchange'
Defense Minister Padrino said that the Chinese vessel would also be used as an opportunity for a "knowledge exchange," and that as a result, "special operations" would take place in the army's various military hospitals.
The humanitarian tours of the Peace Ark have become a sign of China's global outreach efforts and Beijing's gradually expanding military influence abroad. The Chinese ship has visited Latin America twice before, in 2011 and 2015, but had never stopped in Venezuela.
jcg/msh (AP, EFE)
Each evening at 1830 UTC, DW's editors send out a selection of the day's hard news and quality feature journalism. You can sign up to receive it directly here.