Global internet freedom declined for an eighth consecutive year with more and more countries taking their lead from China's model of "extensive censorship," democracy watchdog Freedom House said in its annual report on Thursday.
The think tank, mainly funded by the US government, urged more democratic governments to actively counter China's influence in its "Freedom on the Net 2018" report.
What the report found:
Out of the 65 countries surveyed, internet freedom declined in 26 countries while 19 countries made only minor gains.
Estonia and Iceland tied for the best internet freedom score, followed by Canada and Germany.
China was ranked last, followed by Iran, Syria and Ethiopia.
Over the past five years, internet freedom declined sharply in Egypt, Turkey and Venezuela. Ukraine has also seen a steep drop in its score, although it remains labeled "partly free."
India logged the most internet shutdowns, with over 100 incidents reported so far in 2018. The Indian government has claimed the shutdowns were necessary to stop disinformation and incitement to violence.
Freedom House attributed the drop in internet freedom to governments justifying increased censorship while diminishing privacy protections.
Chinese-style 'digital authoritarianism'
According to the report, a major threat to internet freedom stems from China's efforts to replicate "digital authoritarianism" in other countries. Beijing has been criticized for online censorship and surveillance programs that rely on automated programs.
Out of the 65 countries tracked, representatives from 36 of them attended training seminars hosted by Chinese officials on cyberspace management. China has also sold telecom and surveillance equipment to several foreign governments — including Germany.
"Democracies are struggling in the digital age, while China is exporting its model of censorship and surveillance to control information both inside and outside its borders," said Michael Abramowitz, president of Freedom House.
Chinese Foreign Ministry spokesman Lu Kang said the think tank's claims were "without basis, unprofessional, irresponsible and have ulterior motives."
What is the Freedom House report: The democracy watchdog has been releasing its "Freedom on the Net" report annually for the past eight years. The 65 countries surveyed represent 87 percent of the world's internet users. This year's report looked at developments that happened between June 2017 and May 2018. Freedom House is funded primarily by the US State Department, but also by Google and Yahoo, among others. In previous years, the NGO also received funding from the German Foreign Office.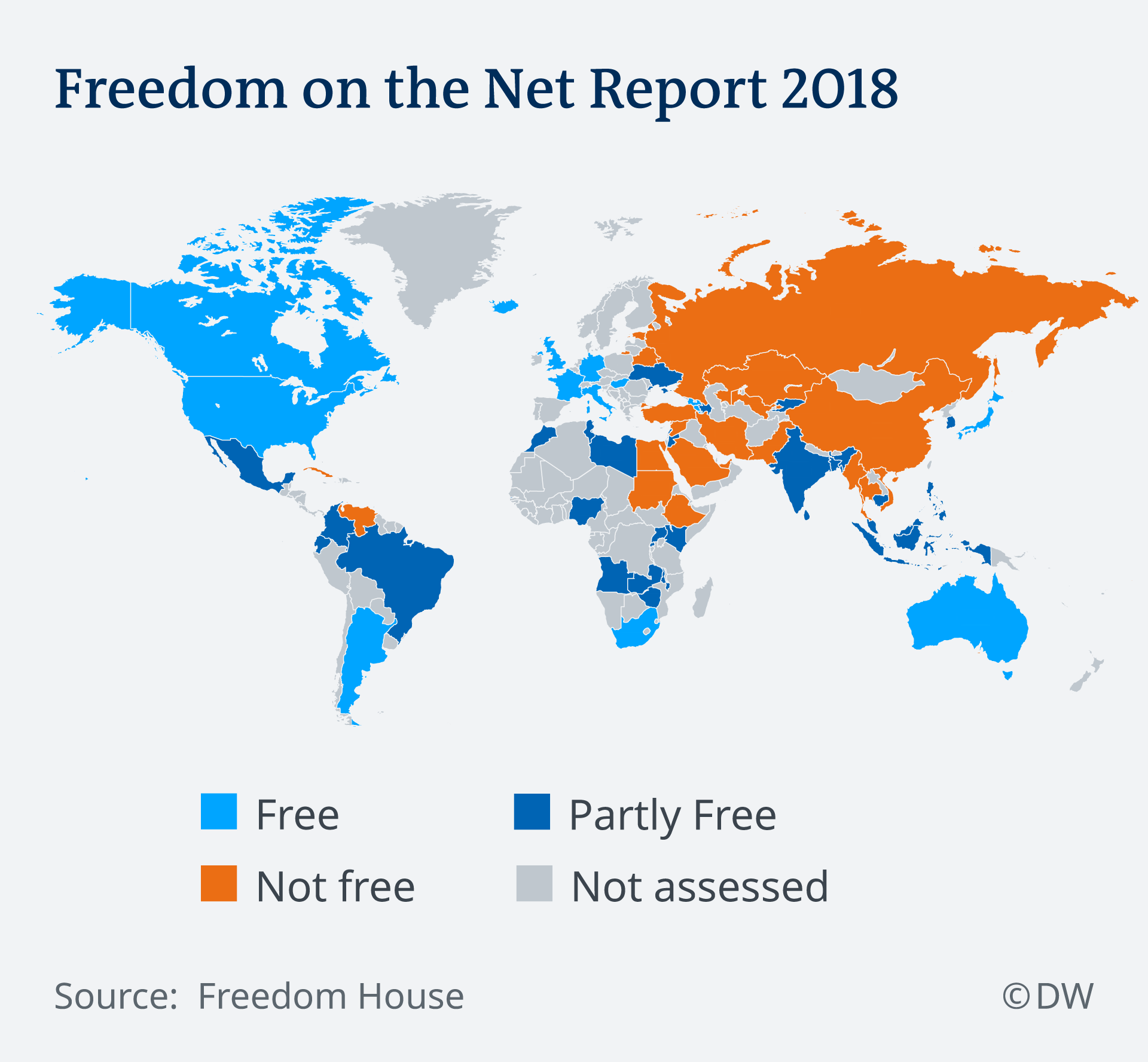 rs/msh (AFP, dpa, Reuters)
Each evening at 1830 UTC, DW's editors send out a selection of the day's hard news and quality feature journalism. You can sign up to receive it directly here.