China has cranked up its protests over the arrest of an executive of telecom giant Huawei on a US warrant in Canada, with China's Foreign Ministry saying Canada has violated the rights of Chief Financial Officer Meng Wanzhou.
China's latest broadside over the case came as Meng, the daughter of the company's founder, faced a Canadian court's decision on bail on Monday in Vancouver. However, the court was unable to come to a conclusion and adjourned until Tuesday.
In comments carried by Chinese state media on Monday, Huawei said it trusts the legal systems in the US and Canada to deliver a fair conclusion in Meng's case.
'Grave consequences'
Meng's arrest on December 1 has infuriated Beijing, roiling stock markets and raising tensions amid a truce in the US-China trade war.
The US and Canadian ambassadors were summoned over the weekend by a Chinese vice foreign minister, who demanded that the US withdraw its arrest warrant. Canada was warned that it faced "grave consequences."
Meng, 46, faces extradition to the US on fraud charges related to alleged sanctions-breaking dealings with Iran.
<div class="opinary-widget-embed" data-poll="do-you-believe-governments-are-politicis" data-customer="deutschewelleeng"></div>
<script async type="text/javascript" src="//widgets.opinary.com/embed.js"></script>
'Health deteriorating'
In a 55-page sworn affidavit, Meng said she has suffered from severe hypertension for years and that she has been treated in a Canadian hospital since her arrest.
"I continue to feel unwell and I am worried about my health deteriorating while I am incarcerated," the document read.
Meng said she had suffered "numerous health problems" during her life, including surgery for thyroid cancer in 2011.
China's Foreign Ministry spokesman Lu Kang said the Canadian government did not immediately notify the Chinese embassy or consulate about Meng's arrest, as it should have under a consular agreement.
In a bail hearing on Friday, Canadian Crown prosecutor John Gibb-Carsley asked for bail to be denied, saying Meng has been accused of "conspiracy to defraud multiple financial institutions". If convicted, she could face more than 30 years in prison.
On its Twitter feed, Huawei last week said it was unaware of any wrongdoing by Meng.
Tricky timing
Meng was arrested on the same day that presidents Donald Trump and Xi Jinping agreed to a 90-day trade war truce.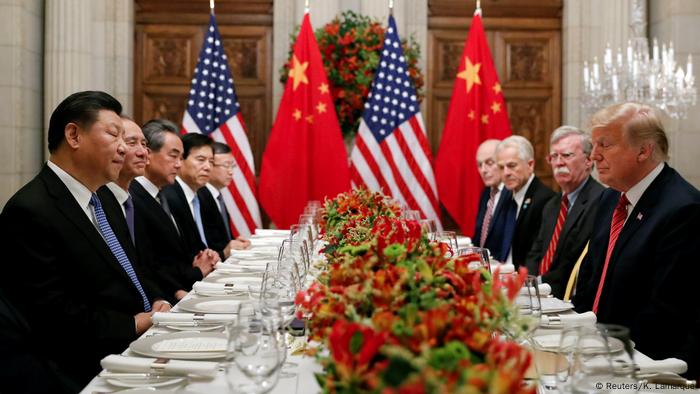 Trump was unaware of Meng's arrest while he spoke with China's Xi Jinping
Analysts speculate her arrest could be used as a bargaining chip in trade negotiations between the United States and China.
Yet US trade official Robert Lighthizer has rejected suggestions that the case could affect the negotiations. The two sides face a March 1 deadline to reach an agreement.
China's Commerce Ministry, which is engaged in trade negotiations, has declined to comment on the matter.
Canadian Prime Minister Justin Trudeau has said politics played no part in the decision to arrest Meng.
av/msh (dpa, AP, Reuters)
Each evening at 1830 UTC, DW's editors send out a selection of the day's hard news and quality feature journalism. You can sign up to receive it directly here.