A Nobel laureate, a former German president, a Pulitzer-Prize-winning journalist and a veteran East German human rights activist were in attendance at the Gethsemane Church in Berlin on Friday to celebrate the life of Liu Xiaobo, the Chinese activist and Nobel Peace Prize laureate who had spent the last eight years of his life in prison.
But the memorial service, on the first anniversary of Xiaobo's death last year at 61, was marked by the absence of his widow Liu Xia, who arrived in Berlin on Tuesday having finally been released from her own four-and-a-half-year house arrest.
The speculation around Xia's absence was a theme at the service, which attracted several hundred people, while a panoply of reporters and TV crews lined the walls. Wolf Biermann, a veteran East German songwriter who performed at the service, was not the only speaker to suggest that her absence was down to fears for her brother Liu Hui, who is being kept in Beijing on bail over an 11-year jail sentence from 2013.
Apart from Biermann, one of the most famous artists exiled from communist East Germany, the service was attended by former German President Joachim Gauck and Herta Müller, the 2009 Nobel literature laureate whose work dealt with the communist regime in Romania and who read some of Liu Xia's poems.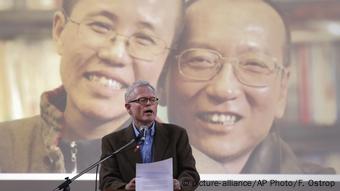 Journalist Ian Johnson spoke at the Berlin memorial service
"I think Liu Xia is a writer and photographer who has so much to give," Pastor Roland Kühne told DW. "Through the depression she suffered there was a lot that she couldn't express, and I hope that she will be able to do that here."
Read more: Liu Xia's arrival: 'a gift to the German government'
Human rights in the ditches of the new Silk Road
The economic factors that inform the struggles of Chinese dissidents were addressed throughout the evening — with some expressing fears that the trade war being threatened by the US would leave the European Union more dependent on China, and therefore less likely to raise human rights concerns.
On the other hand, as Biermann remarked between songs, "if the Chinese didn't have all this trouble with America at the moment, they wouldn't have to make friends with Europe now."
In his speech, Herbert Wiesner, literary critic and general secretary of Germany's PEN Center, spoke of human rights being "left in the ditches by the sides of the new Silk Road."
"The trade deals have to happen, and we know why the Chinese are turning to us more than America, if that fool Trump doesn't want it any other way," he told DW. "But we can't get weak at the knees now. Trade can't be the decisive thing when it comes to human rights, it can't be down to whether we sell a few more Audis. Our car manufacturers won't starve."
"We have to keep insisting on human rights," he continued. "The brother has to be freed now and many others — that needs to be part of any negotiations. That's more important than a few cars sold."
"The German government is one of the few major Western governments that is still actively pursuing a human rights agenda," said Ian Johnson, a Beijing-based, Pulitzer Prize-winning author who also spoke at the ceremony. "The US has retreated to just trade issues, the same with the UK."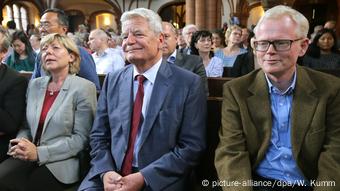 The event was attended by former German President Joachim Gauck
Johnson added that the service would encourage people in China "who are fighting for a more open society to know that there's a church full of people commemorating Liu Xiaobo here."
Read more: The life and struggle of Liu Xia
China's sacrifice for East Germany
Wiesner also talked about the deep connection between the 1989 democracy movements in China and East Germany. "He was one of the supporters of peace on the square," he told DW. "He helped many students get away, then the military struck and it got very bloody. That could have happened in Germany too — we were very close to that before the reunification. The Chinese democratic movement brought the sacrifice for us, so to speak — and Xiaobo was a key figure in all that."
Liu Xiaobo died of liver cancer on July 13, 2017, having been released from the last of his four prison sentences in China a few days earlier due to illness. He was eight years into an 11-year prison sentence for "subversion of state power."
A well-travelled literary scholar and philosopher who returned to China to support the Tiananmen Square protests, Xiaobo was perhaps most famous in recent years for the Charter 08, a 2008 manifesto that demanded peaceful democratic reforms in China, which was signed by over 300 other Chinese intellectuals and civil rights activists.
Charter 08 included demands for an independent judiciary, freedom of political association and an end to the country's one-party system. Xiaobo dedicated his 2010 Nobel Peace Prize to the people who died at Tiananmen Square.