In a tit-for-tat show of military might, South Korea and the United states have this week held air combat drills — a week after Pyongyang tested an intercontinental ballistic missile that it claims puts the US within its reach.
Read more: South says North Korea's latest missile test is bigger threat
Midway though the large-scale aerial exercises involving hundreds of warplanes, the US has flown a B-1B supersonic bomber over South Korea. The bomber flew from Guam and joined US F-22 and F-35 stealth fighters in the military drills. North Korea has consistently described the B-1B as a "nuclear strategic bomber," although the plane was converted to carry conventional weaponry in the mid-1990s.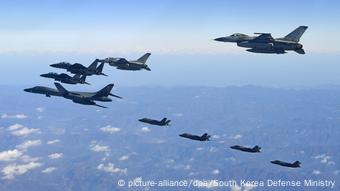 The B-1B bomber jet was accompanied by stealth fighter jets over the Korean peninsula
The North Korean military issued a statement saying, "Through the drill, the South Korean and US air forces displayed the allies' strong intent and ability to punish North Korea when threatened by nuclear weapons and missiles."
North Korean state media said on Tuesday that the military exercises were serving to escalate tensions, describing a heightened risk of nuclear war due to "US imperialist warmongers' extremely reckless war hysteria." It also labeled US President Donald Trump as "insane."
Read more: Which countries have diplomatic relations with North Korea?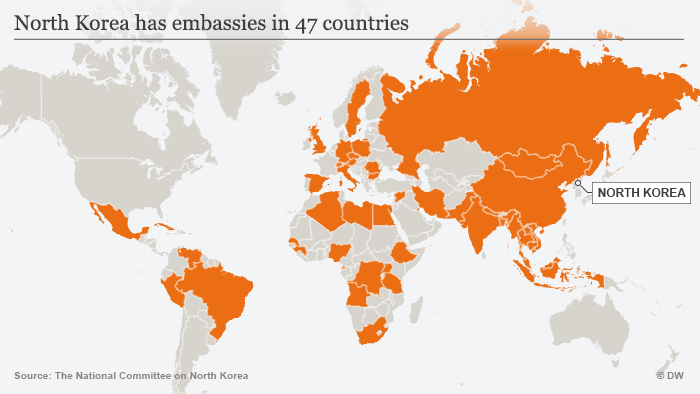 China calls for restraint
China has proposed that North Korea suspend missile and nuclear testing in exchange for a halt to US-South Korean military exercises. This suggestion has been repeatedly rejected by Washington.
Read more: North Korea: UN political affairs chief Jeffrey Feltman visits Pyongyang
South Korean President Moon Jae-in will visit China next week for talks on North Korea. Asked about the bomber's flight, Chinese Foreign Ministry spokesman Geng Shuang said, "We hope relevant parties can maintain restraint and not do anything to add tensions on the Korean peninsula."
cl/msh (AP, APE, dpa, Reuters)