Chinese Prime Minister Li Keqiang on Monday announced an 8.1 percent increase in defense spending in 2018, marking a sharp increase to the military budget compared to the previous two years.
In a budget report issued at the opening of parliament's annual meeting, the National People'S Congress (NPC), Chinese authorities said the defense budget will increase to 1.11 trillion yuan (€142 billion, $175 billion). However, it did not revise its projected growth target, which stands at roughly 6.5 percent.
Read more: Why China wants a leaner, nimbler army
China will "advance all aspects of military training and war preparedness, and firmly and resolvedly safeguard national sovereignty, security and development interests," said Li during the NPC.
"Faced with profound changes in the national security environment," the Communist Party must continue to provide absolute leadership to the military, he added.
The NPC is a largely rubberstamp parliament that approves decisions already made by the ruling Communist party.
Read more:National People's Congress — more money for Chinese military?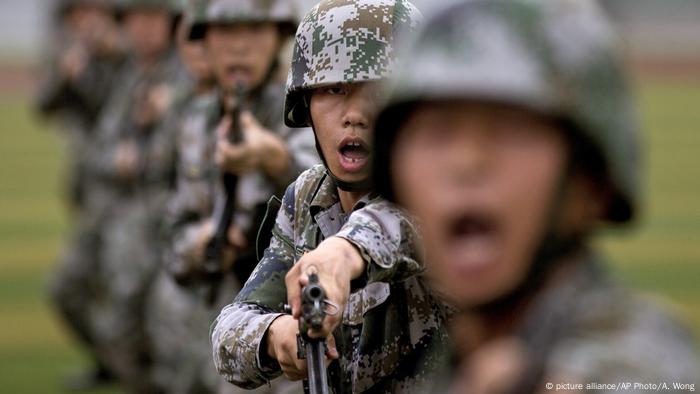 The increase is aimed at making up for less spending in the past and improving services for soldiers, according to an official
'Upgrade'
NPC spokesperson Zhang Yesui said that despite the increase, defense spending as a share of GDP is lower in China when compared to other global players, reported state-owned Xinhua news agency.
While China's military budget is the second-largest in the world after the US, defense spending stands at roughly 2 percent of GDP. That is significantly lower than Russia and the US, which spend 5.3 percent and 3.3 percent of GDP on defense respectively.
Read more: Are China and Russia challenging US military dominance?
"A large part of the growth of the defense budget is to make up for the low military spending in the past and is mainly used to upgrade equipment and improve the welfare of servicemen and women and the living and training conditions of grassroots troops," Zhang said.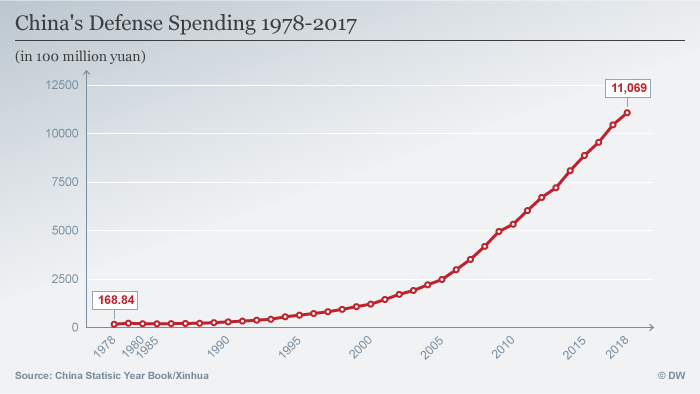 'Significantly higher'
However, with the rise of China as a more assertive actor in the international community, analysts have questioned its military ambitions and cast doubt on its official defense spending figures.
"Although China provides official estimates of defense spending each year, outside estimates of China's defense budget are often significantly higher than Beijing's official numbers," said a report published by the Washington-based Center for Strategic and International Studies earlier this month.
Read more: As China takes 'center stage,' Europe stands at a crossroads
"China provides limited information on the distribution of its military spending, which obscures spending patterns that may indicate … how China might be responding to perceived threats and where China is investing in new technologies."
Meanwhile, the US Defense Department in January said it considers China and Russia the largest threats to its interests, outpacing terrorism for the first time in over a decade.
ls/rt (Reuters, AP)
Every evening at 1830 UTC, DW editors send out a selection of the day's hard news and quality feature journalism. You can sign up to receive it directly here.