Sofia Solar Cafaggi, 29, says she had never faced problems as a Mexican living in the United States for the last four years. That all changed the night Donald Trump, who labeled Mexicans as rapists, won the election.
"For the first time I felt unwelcome … half of the country actually doesn't mind this racist bigot being out there."
- US mulls plan to separate immigrant children from parents on Mexican border
- US border authority seeks tender for Mexican wall
After completing her undergraduate degree at McGill University in Montreal, Cafaggi moved to the US for her Masters at Berkeley. Despite being offered a scholarship for medical school at a US university, she is going off this fall to the University of Toronto. Donald Trump entering the political arena and the ensuing rhetoric around Mexicans and immigration made Canada especially appealing.
"It definitely helps make the decision easier… to just go back to Canada where in general I feel Canada is a pretty welcoming country," she says. "It's a huge contrast right now."
Cafaggi isn't alone.
Canada is seeing a boom this year in foreign applicants, and university officials are citing the political climate in the US and Brexit as some of the leading factors.
Canadian welcome mat
The University of Toronto's Ted Sargent, vice president of the international office, says students cite Canada's inclusive and welcoming nature as one of the top reasons for applying.
"If you look around the world and you look at [the] US, you look at the UK you see some countries that are sort of going the other direction… Canada's looking outward and looking globally for engagement and for talent."
At the University of Toronto, there was a 27 percent increase in foreign applicants for graduate programs this year compared to last. For undergraduate programs, there was a 22 percent increase.
Universities across Canada are seeing similar even higher numbers. Concordia University in Montreal received 325 percent more applicants from Mexico in May 2017 versus 2016.
Read more: In Mexico, Trump inspires movement for political change
There was also an increase in applicants from the six Muslim-majority countries that Trump has tried to put a travel ban on.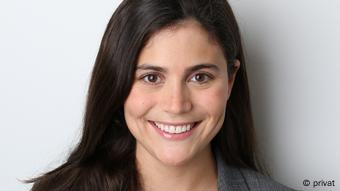 Cafaggi opted to go to medical school in Canada rather than in the US
At Concordia, there was a 317 percent increase from Iranians applying to do undergraduate degrees, while the University of Alberta saw the number of applicants grow from 10 last year to 117 applicants this year.
More Americans opt to leave
The US isn't just pushing students from elsewhere toward Canada - it's providing some of its own. Universities have seen a significantly higher interest from Americans.
Applications to Concordia for graduate degrees rose by 74 percent, while the number of US applicants who accepted offers for undergraduate degrees at the University of Toronto went up by 70 percent.
For 18-year-old Madeline Zeif, who will be leaving Vermont to do an undergraduate degree in environmental and political studies at the University of British Columbia, the election highlighted the problems for her in staying in the US.
Read more: Refugees flee US on foot, seek safety in Canada
"It was hard for me to be around people who were climate deniers, [who] didn't believe women should get the same rights as men, shouldn't have reproductive rights … I didn't want that to inhabit how I was going to be learning,"says Zeif.
She said her community and social circle were sharply divided during the election, to the point that she lost friends - something she expects will not happen in more liberal British Columbia.
Brexit pains
There is also an uptick from India. Undergraduate applicants from the country increased by 233 percent at Concordia while the amount of students who accepted their offers at the University of Toronto rose by 59 percent.
Read more: European dreams in tatters for UK students
According to Universities Canada Vice President Pari Johnston, Brexit seems to be the cause.
"Particularly the case of students coming from India who, … due to family ties and just historical relations and the high quality of UK universities, would have normally chosen the UK first, are really turning their attention to what Canada has to offer."
One survey of Indian students showed 58 percent of respondents were less likely to study in the UK due to Brexit.
Johnston said visitors to Universities Canada's website, which gives details about scholarships and internships, jumped after the June 2016 referendum.
Beyond politics
Politics is not the only reason behind the surge. Like many, Zeif says saving money on Canadian tuition fees while still getting a high-quality education was the leading reason for her going to British Columbia.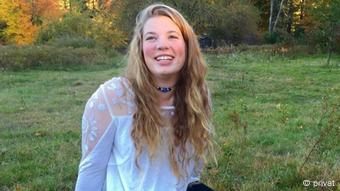 Madeline Zeif is hopeful the political atmosphere will be less polarized in British Columbia
Undergraduate arts tuition at the University of British Columbia is about 35,000 Canadian dollars, around $26,000 US, which makes it a more affordable option than US colleges Zeif was considering.
Canada is also helped by the fact that most universities teach in English, making it an obvious choice for those who would have otherwise chosen the US or UK.
Sofia, who left Mexico in 2007, says one of the most enticing things about Canada is the possibility of getting a passport. After finishing medical school, she could be soon on track to get citizenship - unlike in the US where she would need a hospital to sponsor her for work after her degree and could then still be many years away from becoming American.
"It means a lot to someone whose been a foreigner for the past [10] years."